New TikTok Challenge Asks Users to Place Bag of Bleach Near Eye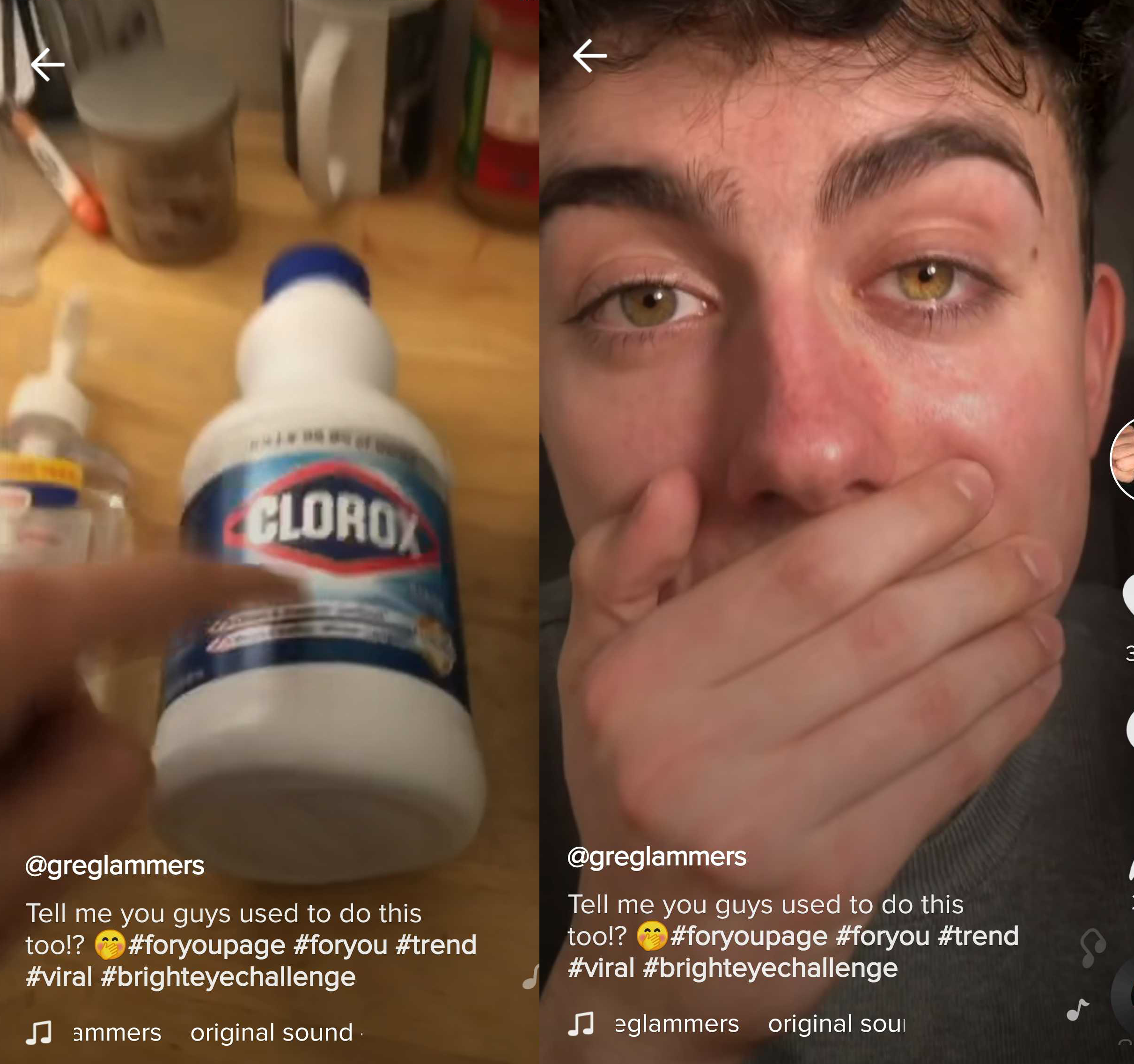 TikTok has become one of the most popular smartphone apps worldwide, boasting an audience of more than 500 million users. The video app debuted in China in 2016, and allows users to post videos between three- and 60-seconds of anything they can imagine. With a high teenage user base, the app and its influence has become a topic of recent debate. Earlier this week, The app was banned by the Indian Supreme Court after a 19-year-old shot and killed his friend while filming a TikTok video.
A recent TikTok challenge that has some onlookers concerned. Users are instructed to grab "jelly, hand sanitizer, bleach and shaving cream," put it in a plastic Ziploc bag and then hold that bag against eye for at least a minute. Posted last week, the clip from user Greg Lammers that seems to have sparked the viral phenomenon claims that this will change the color of a single eye, though that is most definitely not true. Putting a chlorine-based chemical like bleach near your eye can potentially lead to skin and eye damage, as well as vision loss if the bag ruptures.
There are now more than 30 different videos, mostly featuring young women, attempting the challenge on TikTok. One user who posted a clip of themselves attempting the stunt with their right eye wrote in the comments "lmao it kinda hurt, I'm not gonna lie." Another who had posted a similar attempt at the challenge, shared a follow-up video saying "I knew it was a joke. I don't know why everyone is taking it so seriously."
These kinds of viral challenges aren't uncommon on the TikTok platform, and may prove enticing by giving users a chance to hit the trending "For You Page." Using an established hashtag, their content can potentially reach a larger audience looking for that specific content. Previous challenges range from mimicking a hippo from Madagascar 2 to groups of kids singing their favorite song. While many of these stunts tend to consist of harmless, silly fun, this is a worrying exception.
The challenge gained popularity on Friday after user Juliagoolia69 posted a video of her attempting the challenge to her 90,000 followers. <s>(This user did not return Newsweek's request for comment.) She told Newsweek that she had seen the original video and "thought it would be cool to make one too." Using the editing tools on TikTok, the self-proclaimed 16-year-old put a single contact lens that changed the color of her eye, making it look to her uninformed audience that the challenge had worked. "Your eye is gonna start to hurt soon," wrote one commentor. "I (sic) lowkey debating if it's an eye contact," wrote another, wondering if Juliagoolia69 had faked the stunt. In two days, the video earned more than 574,000 likes, was shared 35,000 times and has nearly 5,000 comments. She does not recommend anyone attempt the challenge.
Greg Lammers, whose video first prompted the challenge, told Newsweek he is a college student who started using TikTok two months ago to "show off his editing ability." In the first week, his eye challenge TikTok video has pulled in more than 300,000 likes, 25,000 shares and more than 3,000 comments.
Lammers said he did not expect the video to get so much attention, or that others would actually try the challenge themselves. "When I saw that other people on TikTok were creating similar versions of my own video I began to get worried," Lammers said. "Some of the products I used could potentially cause harmful side effects to the skin or eye."
After seeing the challenge take off, Lammers posted another TikTok video showing his eye red, swollen and puffy to "show everyone the potential risks," he said. That did little to deter those TikTok users who wanted to try out the challenge for themselves.
Asked why he had not deleted the original video, Lammers said, "I believed that it would've been clear to my followers that it was not a real challenge as every other video on my profile has extensive editing." In his bio on TikTok, Lammers wrote "no, it's not real, don't do it," presumably in reference to the challenge.
Lammers has a message to those on TikTok curious about trying the stunt for themselves: "To anyone who is still attempting this challenge, do not attempt this as you could hurt yourself if you are not careful. And dig a little deeper into the people who create challenges to see if they are real and safe."
Newsweek reached out to TikTok for comment but the company did not respond by publication time.
(Update: 4/21 9:11 p.m. EST): A comment from JuliaGoolia69 has been added.