Eye-Gouging Capitol Rioter in 'Shock' Over Detention With 'Inner-City Crimes' Inmates: Lawyer
Thomas Webster, a Capitol rioter who attacked a police officer with a metal pole and attempted to gouge his eyes, is said to be in "shock" over being detained with people who committed "inner-city" crimes, his lawyer said Friday.
According to Washington Post reporter Rachel Weiner, Webster's lawyer said he is being detained in a "dormitory setting," after police arrested him in connection with violently storming the U.S. Capitol building on January 6.
"For a middle aged guy whose never been arrested before this has been a shock for him," his lawyer said, while adding that his record outside of the attack is "sparkling."
Webster, 54, is a retired New York City Police officer and former Marine who at times performed high-profile duties in his career—including working perimeter security at City Hall and the New York mayoral residence, according to News 4.
Webster surrendered himself to the FBI on February 22, after he was accused of using a large metal pole to attack a Capitol police officer on January 6.
Photos and video footage have shown Webster striking the officer several times with the pole while holding a Marine Corps flag. He has also been accused of attempting to gouge the officer's eyes, and prompting him to choke after ripping off his mask.
Assistant U.S. Attorney Benjamin Gianforti said in February that video footage at the events showed Webster attacking an officer "clear as day."
"These videos shock the conscience," the prosecutor said, alleging Webster "goes after that cop like a junkyard dog—teeth clenched and fists clenched."
"His teeth are gritted. This is a man who is about to unleash some kind of violence on somebody and, in fact, he did on that poor police officer," Gianforti added, according to New York 4.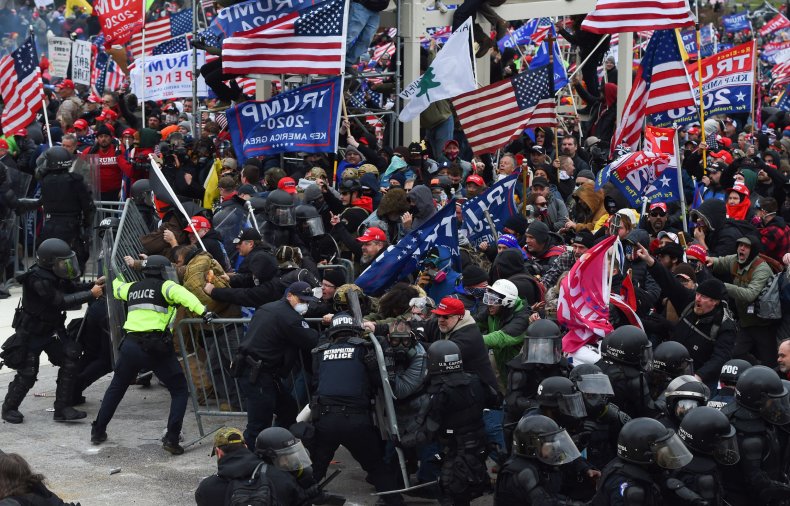 Prosecutors in February also alleged that Webster was wearing a bulletproof vest on the day of the attack, signaling that he was prepared for physical conflict. In a video posted to YouTube later that day, Webster is heard stating "send more patriots. We need some help."
"We believe he had a gun at the Capitol and thank God he didn't fire a shot then," prosecutors added.
Following his arrest, lawyers for Webster argued that he "poses no danger to the community" and that "he has done a terrific job as a husband and a father."
Webster has since been charged with assaulting police officers with a deadly weapon, obstruction of law enforcement during civil disorder, knowingly entering a restricted area, disorderly conduct in a restricted area, engaging in physical violence in a restricted area and violent entry and disorderly conduct on Capitol grounds, CNN reported.
According to Weiner, Webster is currently being detained in different facilities around the country as he awaits to face charges in D.C.
In February, Gianforti said federal sentencing guidelines would recommend at least five years in prison if Webster chose not to go to trial and pleads guilty to the charges. If convicted at trial, the recommended prison term would be much higher, News 4 reported.
Webster is one of 300-plus suspects who have been accused of taking part in the riot on January 6, when thousands of pro-Trump supporters stormed the Capitol building in an attempt to halt the election certification of President Joe Biden.
A majority of those suspects are facing charges related to entering and remaining in a restricted building. Other charges include assaulting officers, disorderly conduct in a Capitol building and parading, demonstrating or picketing in a Capitol building.
So far, none of the suspects have been convicted of their crimes.
Newsweek contacted the White House for additional comment, but did not hear back in time for publication.