"Eye of the Tiger" Band Sends Cease and Desist to Kim Davis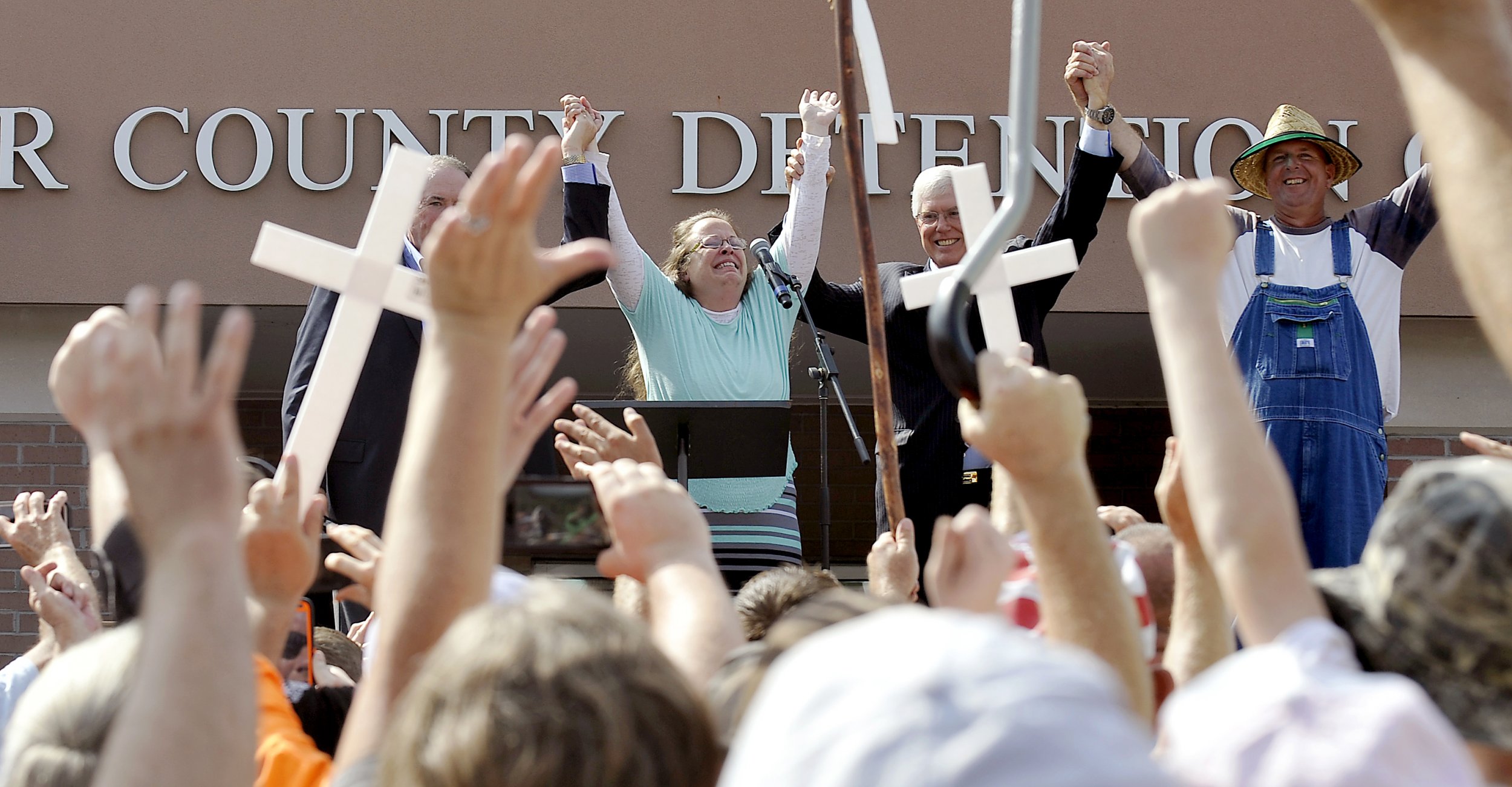 When Kim Davis, the Kentucky clerk jailed for refusing to issue same-sex marriage licenses, was freed on Wednesday afternoon, she walked out to "Eye of theTiger" by Survivor. Davis took to the stage alongside Republican presidential candidate Mike Huckabee and her attorney, Mat Staver. The trio raised their held hands as the lyrics "did my time, took my chances" rang out.
Since the Supreme Court ruled gay marriage bans were unconstitutional, the Rowan County clerk has refused to issue any marriage licenses to gay couples. On August 26, a U.S. appeals court ruled she could not discriminate to whom she issued the licenses, though Davis refused once more and was sued by the ACLU, which requested she be held in contempt and fined. Judge David Bunning agreed Davis, who could not be fired because she is an elected official, should be held in contempt but felt a fine was not a harsh enough punishment. Bunning ordered Davis to jail on September 3.
Davis was released six days later, when five of her six deputy clerks began issuing same-sex marriage licenses in her absence. On the license issues, the line which usually read "Kim Davis" was replaced with "Rowan County." Despite the unusual change, the marriage licenses are still entirely valid. It is unclear if Davis will allow her deputies to continue issuing the licenses when she returns to work or if the licenses will be permanently changed to remove her name.
While many are frustrated with Davis's refusal to carry out the job requirements legally expected of her, some view Davis as a martyr for the Christian right. Jim Peterik, the co-founder of the band Survivor, does not agree with Davis's actions. "I have not authorized the use of 'Eye of the Tiger' for use by Kim Davis, and my publisher will issue a [cease and desist.] This does not reflect my views," Peterik wrote on Twitter.
Neither Davis nor her attorney have commented on the matter. Davis offered only a brief statement on her release through her lawyer, thanking her supporters and saying she plans to return to work on Monday.