Ezekiel Elliott's Return for Cowboys Against Seahawks Won't Stop Jerry Jones Fighting With the NFL
Ezekiel Elliott returns to the Dallas Cowboys on Monday following a six-game suspension over an alleged incident of domestic violence. The All-Pro running back, who hasn't been allowed any contact with the franchise during his punishment, can come back as soon as Week 15 ends with the NFC South matchup between the Atlanta Falcons and the Tampa Bay Buccaneers.
The rancor around Elliott's suspension, though, seems unlikely to die down with the Ohio State product's return. Jerry Jones and NFL Commissioner Roger Goodell were in the same room on Wednesday night—"standing a few feet away" from each other, according to a Pro Football Talk report—when Goodell denied lying to Jones over Elliott's suspension.
"No," Goodell said according to PFT when asked if he had ever encouraged Jones to think Elliott might escape punishment. A report in the Forth Worth Star-Telegram on November 8 claimed Jones thought Goodell guilty of an "unforgivable breach of trust" for telling him Elliott wouldn't serve a suspension.
The 22-year-old, who made First-Team All-Pro in his rookie season in the NFL, has never been charged with a crime over the incident that occurred in Columbus, Ohio, in July 2016. The NFL ruled in August of this year that Elliott had "engaged in physical violence" against Tiffany Thompson, his ex-girlfriend, following a year-long investigation.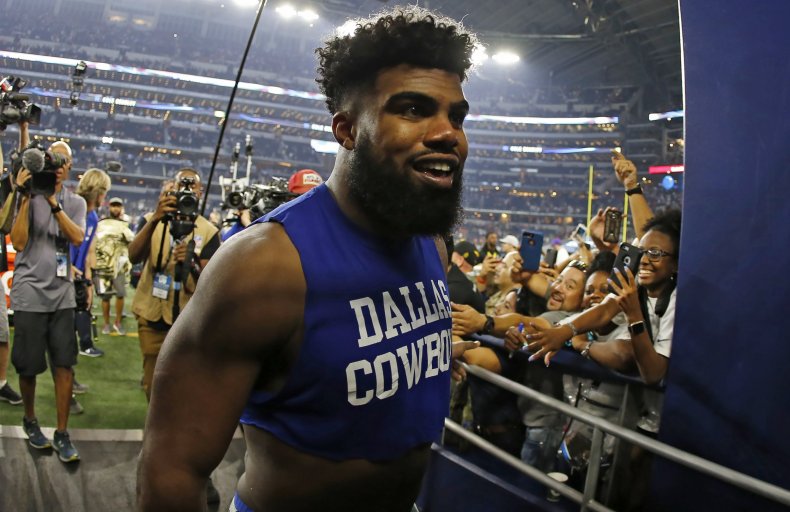 Jones threatened Goodell on a telephone call after learning about Elliott's suspension in August, according to an in-depth ESPN piece published in November. "I'm gonna come after you with everything I have," Jones is reported to have told the Commissioner. The six members of the NFL's Compensation Committee warned Jones to stop blocking Goodell's contract extension by sending him a 'cease and desist' letter in November, according to a New York Times report.
Jones dropped a threat to sue his fellow team owners over Goodell's contract in November. "I want accountability," he told USA Today. He may have won a significant victory, too. As Yahoo Sports reported on Thursday, the Compensation Committee and not Goodell will now decide its chairman. Since the chairman rules on Goodell's salary, a large portion of it is now out of his control.
Goodell addressed his disputes with Jones at the NFL's Winter League Meeting in Texas on Wednesday. "That's how we operate in the league. We have different views that make us stronger," Goodell told NFL.com. "I respect that, I respect Jerry, I respect everyone else in that room. They all have strong views about the way we do things, and I think that's made us successful."
Jones, in turn, said Goodell had been "very good" to the NFL. Even with Elliott returning to the field, the peace seems unlikely to last for long.