Ezra Miller Arrested: What Happened to the 'Flash' Star in Hawaii?
DC Comics superhero actor Ezra Miller was arrested at a bar in Hilo, Hawaii after "becoming agitated" while people near them sang karaoke.
Miller was detained in the early hours of Monday morning and has been charged with disorderly conduct and harassment. The Hawaii Police Department revealed the details of the incident on its Facebook page and released their mugshot as well.
Miller, 29, is best known for appearing in DC movies like Justice League as Barry Allen, aka The Flash but they've also appeared in We Need to Talk About Kevin and the Fantastic Beasts franchise. Miller has openly discussed preferring the pronouns they/them.
What Did Ezra Miller Allegedly Do?
Late on Monday, the Hawaii Police Department released details about Miller's arrest and confirmed his charges.
They confirmed that a "man visiting from Vermont was arrested and charged with disorderly conduct and harassment after an incident at a bar in Hilo." Officers arrived at the venue at 11:30 p.m. on Sunday, March 27 after receiving a report about a disorderly patron at the bar.
The disorderly patron was identified as Ezra Miller, said police. In the course of their investigation, officers determined that they had become agitated while other customers at the bar sang karaoke.
In its statement, the Hawaii Police Department wrote: "Miller began yelling obscenities and at one point grabbed the microphone from a 23-year-old woman singing karaoke (disorderly conduct offense) and later lunged at a 32-year-old man playing darts (harassment offense). The bar owner asked Miller to calm down several times to no avail."
They confirmed that Miller was arrested and charged on both offenses, and their bail was set at $500. "He provided the bail and was duly released," the police department wrote.
Alongside the statement, the Hawaii Police Department also shared the mugshot taken of Miller which shows them wearing a white collared shirt buttoned up to the top.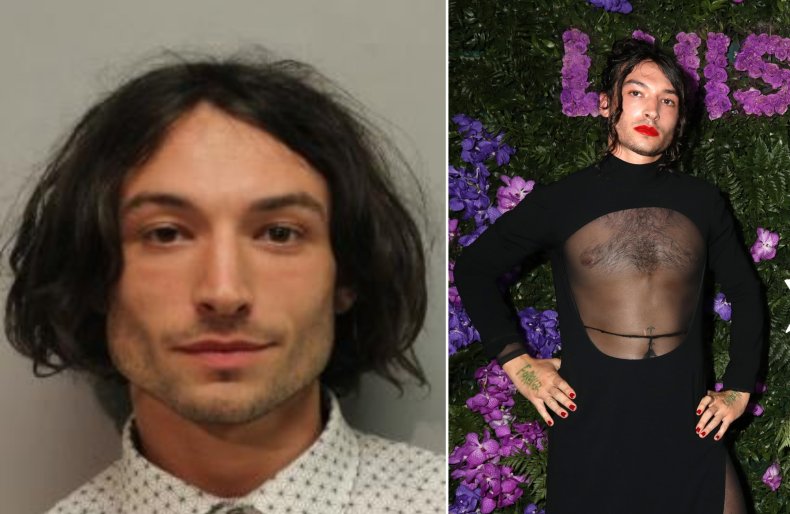 The police report stated that Miller is a 29-year-old man but Miller uses pronouns they/them.
Miller recently deleted their social media accounts but in January 2021 they made headlines for publicly calling out a North Carolina chapter of the Ku Klux Klan in an Instagram video. At the time they said: "This is a message for the Beulaville chapter of the North Carolina Ku Klux Klan."
They continued: "Look, if y'all want to die I suggest just killing yourselves with your own guns. Okay?
"Otherwise keep doing exactly what you're doing right now, and you know what I'm talking about, and then, you know, we'll do it for you if that's really what you want."
There has been no follow-up by Miller on this and no one from Beulaville was available to comment on the incident.
Miller is set to star in their own superhero movie in June 2023. The Flash is expected to be part of the DC Extended Universe.