F-15 Pilots Ejected from Fighter Jet Over St. Louis Airport
An F-15 fighter jet crashed on Tuesday morning at MidAmerica Airport in Mascoutah, Illinois, with two pilots ejected from the aircraft.
The military plane experienced an emergency at 7.50 a.m. on Tuesday, News 4 reported, citing official sources. The airport is about 43 miles southeast of Alton.
Two pilots were reported to be on the plane, and were ejected when the aircraft was on the ground, the broadcaster reported.
One of them refused treatment while the other was taken to hospital with minor injuries.
Footage from the scene shows the aircraft on the runway with fire crews nearby.
"SAFB and MAA emergency responders secured the area, and local hospital for non-life threatening injuries and observation, and one has since been released. An interim safety board investigation is underway," a spokesperson for Scotts Air Force Base told Newsweek.
MidAmerica St. Louis Airport is a commercial airport that is located 14 nautical kilometers from Scott Air Force base.
In February, Scott Air Force Base said the F-15QA, Boeing's latest jet designed for the Qatar Emiri Air Force, would be used for training exercises at the airport.
"Formal training and instruction will be given to the pilots of this new aircraft over the next several months," the base wrote in a Facebook post at the time.
MidAmerica Airport declined to comment on the incident until it received more information.
Newsweek has also contacted St. Claire County Emergency Management Agency and Scott Air Force base for comment.
Significant F-15 crashes are rare, and tend to occur once or twice a year at the most.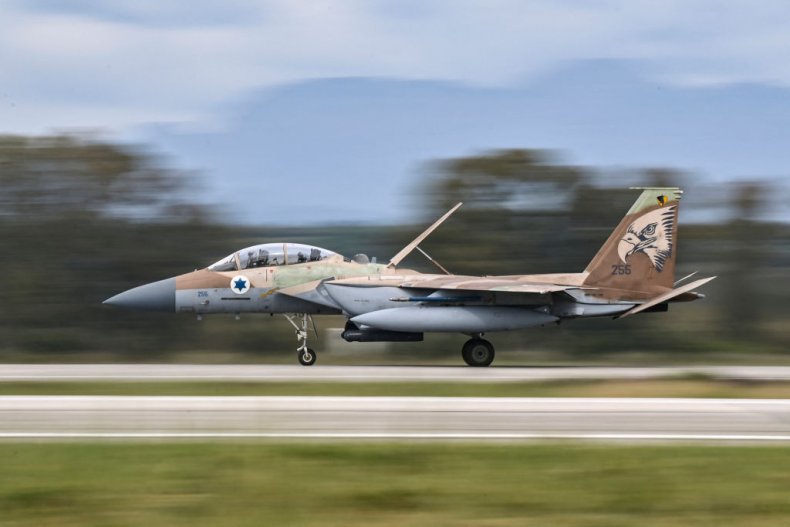 The most recent was in June last year, when a U.S. Air Force F-15 Eagle crashed in the North Sea, off the coast of the UK. Five months later, a probe determined that the aircraft was crashed by pilot error during a training mission that included a total of nine F-15Cs and one F-15D, which was playing the role of adversary aircraft (AA). The pilot of the F-15, Lt Kenneth Allen, 27, died in the crash.
The aircraft, valued at an estimated $45 million, was destroyed. The probe ruled out aircraft malfunction, component failure and maintenance issues as contributing factors to the crash. Service officials said disorientation and reduced visibility caused it.
In June 2018, F-15C of the 44th Fighter Squadron at Kadena Air Base crashed into the ocean south of Okinawa, the Air Force Times reported. The pilot was ejected and later recovered by Japanese rescue forces.
In August 2014, a F-15C-41-MC crashed in the mountains near Deerfield, Virginia. The Air National Guard pilot was confirmed dead by military officials. The Pentagon said the jet was en route to Louisiana from its base in Westfield, Massachusetts. The pilot reported an in-flight emergency, then lost radio contact, officials said at the time.