F-16 Fighter Jet Crashes in Michigan, Pilot's Status 'Unknown'
An F-16 fighter jet crashed in Michigan during a training mission on Tuesday night. The pilot remains unfound.
The aircraft, assigned to the Wisconsin Air National Guard's 115th Fighter Wing, reportedly crashed near Stevens Lake in Delta County in the state's upper peninsula.
One pilot was on board at the time, according to the Wisconsin National Guard. A statement early on Wednesday morning confirmed the crash.
"An F-16 Fighting Falcon assigned to the Wisconsin Air National Guard's 115th Fighter Wing at Truax Field Air National Guard Base in Madison crashed in Michigan's Upper Peninsula at approximately 8 p.m. Tuesday, December 8, 2020," the statement read.
The aircraft was on a routine training mission when the crash occurred.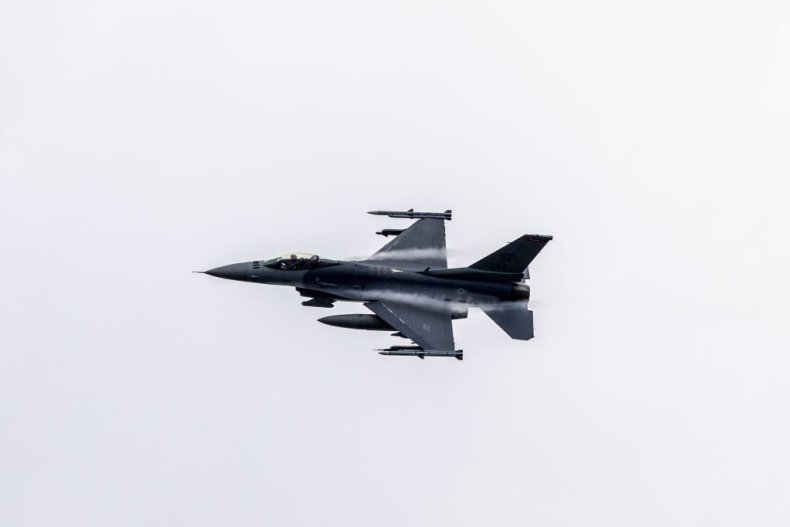 On Sunday, the 115th Fighter Wing alerted residents that it would be conducting training flights in the evening beginning on Monday through to Thursday.
"Area residents may see or hear F-16 fighter jets taking off or landing until approximately 10:00 p.m," the Fighter Wing said in a Facebook post. "Training flights normally take place during daylight hours, but pilots and maintenance personnel are required to conduct evening/nighttime operations as part of their overall readiness. Pilots will follow flight paths designed to minimize noise to area residents."
The 115th Fighter Wing thanked the community of the greater Madison area for their support in continuing "to train to support our state and federal missions."
Emergency responders are currently at the scene in an attempt to find the missing pilot and aircraft, Marquette County Central Dispatch confirmed.
The cause of the crash, as well as the status of the pilot, remains unknown as the incident continues to be under investigation.
"That is just down the road from our house," one man replied over a thread on the 115th Fighter Wing Facebook page. "We wondered about all the planes flying over were all about. Stevens Lake is about 5 miles away. Did not hear a loud crash, etc., from that way, but a lot of fly-overs. Lots of wilderness in that area too. Sure hope the pilot is ok."
According to another man who said he was monitoring the search, the military is bringing heat signature search equipment.
Temperatures in the area fell to 30 degrees last night, leading many to voice concern for the pilot's welfare.
Newsweek has contacted the Wisconsin National Guard, the 115th Fighter Wing and Michigan State Police for comment.