Fully Functional F-16 Fighter Jet for Sale in Florida
A fully functional F-16 fighter jet is for sale to the public for the sum of $8.5 million. The 1980 F-16A/B Fighting Falcon originally came from Jordan but has gone on market in Palm Beach, Florida, according to The Drive.
Aircraft leasing firm Jet Lease posted the sale on its website, one of three F-16s it has for sale.
But this jet is unlike other Vipers on the market, The Air Force Times reports, because it has not been demilitarized. According to its specs, it includes AN/APG-66(V)2 pulse doppler radar, a night vision-compatible cockpit, a data-bus for guided weapons and a joint helmet mounted cueing system.
Its listed maximum speed is Mach 2.05 at 40,000 feet, or roughly 1,570 miles per hour.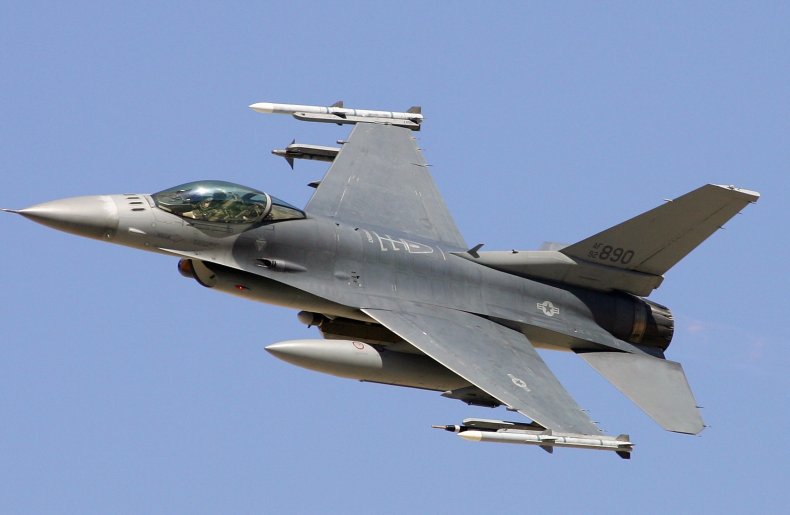 According to The Drive, the Fighting Falcon is being targeted at contractor air-service providers who conduct testing for the Department of Defense and any owner must adhere to international regulations that limit who can access weapons systems.
First released in August 1978, the F-16 is used in more than two dozen countries, including the U.S., Belgium, Denmark, the Netherlands, Venezuela, Israel and Egypt. It has been used widely in Middle East conflicts, including the 1982 Israel-Lebanon war and Operation Desert Storm. Between 2008 and 2017, Jordan purchased dozens of of F-16 fighter jets from the Netherlands and Belgium under the Peace Falcon initiatives.
General Dynamics first rolled out the F-16 Fighting Falcon in 1978 for the Air Force. It's also used by the Air Force Reserve Command, Air National Guard, the U.S. Air Force Thunderbirds and by the United States Navy as an adversary aircraft .
Key features include a frameless bubble canopy, a side-mounted control stick and an ejection seat reclined 30 degrees from vertical to reduce the effect of g-forces on the pilot. Officially, it's known as the "Fighting Falcon," but the jet is also often called "Viper" by pilots and crews, because of its apparent resemblance to a viper snake. In addition, the 1970s sci-fi series Battlestar Galactica, which was on the air when the F-16 debuted, featured the Colonial Viper starfighter.
The F-16 has been in the news of late, with China threatening to retaliate if the U.S. sells the jet to Taiwan.
In August, Congress was notified of the government's interest in selling 66 F-16Vs to Taipei for $8 billion, following a request earlier this year. If completed, it would represent the largest U.S.-Taiwan arms deal in nearly 20 years.
But Beijing has promised sanctions against Lockheed Martin and any other American companies that make F-16Vs if the sale is approved. On August 21, China's foreign ministry said it would "take all necessary measures to protect our interests."