Two men left a Virginia Veterans Day ceremony with a citation and summons after they got into a disagreement over one of the men's "F--k Biden" sign.
Virginia Capitol Police detained two men on Thursday, citing one of them with parking in a two-away zone and hitting the other with a summons for disorderly conduct. Both were allowed to leave on their own accord, although additional charges could be filed against one of them.
Ronald Hedlund, 60, arrived at the Virginia War Memorial in Richmond, Virginia, shortly after a Veterans Day ceremony began. Hedlund drove his pickup truck over a sidewalk and parked in a banned area near the base of the memorial amphitheater, the Virginia Capitol Police told Newsweek.
On the bed of his truck, Hedlund displayed a banner that said, "F--k Biden," in reference to President Joe Biden. Biden, whose son Beau served in the military, attended Veterans Day services at Arlington National Cemetery in Arlington, Virginia, about 100 miles away.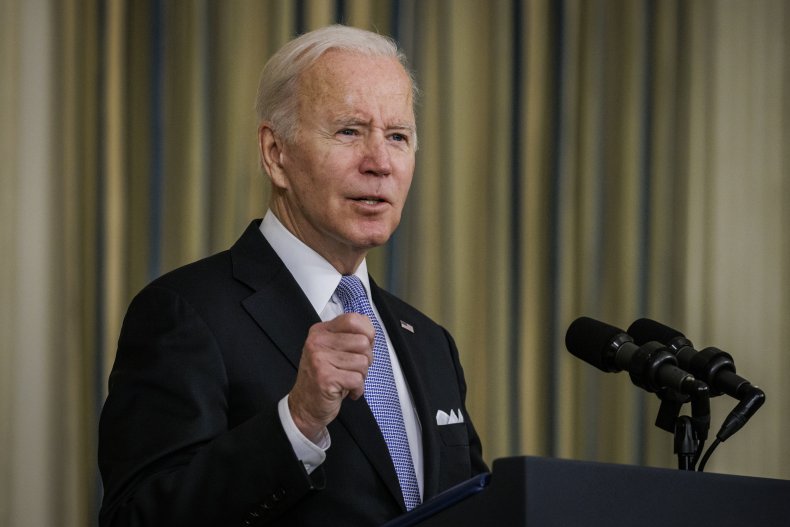 Hedlund's truck was "highly visible" to those attending the Veterans Day ceremony in Richmond and Capitol Police asked him to move. The 60-year-old refused and questioned what authority the Capitol Police had to ask him to vacate the area.
"Capitol Police officers made every attempt to de-escalate the matter and allow the ceremony to conclude first without interruption," Colonel Anthony S. Pike, the agency's chief, said in a statement. "We are very sensitive to a person's right to freely speak their mind, but when they will not work with our attempts to de-escalate matters, we are left with little choice."
Capitol Police remained with Hedlund until the end of the ceremony out of concern they would disrupt the ceremony if they took additional actions.
Once the ceremony was over, Carl Grunow, 58, who is a veteran himself, approached the truck and climbed into the bed. He attempted to use his suit jacket to cover the banner, at which point, he was detained by Capitol Police and given a summons for disorderly conduct.
Officers escorted Grunow to his car and allowed him to leave the memorial. Capitol Police reported there was no physical contact between the two men.
"I applaud our officers for their attempts to get Mr. Hedlund to leave peacefully and respect the ceremony honoring our veterans," Pike said. "We take our role as peacekeepers seriously, and we try to de-escalate free-speech matters whenever possible."
Disorderly conduct is a class 1 misdemeanor in Virginia, the most serious of all misdemeanors, and can be punishable by up to a year in jail, a fine of $2,500 or both.
Pike said in a statement that Capitol Police are looking into Hedlund's actions and plan to speak with the Richmond Commonwealth's Attorneys' Office about additional charges being potentially filed.