A GOP anti-trans candidate for the Texas House of Representatives was met with chants of "f*** these fascists," by students, which left him visibly flustered.
Jeff Younger has been campaigning against gender-affirming treatments for children and was invited to speak at an event organized by a conservative group of students at the University of North Texas. The anti-trans Republican, who lost custody of his trans child, was badgered by LGBTQ protesters and forced to end his appearance early.
Videos of the event uploaded on Twitter showed protesters banging on tables, shouting, "f**k these fascists," and "trans rights."
Younger allegedly began yelling back at the crowd, calling them "communists," according to Ismael Belkoura, the student who uploaded the videos. In another tweet, Belkoura alleges that Younger said "trans people don't exist."
He was forced to cut his speaking 40 minutes earlier than planned.
Younger entered the House District 63 race following a court battle with his ex-wife over the custody of their twins—one of whom is transgender. Younger lost custody of his children and accuses his ex-wife of child abuse for allowing their child to transition.
"I just don't want my son to be transitioned to a girl," Younger's campaign site reads. "Because I resisted the Court's attempt to transition my son, the 301st District Court in Dallas County took my children from me. My ex-wife now has authority from the State of Texas to cross-dress my nine-year-old son."
Younger claims his ex-wife "taught" their trans-daughter to be a girl since the age of 2, and that he has spent over a million dollars trying to stop her from transitioning.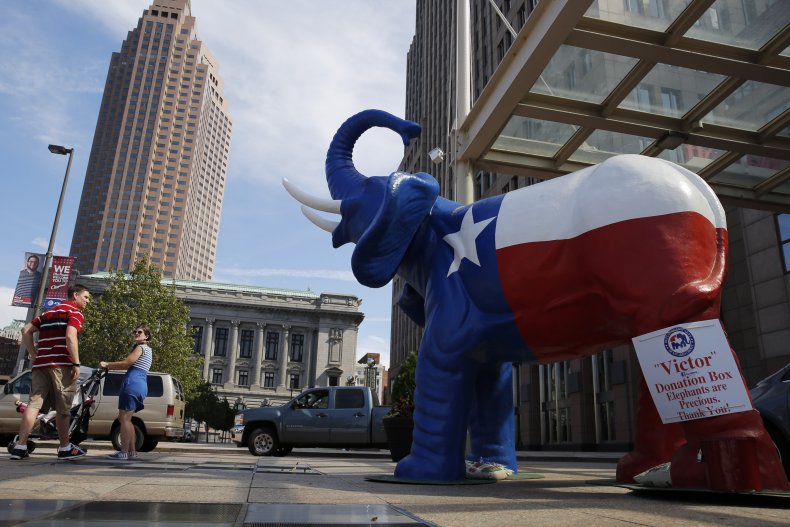 Younger insists his child is not transgender and claims she was misdiagnosed by a pediatrician who allegedly planned to chemically castrate her.
"Texas is one of the nation's largest providers of sex-change surgeries and chemical castration hormone treatments to children," Younger said. "Other states bring their gender-confused children to Texas."
Transgender adults who started gender-affirming hormone therapy as teens had better mental health than those who waited until adulthood or wanted treatment but never received it, according to a Stanford University study.
The study also revealed that transgender people who began hormone treatment young were less likely to have suicidal thoughts and experience major mental health disorders.
"This study is particularly relevant now because many state legislatures are introducing bills that would outlaw this kind of care for transgender youth," said Jack Turban, a postdoctoral scholar in pediatric and adolescent psychiatry at Stanford Medicine. "We are adding to the evidence base that shows why gender-affirming care is beneficial from a mental health perspective."
Younger responded to Newsweek's request for comment: "I do not cooperate with leftist media outlets."
Newsweek also reached out to the University of North Texas.