'F9 the Fast Saga': Will There Be More 'Fast and Furious' Movies?
Fast and Furious 9 sees old characters make a surprise comeback, as well as snippets from Dom Toretto's (Vin Diesel) past. The movie leaves clues that could serve as the basis for future films throughout.
We breakdown some of the possible follow-up movies to F9, and the clues that bring us there.
There are some spoilers ahead for Fast and Furious 9, so if you do not want to know any of the action from that film, do not read on until you have seen the movie.
We Look Into Dom and Jakob's Past
With the arrival of Dom's little brother Jakob (John Cena), we get a look at their relationship.
Throughout the film, flashbacks are shown of what happened to the Toretto family after the death of their car-racing father Jack.
In the first film of the franchise, Dom mentioned this, telling Brian O'Conner (Paul Walker): "I watched my dad burn to death. I remembered hearing him scream.
"But the people that were there said that he had died before the tanks blew. They said it was me who was screaming."
That moment is played out through flashback in F9, and it is revealed Jakob actually sabotaged the car in order to help their father throw the race.
Jack was in financial difficulty and agreed to throw the final race of the season, so he asked Jakob to cause the engine to fail so he could lose.
After their father's death, Jakob was grief-stricken, having no idea his actions would lead to Jack's death.
Dom then spent time in jail after assaulting the man who crashed into Jack, thinking he had caused his father's death.
It was in jail that Dom realized what happened to the car, and in a street race on his release, he told Jakob never to return.
During F9, the brothers begin as adversaries before coming back together again, forgiving one another for their errors in the past.
These early flashbacks could lead to a prequel, showing Dom's life after Jakob's departure, or even Jakob's life as Mr. Nobody's agent.
In an interview with Vulture, Diesel was asked whether a Toretto Brothers movie or prequel could be coming, to which he replied: "I will say that there is nothing that is off the table."
The Women Want a Break From Domestic Bliss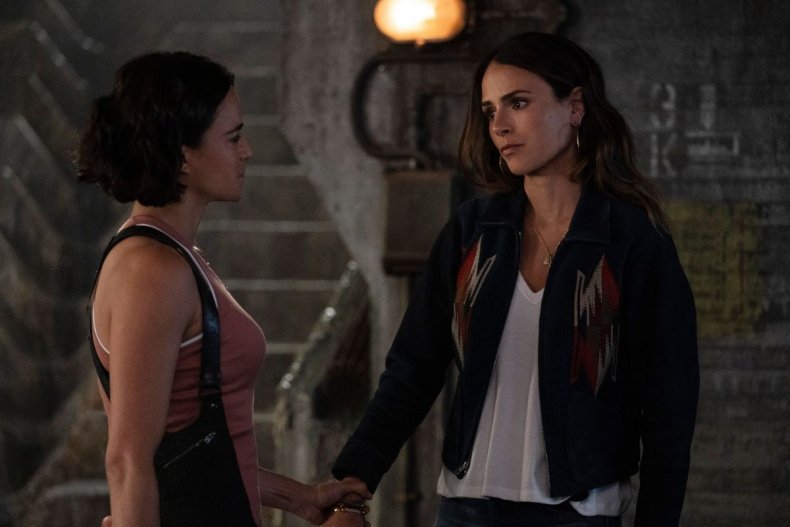 Fans have been crying out for a female-driven movie, as more women have come to the fore in the franchise.
In F9, there is a moment when Mia Toretto (Jordana Brewster) and Letty Ortiz (Michelle Rodriguez) head to Tokyo to track down Han (Sung Kang), leading to an epic fight in an apartment.
During this time, Letty talks of how she misses the life of beating bad guys, and finds domestic bliss difficult to handle.
After this point Elle (Anna Sawai) helps them beat a whole host of assassins, showing sisters are doing it for themselves.
When they return to base, Elle and Mia remain fighting together while Letty teams up with Ramsey (Nathalie Emmanuel).
This is not to mention the incredible work of supporting female characters, including supervillain Cipher (Charlize Theron) and Queenie Shaw (Helen Mirren).
This may point to the women of the franchise getting their own film. Brewster has confirmed that talks have been had, but nothing official was taking place yet.
Speaking to online publication Joe, Brewster said: "There have been no official talks yet. I mean, there have been rumors circulating and sort of unofficial talks but no official talks yet.
"But my dream would be—You know who I would love? I would love to keep Charlize Theron and to keep Helen Mirren and Nathalie Emmanuel and Michelle [Rodriguez] and I.
"And I would also love to add in Phoebe Waller-Bridge. I feel like that would be amazing.
"And who else would be just like kick ass... I feel like Jodie Comer, I think, would be super, super fun. So yeah, I just feel like that kind of spin-off would be lots and lots of fun."
In an interview with SiriusXM, Brewster also floated the idea of bringing back Eva Mendes, who starred in 2 Fast 2 Furious.
Given Letty's admission about domestic life, and Mia leaving her husband Brian at home to look after the kids while she joined the family, it may be Dom and the boys taking a step back to let the women lead in an upcoming movie.
Hobbs and Shaw 2
During the publicity for F9, Diesel announced there would be two more Fast and Furious movies that follow the backbone narrative of the franchise.
However, we also know there will be a second spin-off of Hobbs and Shaw, with producer Hiram Garcia telling Comicbook.com: "For us, we 100 percent want to do our part: continue to tell that story, ride with Hobbs.
"We're full steam ahead on that, we've got a great story, a big fun story... I'm real excited [about] where it's going but we'll continue to push along.
"We know fans wanted it, that first one, was received really well and so that's what we needed to know, that the fans wanted more, so we're going to deliver it."
The end of Fast and Furious 9 saw Han return to Deckard Shaw (Jason Statham) seeking answers over what happened in Tokyo, as shown in The Fast and Furious: Tokyo Drift.
There, Deckard crashed into Han, seemingly killing him, although F9 reveals this was all set up by Mr Nobody.
In F9 we also saw the return of Sean (Lucas Black) and his pals Twinkie and Earl Hu (Bow Wow and Jason Tobin) who appear in Tokyo Drift with Han.
It could be, unless the Hobbs and Shaw world completely departs from Fast and Furious, these two parts of the franchise link up, and we see Han, Sean, Twinkie and Earl Hu inducted into the new spin-off franchise.
Tokyo Drift was, in itself, an attempt to reinvent the franchise without Dom and Brian, and seeing as this did not work as a standalone project, it may be they need the might of Dwayne Johnson and Jason Statham to bring these characters into their own.