FAA Allows Some Jets to Perform 'Low Visibility Landings' as 5G Saga Continues
The Federal Aviation Administration (FAA) announced on Thursday that it is allowing around 78 percent of the U.S. commercial fleet, including regional jets, to perform low-visibility landings at airports where new 5G services are being rolled out.
The approvals apply to airplane models with one of the 13 cleared altimeters including some Boeing, Airbus, and Embraer plane models, according to the FAA's statement. This will cause a setback for Boeing as its 777 and 787 planes, which are used worldwide, appear susceptible to 5G network.
"The FAA is working diligently to determine which altimeters are reliable and accurate where 5G is deployed in the United States. We anticipate some altimeters will be too susceptible to 5G interference," the agency said in the statement.
"To preserve safety, aircraft with those altimeters will be prohibited from performing low-visibility landings where 5G is deployed because the altimeter could provide inaccurate information," the FAA added.
On Wednesday, the agency allowed 62 percent of the U.S. commercial fleet to perform low-visibility landings at those airports.
The FAA said that flights at some airports could still be impacted despite the approvals to perform those landings, and added that the agency is working to understand the way radar altimeter data is used in other flight control systems.
The approvals come as part of preparations for deploying 5G networks by wireless companies AT&T and Verizon. But, both companies agreed earlier this month to delay their rollout amid fears that the 5G networks would impact the safety equipment in some planes such as interfering with transmissions from radio altimeters, which could create risks during plane landings.
The new 5G services, which will use C-band frequencies, are meant to boost speed and coverage for AT&T and Verizon. However, the FAA is concerned that altimeter systems in certain aircraft operate over a similar range of frequencies to C-band which could cause interference during landings.
The FAA has chosen 50 U.S. airports to have safety buffer zones that would limit the risk of flight disruptions or delays. The agency selected the airports based on location, traffic volume, and the likelihood of low visibility.
Those airports are located in busy hubs including New York City, Chicago, Los Angeles, Las Vegas, Minneapolis, Detroit, Dallas, Philadelphia, and Miami.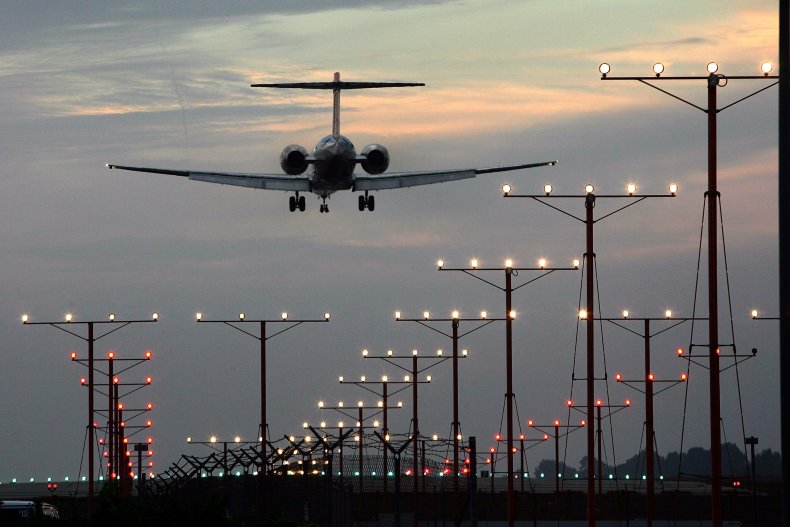 Earlier this month, the FAA told Newsweek that AT&T and Verizon have agreed to turn off transmitters and adjust safety measures near these airports for six months "to minimize potential 5G interference with sensitive aircraft instruments used in low-visibility landings."
The agency also said that major airports in Denver and Atlanta were not chosen for the safety measures because 5G networks are not yet being rolled out in those locations yet, or because 5G towers are located "far enough away that a natural buffer exists."
Newsweek reached out to the FAA for comment.