The Federal Aviation Administration is apologizing for the "disruption and fear" it caused after police evacuated the Capitol building because of an unexpected airplane in restricted airspace.
The FAA on Friday issued a statement taking responsibility for the oversight after coming under withering criticism from House Speaker Nancy Pelosi. Amid heightened concerns of violence following the January 6 insurrection, Pelosi said she would seek to hold the FAA accountable. The agency also said it's seeking to prevent similar events from happening in the future.
"We deeply regret that we contributed to a precautionary evacuation of the Capitol complex and apologize for the disruption and fear experienced by those who work there," the FAA told Newsweek in a statement.
The incident happened Wednesday evening when a U.S. Army parachute plane took off from Joint Base Andrews outside of Washington, D.C. Members of the U.S. Army's Golden Knights were on the plane to parachute into the Washington Nationals' stadium for a pregame event as part of Military Appreciation Night at Nationals Park.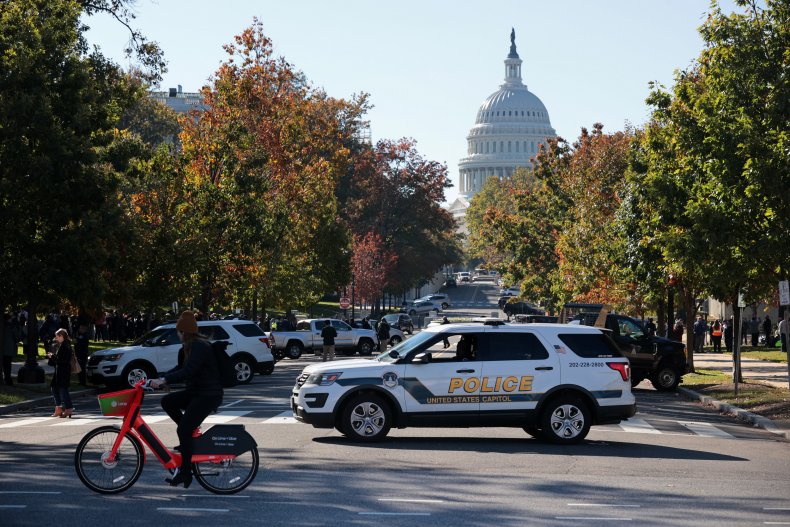 However, the presence of the unexpected aircraft quickly caused a scare. The U.S. Capitol Police evacuated the building "out of an abundance of caution" after realizing it had not been notified of the flight.
Pelosi called the slip-up "outrageous and inexcusable" and said Congress would be reviewing the incident to determine what went wrong and who to hold accountable.
"The unnecessary panic caused by this apparent negligence was particularly harmful for Members, staff and institutional workers still grappling with the trauma of the attack on their workplace on January 6th," said Pelosi in a statement.
The FAA said in its statement Friday that a review found that it did not provide advanced notification of the flight to Capitol Police. The agency said it was continuing to look into the incident and was working with Capitol Police and other officials to prevent a repeat.
"We value our partnership with the U.S. Capitol Police and other law enforcement agencies, and we are taking immediate steps to ensure that we always coordinate well in advance with other agencies to avoid confusion over future aviation events in the Washington, D.C., area," the FAA said in its statement.
The Capitol Police declined further comment to Newsweek. In an earlier statement, police said the last time it conducted an evacuation because of a potential air threat was in June 2014. Capitol Police said they are routinely "made aware of hundreds of authorized flights in the restricted airspace."
Newsweek has reached out to Pelosi's office for comment.