FAA Mandates Safety Measures for Boeing Following Reports of Failing Parts
The Federal Aviation Administration (FAA) is moving ahead with new regulations intended to prevent engines on some Boeing 777 planes from breaking and potentially catching on fire midair.
The administration said Wednesday it had issued new inspection and modification requirements that'll allow Boeing 777-200 and -300 airplanes with certain Pratt and Whitney engines to return to service. The new regulations come in response to previous reports of mechanical failures, particularly one last month when a Boeing 777 leaving Denver, Colorado, caught on fire mid-flight and had to make an emergency landing.
The new regulations require covered airplanes to have strengthened engine covers. They also mandate more detailed inspections of engine fan blades, hydraulic
pump shutoff valves, as well as other systems and components.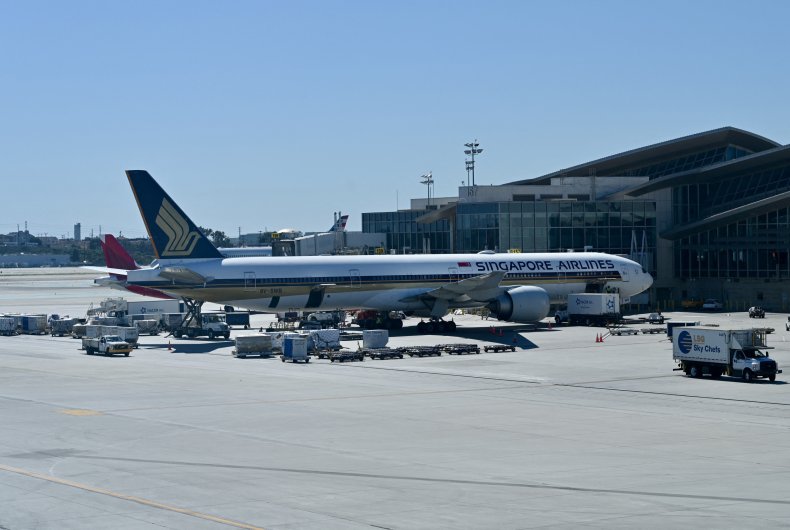 According to the regulations, fan blade failures can be catastrophic and include "uncontrolled engine fire."
"This condition, if not addressed could result in engine in-flight shutdown," the mandates say.
Additionally, the rules specify corrective actions that must be taken in response to inspection results. The regulations are estimated to cost U.S. operators $22.6 million.
Boeing told Newsweek in a statement that the company supports the regulations, saying the safety measures reflect Boeing's push to improve plane design.
"We will continue to work with the FAA, Pratt & Whitney and our customers to safely return these airplanes to service," the company said.
The FAA said in a statement that the next steps involve Boeing developing service bulletins that will describe what airlines must do to comply with the new regulations. While the administration says the regulations will affect 108 U.S. registered airplanes and 256 worldwide, United Airlines is the only carrier affected by them. The administration did not specify how many planes the carrier has.
The mandates were crafted in response to an incident last month where large fragments of a United Airlines Boeing 777 plane fell into the Denver neighborhood on February 19 after taking off for Honolulu, Hawaii. The flight with 231 passengers and 10 crew members landed safely.
The trouble was caused by a failure of the aircraft's right engine, according to the FAA. Passengers posted harrowing videos online showing the engine catching fire mid-flight. Police in nearby Broomfield, Colorado, said debris from the flight littered neighborhoods but caused no injuries or deaths.
"So, first I thought it was debris from a trampoline from my neighbor's yard," Broomfield resident Kirby Klements told The Denver Post at the time. "Came out, looked at it and knew right away that it was the front of an engine of an airplane."
Earlier, another United Airlines flight experienced a mechanical issue midair, causing the plane to make an emergency landing at Louis Armstrong International Airport in New Orleans, Louisiana.
Newsweek has reached out to United Airlines for comment.
Update (3/10, 4:15 p.m.): This story has been updated to include comment from Boeing.