FAA Threatens to Fine, Jail 'Unruly Passengers' After Capitol Rioters Cause Chaos on Flights
The Federal Aviation Administration (FAA) passed a directive Wednesday that aims to bolster its response to disruptive passengers, and manage what the agency described as a recent increase in "troubling incidents" reported during flights.
Wednesday's order adopts strict legal enforcement procedures for verbal and physical disturbances carried out by airline passengers, and will remain in effect through March 30. Where the FAA previously approached "unruly" individuals with warnings, counseling and civil penalties prior to taking legal actions against those responsible, it will now move to enforcement procedures following initial offenses. Those who continue to cause disruptions could face fines totaling $35,000 or possible jail time, according to the directive.
"The agency will pursue legal enforcement action against any passenger who assaults, threatens, intimidates, or interferes with airline crew members," the FAA said in a statement announcing the enforcement order's passage. "Passengers who interfere with, physically assault, or threaten to physically assault aircraft crew or anyone else on aircraft face stiff penalties, including fines of up to $35,000 and imprisonment."
Steve Dickson, the FAA's administrator, told Reuters on Wednesday that the federal agency is implementing a "zero tolerance policy" with regard to "unruly" passenger behavior.
"We will no longer adjudicate certain of these unruly passenger cases with counseling or warnings. We're going to go straight to enforcement," he said.
In its formal statement, the FAA noted a "disturbing" rise in "incidents where airline passengers have disrupted flights with threatening or violent behavior." The agency connected these incidents to passengers' opposition to mask use, which is mandated across airlines as means to reduce COVID-19 transmission, as well as "recent violence at the U.S. Capitol."
A mob of President Donald Trump's supporters stormed the Capitol complex during a violent siege last week, which resulted in five deaths and numerous injuries. Aviation personnel expressed their concerns about rioters boarding flights after the attack, since many of Trump's proponents traveled to Washington, D.C., from elsewhere to attend the sitting president's "Save America" rally.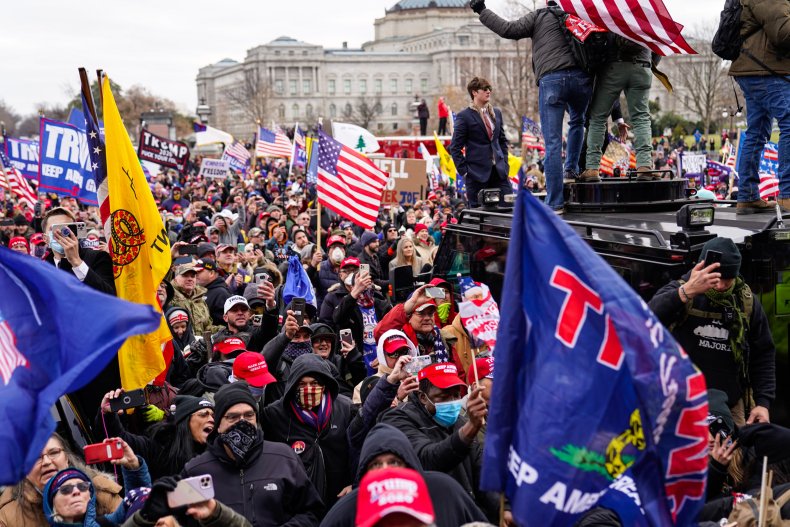 Following the Capitol assault, the Association of Flight Attendants-CWA (AFA), an airline union that represents close to 50,000 flight attendants employed by more than a dozen airlines, requested a flight ban for individuals who participated in the riot. Sara Nelson, the union's president, cited reports of "mob mentality behavior" exhibited by passengers traveling to Washington, D.C., ahead of the siege as reasonable cause for the restriction.
"Our first priority in aviation safety and security is to keep any problems on the ground. Some of the people who traveled in our planed yesterday participated in the insurrection at the Capitol today," the AFA said in its statement. "Their violent and seditious actions at the capital today create further concern about their departure from the DC area."
Rioters went on to create disorder during their departing out of Washington. A video shared to Twitter last Friday showed an American Airlines pilot threatening to ground his plane early and "dump people off" after a group of Trump supporters started to chant while on board.
"This is going to be a four-and-a-half hour flight out to Phoenix," the pilot can be heard saying over a loudspeaker in the social media video. "We'll put this plane down in the middle of Kansas and dump people off. I don't care. We will do that, if that's what it takes. So, behave, please."
The FAA referred Newsweek to its press release detailing the agency's enforcement order in response to a request for comment.