Fab Five Member Karamo Brown Promises To Improve Netflix's Closed Captioning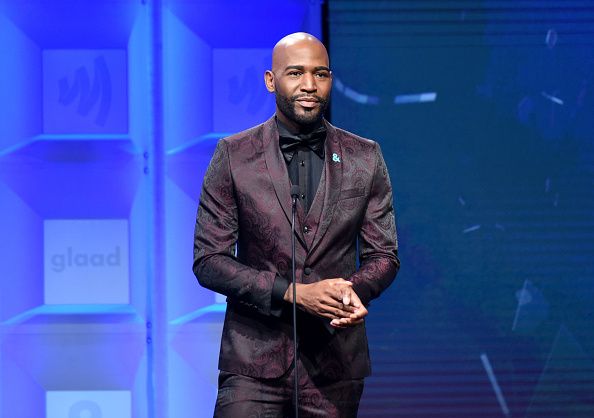 Karamo Brown, the Fab Five's culture expert on the hit make-better show Queer Eye, promised in a tweet on Wednesday that he will fight to improve Netflix's closed captions for fans who are deaf and hard of hearing.
This conversation sparked on Twitter Wednesday with multiple claims that Netflix's Queer Eye captions are censored or inaccurate. FCC regulations require closed captions to appear verbatim, as Huffpost noted. Fans, however, noticed the dialogue did not contain profanity or was been cut down.
The problems with captioning can affect the full experience of audience members who rely on them entirely. Subtitles are created differently depending on the broadcaster, often employing captioning firms outside of the company, according to the BBC. Sometimes captions are generated using software or audio recognition.
In an example provided by ABC news, in Season 2's seventh episode, a participant exclaims, "Shit, I look sexy!" while the subtitle reads, "Darn, I look sexy."
In a sentimental tweet on Thursday, Brown stated, "The next time I'm at Netflix I'm going to bring up this issue internally and won't stop until something changes. Deaf [and hard of hearing] people should have the same experience as everyone else!"
Twitter user Blake Reid said, "As a [Netflix] original, probably not subject to the FCC's rules unless it's later syndicated, but maintaining verbatim captions is a requirement for covered programs."
The National Association of the Deaf sued Netflix in 2012 over their subpar subtitle services. This lead to an agreement that Netflix would provide 100 percent verbatim closed captioning on all streaming content.
"Delivering a great experience to our deaf and hard of hearing members is very important to us," Netflix tweeted Thursday.
Brown previously spoke out about accessibility in media in an April tweet: "As a culture, I've noticed we often don't know how we can support [people with] disabilities. So I'm committing to making small changes in my life. [You] will now see my videos captioned for my deaf/hard of hearing friends."
Netflix acknowledged the issues with the service in a tweet Thursday, saying, "After looking into it, there's lots of dialogue missing from the Fab 5 that shouldn't be. We're fixing it. In some cases, we do bleep incidental profanity from our unscripted series."