'Fables From Donald Trump': Schumer Denies Democrats Called President Asking to Restart Stimulus Talks
Senate Minority Leader Chuck Schumer denied that he or House Speaker Nancy Pelosi called President Donald Trump to meet about an economic relief package, but if Republicans are willing to come up by $1 trillion, he's ready to resume talks.
Talks between the Democratic leadership and White House officials stalled last week as divisions over the package's provisions proved to be too great to overcome. Without a deal, Trump took action himself and signed four executive orders covering some of the measures that legislators were debating, a move he said motivated the Democrats to restart the negotiations.
"The Democrats have called. They'd like to get together. And we say, If it's not a waste of time, we'll do it.... I hear that Nancy Pelosi wants to call, and she wants to see if she can do something. But they're much more inclined to make a deal now than they would've been two days ago," Trump said on Sunday evening, according to Politico.
On Monday, Schumer told MSNBC's Morning Joe that the president's comments about Democrats calling him were "fables from Donald Trump." That is something Trump "seems to specialize in," Schumer said, adding that he didn't call the president and neither did Pelosi.
"He makes these things up or he hears somebody said...Oh, the Democrats are calling you, and he acts like it's true," Schumer said. "Here's how we've left it. On Thursday, we said to them, 'We're willing to come down $1 trillion, you come up $1 trillion. When you're ready, come back to us.'"
Newsweek reached out to the White House for comment but did not receive a response in time for publication.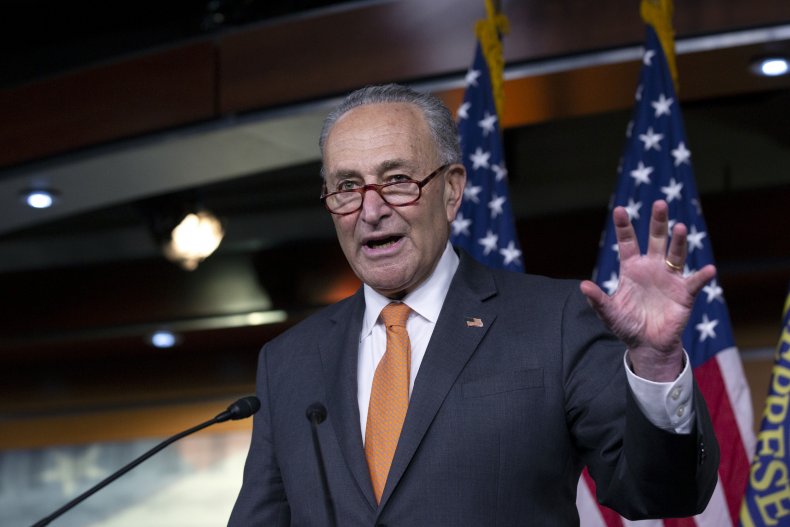 Democrats are pushing for the next relief package to be within the $3 trillion range, whereas Republicans want to keep a $1 trillion price tag. In an "optimistic scenario," Schumer said, it's possible Trump's four recent executive orders may motivate Republicans to negotiate seriously.
The orders would create a payroll tax holiday and eviction moratorium, boost federal unemployment benefits by $400 per week and suspend student loan payments and interest through the end of the year. After "hanging their hats" on Trump's executive orders, which have now proved to be "minimal at best," Schumer said, the Republicans are "in a pickle."
"They just won't work," he said of the orders. "So it may well be that the Republicans are willing to now sit down with us, because they see what they were hanging their hat on."
Treasury Secretary Steve Mnuchin, who's represented the White House at the negotiations, told CNBC's Squawk on the Street that Trump is "prepared to put more money on the table." He added that Schumer and Pelosi seemed "willing to compromise" but declined to say if they would restart discussions.
If the White House can "get a fair deal," Mnuchin said, it would be willing to finalize a relief package this week. However, Schumer said that reaching a deal requires the Republicans to "meet us in the middle."
"They can't just come to the table and say it's our way or no way," Schumer said. "What they're proposing does not meet the dramatic needs of the American people."
'Fables From Donald Trump': Schumer Denies Democrats Called President Asking to Restart Stimulus Talks | U.S.