Face Mask Exemption Cards and Flyers with DOJ Seal Are Not Real, Feds Say
Flyers proclaiming the bearer exempt from wearing face masks were called fraudulent by the U.S. Department of Justice on Wednesday. Some of the flyers, which can also be reduced to the size of business cards and printed, may bear the official DOJ seal.
Many states have mandated the use of face coverings in public spaces due to the possibility of the spread of the coronavirus. Some individuals see wearing face masks as a violation of their civil liberties. According to the DOJ, the flyers in question are not officially endorsed by the U.S. government.
"The Department of Justice has been made aware of postings or flyers on the internet regarding the Americans with Disabilities Act (ADA) and the use of face masks due to the COVID-19 pandemic, many of which include the Department of Justice's seal," says a statement on the DOJ's ADA webpage. "These postings were not issued by the Department and are not endorsed by the Department."
The cards read, "I am exempt from any ordinance requiring face mask usage in public. Wearing a face mask poses a mental and/or physical risk to me. Under the Americans with Disability Act (ADA), I am not required to disclose my condition to you." Any business or organization which denies access to an individual bearing the card will allegedly "be reported to FTBA for further actions."
Newsweek subscription offers >
FTBA stands for the Freedom to Breathe Agency, whose logo and website address also adorn the card. According to the website, FTBA is a "movement of proud American citizens who are dedicated to protecting their freedom and liberty."
A Facebook link on the FTBA website leads to a private group page. According to the group's history, FTBA was previously known as the Anti-Mask Task Force. The Facebook group has been in existence since the beginning of June 2020.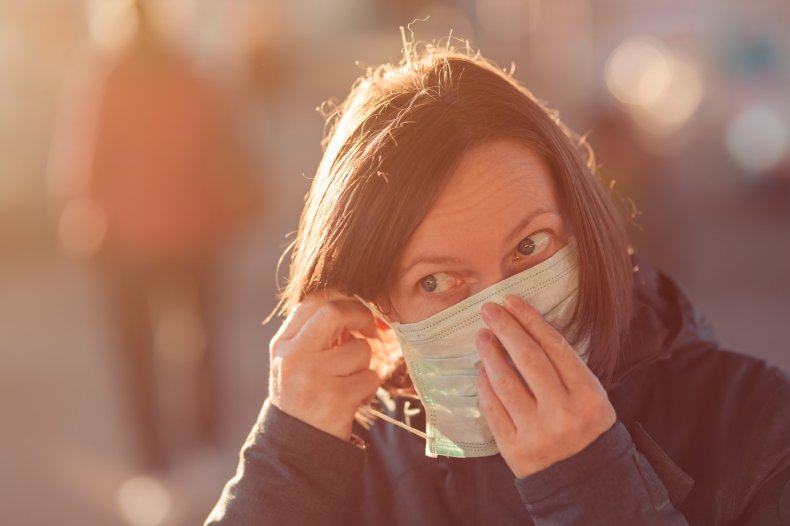 "Wearing a mask is an unhealthy obstruction of oxygen flow that can lead to hypoxemia and hypoxia, can permanently damage the brain, lungs, heart and about any organ," says the group's Facebook description. "We must protect our birth right to breathe. This is NOT negotiable. FTBA is an agency designed to stop face mask orders from spreading nationwide and globally."
Newsweek subscription offers >
On the resources page of the FTBA website, the group explains that wearing a face mask is a "psychological anchor for suppression, enslavement and cognitive obedience."
"How long before your human farmers trick you into believing that it is better you stop breathing altogether... as to stop the spread of a virus?" the website continues.
Newsweek reached out to the FTBA for comment. This story will be updated with any response.
Recommendations from the Centers for Disease Control and Prevention call for the wearing of facial coverings in areas where social distancing guidelines may be difficult to maintain. In some states where positive cases of the coronavirus increased after mitigation protocols were relaxed, such as California, governments have mandated the usage of face masks in high-risk areas.
However, some individuals think that being forced to wear a face mask encroaches on their rights. In May, protesters descended upon Michigan's capitol building to call for an end to Governor Gretchen Whitmer's stay-at-home orders. Many of the protesters were not wearing face masks.
President Donald Trump has been seen in public without a face mask, even during events where many individuals are present. In May, Trump visited a Ford plant in Michigan. Although he had a face mask with him, he said he would not put it on while the media was present.
"I don't want to give the press the pleasure of seeing it," Trump said.
Face Mask Exemption Cards and Flyers with DOJ Seal Are Not Real, Feds Say | U.S.