Not Covering Faces For COVID-19 Means More Deaths Likely, Oxford Professor Claims
A leading scientist has warned that unless the British government takes action to ensure people wear face masks and coverings when in public, it could lead to more deaths from COVID-19.
It comes after Scottish First Minister Nicola Sturgeon urged Scots to wear face masks for shopping and travel.
Professor Trish Greenhalgh, professor of primary care health sciences at the University of Oxford, said the same measures should be taken across the U.K. and claims that face coverings and masks are a "highly effective form of source control (stopping a contagious patient infecting others)."
She told Newsweek: "The reason there seems to be confusion over whether face masks are effective is because people are focusing on whether it protects only the wearer. "But that is not what it's all about."
Greenhalgh also challenged the claim that wearing face masks would lead to people touching their faces more when they put masks on, potentially increasing the transmission of the disease.
She said: "There is no evidence people will touch their face and nose more.
"If people are touching their own face more, it means they're only touching their own germs. The idea that it could lead to more people touching their face and nose is sheer stupidity."
"There is not a single country where wearing a face covering has made matters worse.
"The government seems to be taking its advice from particular scientists who are being very cautious and conservative, I think they're being over cautious."
"Any delay in this could kill more people."
Professor Greenhalgh was keen to stress that she was not demanding every individual wear a medical mask and was fully aware that there was a risk it could mean a shortage of masks for key workers.
She is instead asking people to wear face coverings.
She said: "Standard cotton masks are fine for source control. You don't need medical masks. You can make them at home."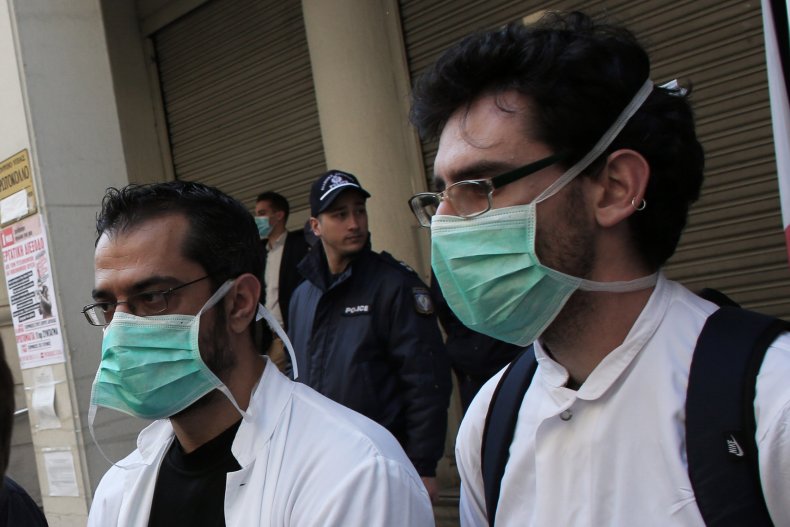 Professor Greenhalgh also offered to help the government with advice and support and says no one from the government has approached her for help as of yet.
Despite seven states in the U.S. requiring the wearing of face protection in some way, there is still a debate about whether the masks should be used.
Dr Simon Clarke, an associate professor in cellular microbiology at the University of Reading, said that Nicola Sturgeon's decision in Scotland seemed to be borne out of the idea that "something needed to be done, so let's do it" rather than new evidence.
He said: "There's scant evidence that they work. The precautionary principle tells us that we should only do something like this, if we know there's no negative effect.
"In the case of face masks, there's no evidence either way."
Dr Clarke drew attention to Japan who thought they had "beaten the virus" and introduced medical masks but then had been hit by a second wave of infections.
He said: "The people who advocate the need for masks and coverings, need to come up with better evidence that they are helpful.
"I don't think there's evidence for them as things stand.
"Those who suggest that the use of face coverings, it's also the first step for people demanding masks."
Clarke estimated that almost a billion masks would be needed to satisfy demand in the U.K. given that more than one mask would be needed per person.
"Around 1,600 masks would need to be made every second of every day in order to satisfy the current population's requirements," he said/
Meanwhile, Professor Dame Angela McLean, deputy chief scientific adviser, addressed the issue directly at the daily Downing Street press conference:
"The recommendation from SAGE (Scientific Advisory Group for Emergencies) is completely clear, which is there's weak evidence of a small effect in which a face mask can prevent a source of infection going from somebody who is infected to the people around them," she said.
The Department of Health and Social Care says SAGE have looked at the further evidence relating to the effectiveness of masks in preventing transmissions of the disease and are finalizing their advice to ministers who are now reviewing it to decide on any further action that may be needed.