Hundreds Protest Against Having to Wear Face Masks in England
Hundreds of people took to London's Hyde Park to protest against being made to wear a face mask in England.
The government has recently made the wearing of face masks mandatory in England for those visiting shops and supermarkets from July 24 in a bid to stop the spread of COVID-19.
Those who refuse to wear a mask will face a fine of £100 which will be reduced to £50 if they pay it within 14 days.
However, hundreds protested against the requirement to wear masks on Sunday, with some carrying placards that read: "'I will not be masked, tested, tracked or poisoned. This will not be my new normal."
One person wore a t-shirt with the words "save human rights, no to 5G no to vaccinations."
The protest was organized by the "Keep Britain Free" group, which accuses the government of acting illegally and disproportionately over its decision to impose a nationwide lockdown over COVID-19.
On its Facebook page, the group advertised the protest with the words: "Let's start to take back our freedoms for real."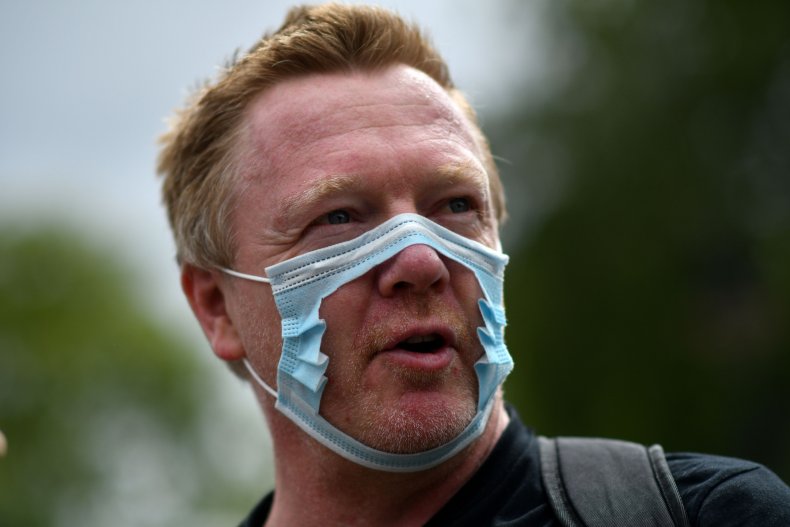 Leah Butler-Smith, one of the organizers told Sky News: "It is just the fact that people are being told they have no choice about wearing a mask.
"Because the government started out saying 'there is absolutely no need for a mask' and many other important scientists have reportedly said the same, it did not make any sense why they suddenly said it was going to be mandated.
"If the government really wants to protect the public and give them more confidence then they should stop trying to use the coercion strategy or to make people scared."
The founder of Keep Britain Free, Simon Dolan, lost a High Court case earlier this month to force the government to overturn the nationwide lockdown which was put in place to combat the pandemic.
It comes as Conservative MP Desmond Swayne told the U.K. Health Secretary Matt Hancock that the decision to make the wearing of face masks mandatory was a "monstrous imposition."
He said: "Nothing would make me less likely to go shopping, than the thought of having to mask up."
The Police Federation, which represents rank and file police officers, had said it was "unrealistic and unfair" for the government to expect officers to patrol shopping aisles, looking for people breaking coronavirus regulations.
John Apter, chairman of the Police Federation of England and Wales, said: "Policing the wearing of face coverings in shops can't be a priority because we simply don't have the resources."
In the U.S., protests have taken place in a number of states against the wearing of face masks, with President Trump saying he would not be wearing a face mask after the Centre for Disease Control recommended that "cloth face coverings" should be worn when social distance cannot be maintained.
On Saturday however, President Trump was seen wearing a face mask, but vowed not to order Americans to wear masks to contain the spread of coronavirus.