California Men Accused of Displaying Empty Boxes of Facemasks, Attempting to Sell Millions Of PPE Units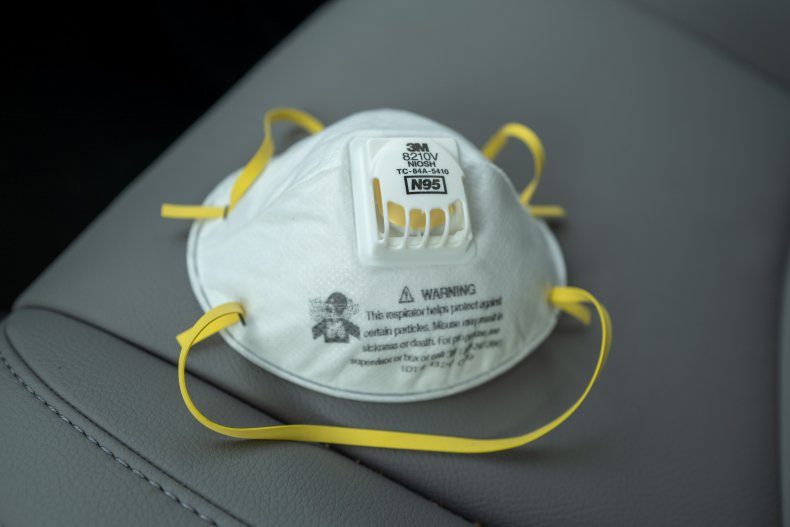 Two California men were arrested Monday on suspicion of attempting to defraud potential PPE buyers out of millions of dollars.
Donald Lee Allen, 62, and Manuel Revolorio, 37, were named in a criminal complaint in Brooklyn, New York, which set forth accusations that the two men conspired to misrepresent the amount of face masks they would be able to supply, while at the same time pressing to secure advance payment.
A contact form on the website of a corporation prosecutors believe facilitated the alleged scheme was used by Newsweek to request comment from Allen and Revolorio. A message sent directly to the company's e-mail address by Newsweek was returned as undeliverable.
According to the Federal Bureau of Investigation, Allen—who served a one-year federal sentence for mail fraud in 2004—and Revolorio repeatedly misrepresented their inventories of PPE when discussing purchase orders with potential buyers. In one attempted transaction, Allen delivered three invoices to an unnamed investor, who was acting as a government informant, totaling $4.8 million for 3.8 million 3-ply masks and 500,000 respirators.
But after conducting searches of multiple sites where Allen, Revolorio and alleged, uncharged co-conspirators were said to have stored the masks, the FBI says it found quantities far short of what the men had represented.
In 2017, their company, the International Commerce and Investment Group (ICIG), was incorporated as a real estate business in California, but only began to participate in the PPE economy starting in March of this year.
The ICIG website stated that the company stocks "thousands of the products and brands used in various professional industries" and that its "distribution centers play an essential part of the supply chain process." However, the FBI says that ICIG had no substantial inventory or distribution centers.
When contacted by the FBI, a telephone number listed on the ICIG website produced an automated message "advertising an adult telephone service," according to the criminal complaint.
Revolorio and associates displayed their inventory to an individual they believed was a partner of the unnamed investor, claiming that boxes inside a Rancho Cucamonga warehouse contained 500,000 3-ply masks. They further claimed that another room inside the warehouse, to which they did not have immediate access, contained an additional two million masks.
At a nearby residence, the partner, actually an undercover agent, was shown scores of shrink-wrapped or sealed boxes, many bearing the label of 3M, a medical supplies manufacturer. After conducting a search of the Rancho Cucamonga warehouse, the residence and an additional warehouse in downtown Los Angeles, FBI agents discovered the boxes were largely empty.
"The alleged behavior here is nothing short of a betrayal of fellow citizens – both those serving on the front lines, and the communities who need those essential workers able to safely serve," FBI Assistant Director-in-Charge William F. Sweeney, Jr., said in a press release. "At this critical time, Allen and Revolorio allegedly deceived potential investors and purchasers into thinking they were running a legitimate business with resell rights to more than three million of these highly sought-after items."
On the same day the warehouses were being displayed, Allen and an unindicted co-conspirator were pressing the unnamed investor to place a purchase order. "Gentlemen, Please find the attached 3 invoices for tomorrow morning's transaction," Allen wrote in an e-mail, asking that the invoices be paid "to the Law Offices" of one alleged co-conspirator.
After searching the Rancho Cucamonga warehouse, the FBI says agents recovered little more than 33,000 masks, far short of the 500,000 masks that were claimed to have been present. The other room inside that warehouse, ostensibly containing additional millions of masks, also did not exist.
According to an FBI interview of workers at the Rancho Cucamonga warehouse, masks inside were owned by a Chinese company and ICIG was not authorized to resell them. The owner of the Los Angeles warehouse revealed that he owned the 1.3 million masks at that site, and that there was no resale agreement with ICIG.
In interviews with the FBI, both men denied they had been engaging in price gouging. Recently, federal prosecutors brought the first-ever case of price gouging and hoarding under the Defense Production Act, related to the distribution of PPE.
If formally charged with one count of wire fraud each, Allen and Revolorio face a potential penalty of up to 20 years in prison.