Several major U.S. airlines have lifted mask mandates following a Florida federal judge's ruling.
On Monday, Judge Kathryn Kimball Mizelle, an appointee of former President Donald Trump, struck down the federal mask mandate on airplanes and mass transit.
The U.S. Centers for Disease Control had recently extended the mask mandate to May 3 to allow more time to study the BA.2 Omicron subvariant of the coronavirus that has now become the dominant strain in the U.S.
But the judge's ruling freed airlines, airports and mass transit systems to make their own decisions about mask requirements, prompting several major airlines to quickly switch to a mask optional policy.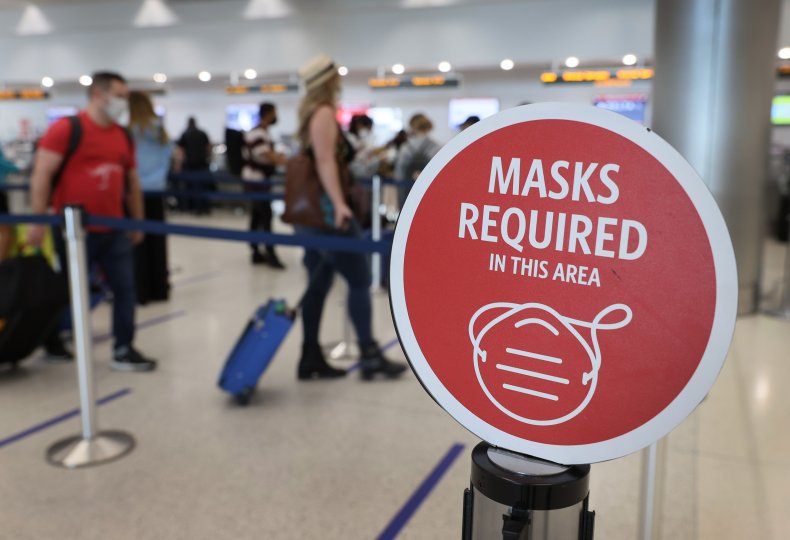 United Airlines
United Airlines said masks would no longer be required on domestic flights or certain international flights.
"Masks are no longer required on domestic flights, select international flights (dependent upon the arrival country's requirements) or at U.S. airports," the airline said in a tweet. "More comfortable keeping yours on? Go right ahead... the choice is yours (you look dino-mite either way)!"
Delta Air Lines
In a statement, Delta said masks are now optional for all airport employees, crew members and customers inside U.S. airports and on domestic flights, as well as on most international flights.
It said: "You may experience inconsistent enforcement during the next 24 hours as this news is more broadly communicated—remember to show understanding and patience with others who may not be aware enforcement is no longer required.
"Communications to customers and in-airport signage and announcements will be updated to share that masking is now optional—this may take a short period of time."
American Airlines
American Airlines said it is ending the mandatory mask requirement at U.S. airports and on domestic flights.
In a statement, the airline noted that face masks may still be required in some places, based on local ordinances or when traveling to and from certain international locations.
"In keeping with our commitment to creating a welcoming environment for everyone who travels with us, customers and team members may choose to continue to wear masks at their own discretion," the statement said.
Southwest Airlines
In a statement, Southwest said employees and passengers will now "be able to choose whether they would like to wear a mask on flights, at domestic airports, and at some international locations."
The airline said it is encouraging people to "make the best decision to support their personal wellbeing."
The statement said: "We appreciate the cooperation and compliance efforts of our Customers and Employees as policies have evolved. We'll continue to monitor public health guidance, and federal requirements, while always keeping safety as our uncompromising priority."
Alaska Airlines
Alaska Airlines also said masks for customers and employees are now optional.
"Safety is always our highest priority, so while we love to see your smiling faces in the airport and on board, we respect your decision to keep using this added layer of protection," the airline said in a statement. "Above all, we hope you'll treat each other with kindness and respect throughout the travel journey and beyond."
The airline also said it would "remain vigilant and prepared for whatever may come next."
"While we sincerely hope most of these challenges are in our rear-view mirror, we are confident we will be ready to respond if faced with another COVID wave or even a new virus," the statement said.
JetBlue
JetBlue said mask-wearing is now optional on JetBlue flights.
"While no longer required, customers and crewmembers are welcome to continue wearing masks in our terminals and on board our aircraft," the airline said.
"Regardless of the U.S. rule change, customers and crewmembers who are traveling internationally should always have a mask with them in case they continue to be required at their destination."