Face-Off: NYC Lawmakers Grill Airbnb on Illegal Hotels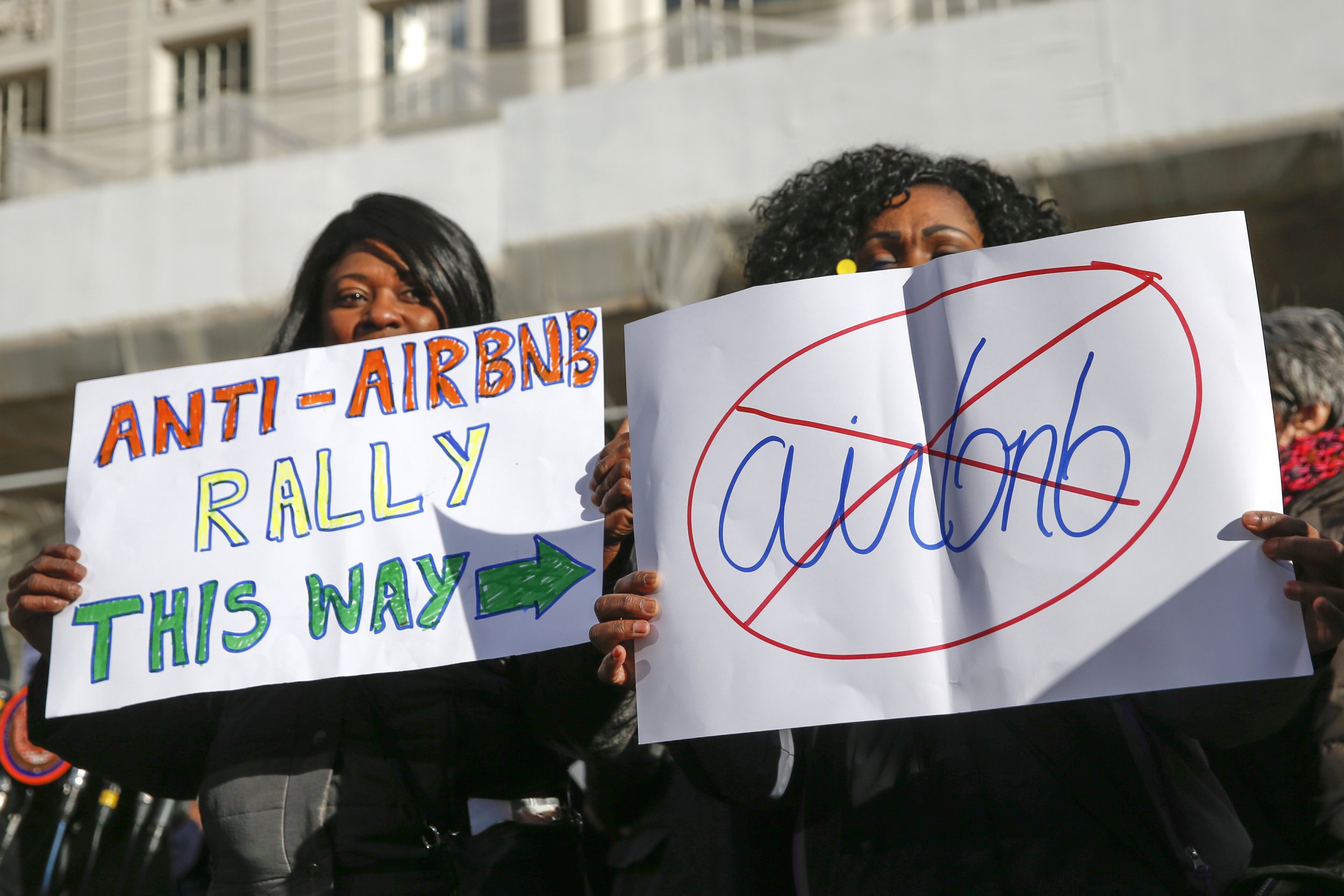 For about a year now, Airbnb has been at the center of a heated battle, pitting residents and lawmakers against one another in New York City. At issue: whether the website, which allows users to list their homes and rent them out for a nightly fee, has helped create a bevy of unsafe, illegal hotels and exacerbated the city's housing shortage.
On Tuesday, the battle played at New York's City Hall, where the City Council held a hearing about the company's practices. Outside, around 9 a.m., Airbnb employees passed out T-shirts and stickers promoting the company. Within an hour, however, protesters arrived on the scene, filling half a city block. Some were well-known housing activists, while others were just ordinary New Yorkers concerned with Airbnb's impact on the city.
Inside, tensions ran high as the majority of people were there to protest against the San Francisco-based company. Some in attendance carried "My home is not a hotel" signs, and on several occasions, burst into applause despite City Council rules banning clapping during meetings.
During the hearing, four Airbnb representatives squared off against city legislators about the legality of its business. New York state law bars tenants and landlords from renting out their apartments for less than 30 days unless they're living in the same unit. Airbnb believes the rules should changed, while the city council wants the company to obey the law, which would greatly narrow Airbnb's customer base.
The council was particularly concerned with Airbnb's role in promoting illegal hotels, which a landlord creates when he or she rents out an apartment for a short-term lease. Critics say this practice is unsafe as illegal hotels often aren't up to the city's fire and safety standards.
Last year, New York Attorney General Eric Schneiderman subpoenaed Airbnb for customer data to determine how many illegal hotels the company was supporting. Just 6 percent of Airbnb hosts, he found, controlled more than a third of all the company's listing—a clear indication of widespread illegality. One host had 272 apartments listed on the site, earning $6.8 million a year in revenue.
As a result of Schneiderman's findings, Airbnb removed 2,000 hosts from its website and now says it doesn't support any illegal hotels. But Share Better, an anti-Airbnb lobbyist group, said on Tuesday the company has added 2,300 illegal hosts over the last year. Airbnb called the information "flawed," and David Hantman, the company's global head of public policy, said the site has started to take pains to "educate our hosts about the city's laws [and] ... make them aware of their lease and fire codes."
Council members also questioned Airbnb about its role in promoting lease breaking. City leases generally don't allow renters to sublet their apartment for less than 30 days, but Airbnb's business is essentially based on short-term rentals. In a rare admittance of wrongdoing, the company acknowledged that it didn't do enough in the past to educate its users about the laws, and the company still doesn't try and find out if its users are renting out their apartments illegally. "We do not research that," Hantman said.
One member of the council, Jumaane Williams, was particularly miffed about the company's lack of due diligence. "I understand if you think the law is wrong," he said. "I don't understand why you aren't finding out if people are obeying the law.
The main reason the company may not be interested in following the law, Councilwoman Helen Rosenthal said, is profit. Hosting is big business in the city: The top 12 Airbnb hosts earned more than a $1 million a year, according to the New York Attorney General's office, and Airbnb takes a cut of every transaction. But this profit, lawmakers say, comes with a catch for ordinary residents. When a landlord uses units for Airbnb, they're no longer available to city residents, which critics say has made affordable housing even more difficult to find.
Though the council took issue with Airbnb's business model, they acknowledged the convenience of the service for users, noting that rooms are often less expensive than hotels. Since it came to New York in 2012, Airbnb has been popular among tourists and business travelers, many of whom may not know they're staying in an illegal residence.
Throughout the meeting, as each side presented its argument, lawmakers and Airbnb reps found little common ground. At one point, councilwoman Helen Rosenthal asked him to remove illegal Airbnb listings on the spot. Hantman said he wouldn't be able to do that, so Rosenthal offered to make herself available the next day, providing her personal email to the Airbnb representatives.
Though the council was quick to question Airbnb's business model and impact on New York's housing situation, Rosenthal did offer what she hoped would be a compromise. "Would you allow hosts to rent just one time a year?" she asked. Hantman, however, didn't find the proposal agreeable. "You should be able to rent your home whenever you want," he said.
Even Airbnb's promotional T-shirts came under fire as critics said the company was using them to try and curry favor with New Yorkers. "I'm just amazed at how bad it seems," Williams said, referring to the tension between the council and the company.
Hartman seemed to agree. As he put it: "We are still talking past each other."