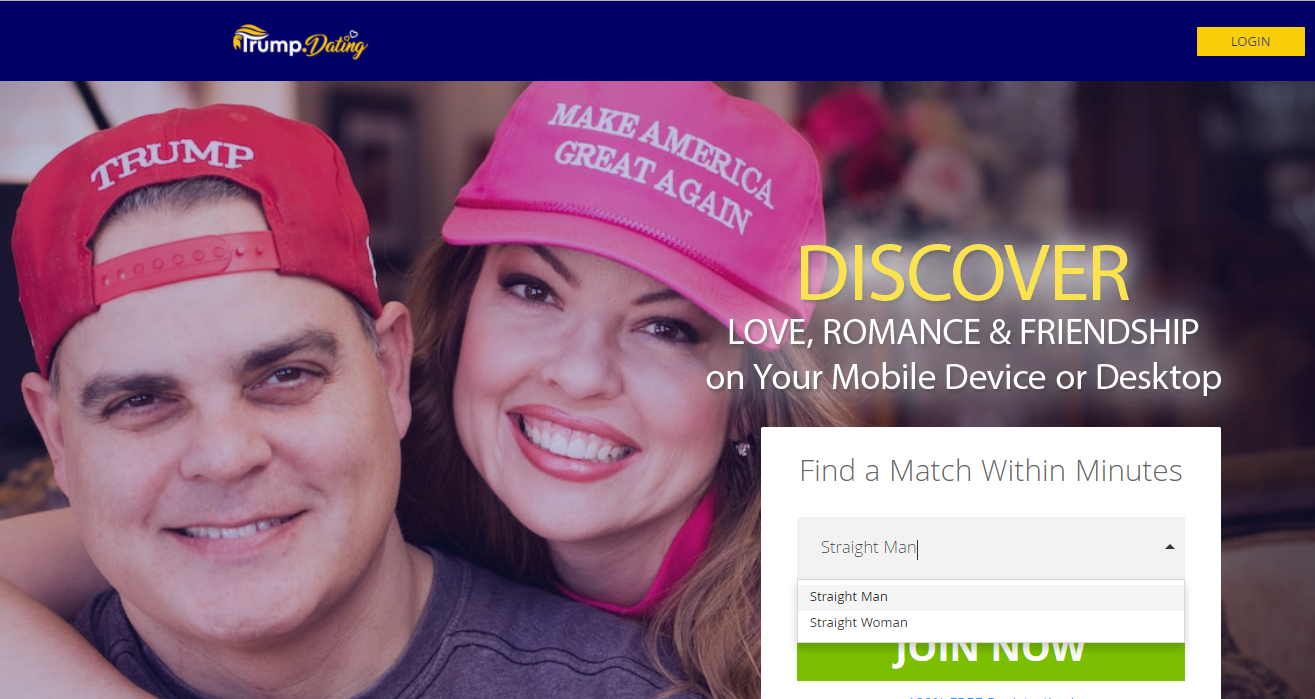 Updated | A dating website promising to match pro-Trump supporters has removed the main photograph from its homepage after local media identified one of the people portrayed in the image as a North Carolina conservative activist who has a child sex conviction.
Images of the website's homepage went viral over the past 24 hours Monday after several news publications, including Newsweek, reported that the dating service did not allow users to register as anything other than "straight man" or "straight woman." The photo serving as a backdrop to the registration menu portrayed a couple, the man wearing a red "Trump" cap backward and the woman a pink hat reading "Make America Great Again."
Local North Carolina news website Triad City Beat identified the couple as Barrett Riddleberger, also known as Brett, and Jodi Riddleberger, Greensboro residents who were involved in setting up a Tea Party–inspired Conservatives for Guilford County political action committee (C4GC).
It was the couple's political commitment that put Barrett's 1995 conviction, which is available on public records, under the spotlight. The first mention of his criminal record was made by his wife in a 2011 Facebook comment underneath a C4GC post that announced the candidature of fellow Republican Jeff Hyde to the Senate.
Jodi's comment alleged that Hyde's political rival Nancy Vaughan, currently serving as mayor of Greensboro, had been "trying to find dirt" on Hyde's associations and had "ran across an incident involving my husband from almost 20 years ago." Vaughan rejected the allegations as "100% incorrect," local blogger Ed Cone reported in his account of the controversy at the time, in which he included Jodi's comment before it was deleted.
Barrett's criminal record then resurfaced a few years later, when the Riddleberger couple was among the plaintiffs in a defamation lawsuit against Greensboro blogger Jeff Martin, who wrote a satirical blog post saying that C4GC's most prominent members included the owners of a strip club and a child sex offender. According to a Greensboro News & Record report of the lawsuit, Barrett had filmed himself having sex with a 15-year-old girl when he was a 25-year-old man.
In her Facebook comment, Jodi invoked the Christian concept of redemption to defend her husband. "These people obviously don't understand the idea of a changed life... or Redemption. Neither are they willing to look at my husbands [sic] 15 year track record that includes a happy wife, 3 beautiful children and a successful business," she wrote.
It remains unclear how Friends Worldwide, the company operating the Trump.Dating website, obtained the couple's picture. The website also appeared to have removed a series of pictures that accompany the registration process.
On Monday, Newsweek identified one of those images as portraying General Mark A. Welsh III, former chief of staff of the U.S. Air Force and currently dean of the Bush School of Governance and Public Services, whose photo is publicly available for download on the Air Force website. The university's director of communications and external relations Susan Robertson told Newsweek the picture was used without permission.
This story was updated with comments from Susan Robertson received after publication.