As Facebook Turns 17, Three Charts Show the Scale of Mark Zuckerberg's Social Media Empire
Facebook is officially 17 years old.
The social network has come a long way since it was launched as "TheFacebook" on February 4, 2004, by Mark Zuckerberg and four fellow Harvard students, Eduardo Saverin, Andrew McCollum, Dustin Moskovitz and Chris Hughes.
Once it was a scrappy underdog that operated under the mantra "Move fast and break things." Today it's a vast empire of apps that pulls in billions of dollars every year and has made Zuckerberg one of the five richest people in the world.
To mark its birthday, data company Statista provided Newsweek with three charts that illustrate Facebook's scope and reach.
They detail how the company has expanded its user base, how it has grown via tactical acquisitions and how it continues to thrive despite controversies over user moderation, misinformation and privacy.
Facebook apps reach billions of people every month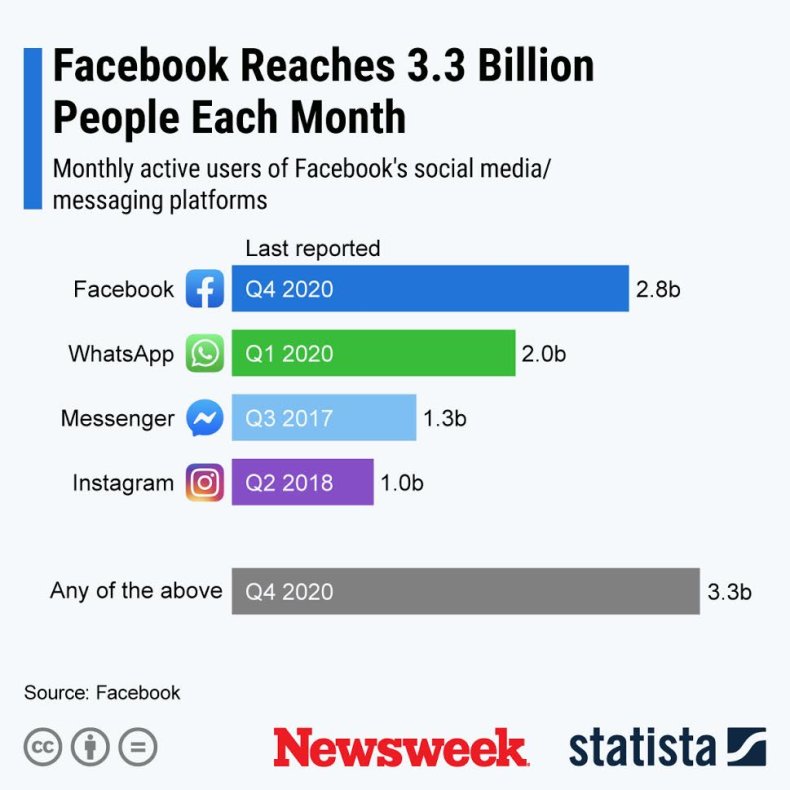 The first version of the site launched in February 2004 was pitched as a social network for Harvard students. By March, however, it was spreading to other Ivy League universities, including Stanford, Columbia and Yale.
It became popular fast, reaching 1 million active users by December 1 the same year. Exactly one year later, it logged 6 million users. By October 2012, Facebook reached 1 billion active monthly users.
In between, the site had opened up to everyone, introduced key features such as the "like" button and the timeline, and made its debut on the stock market. In the years that followed, Facebook did what rival MySpace ultimately could not: adapt to survive.
Facebook's daily active users for December 2020 alone were 1.84 billion on average, a rise of 11 percent year-on-year. As of December 31, 2020, Facebook said its monthly active users had been 2.8 billion—a year-on-year increase of 12 percent.
These days, Facebook is not just Facebook, but a family of apps including secure chat service WhatsApp and picture-sharing giant Instagram.
When these platforms and Facebook Messenger are added to the figures, the company pulled in 2.6 billion daily users on average for December 2020, an increase of 15 percent year-on-year. On a monthly basis, it attracted 3.3 billion users as of December 31, 2020, an increase of 14 percent.
Facebook's purchases record major growth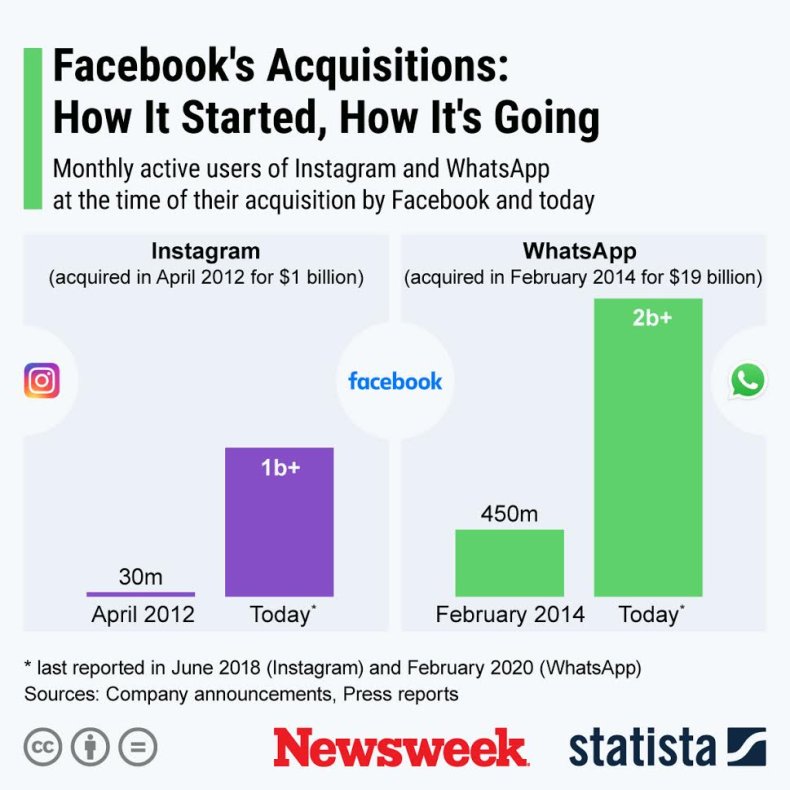 Facebook's acquisitions have managed to keep the brand relevant, even as it continued to mature.
In April 2012, it bought Instagram for around $1 billion. Two years later, Zuckerberg purchased the encrypted messaging service WhatsApp in a deal estimated at $19 billion. This Statista chart provided to Newsweek details how monthly active users of the platforms have spiked in the years since they were taken over.
In April 2012, Instagram had roughly 20 million monthly active users. According to the latest available data, by January 2018, that number had grown to more than 1 billion.
In February 2014, WhatsApp had approximately 450 million users. Today, that number has surged to more than 2 billion active users every month.
Facebook's user base has had consistent growth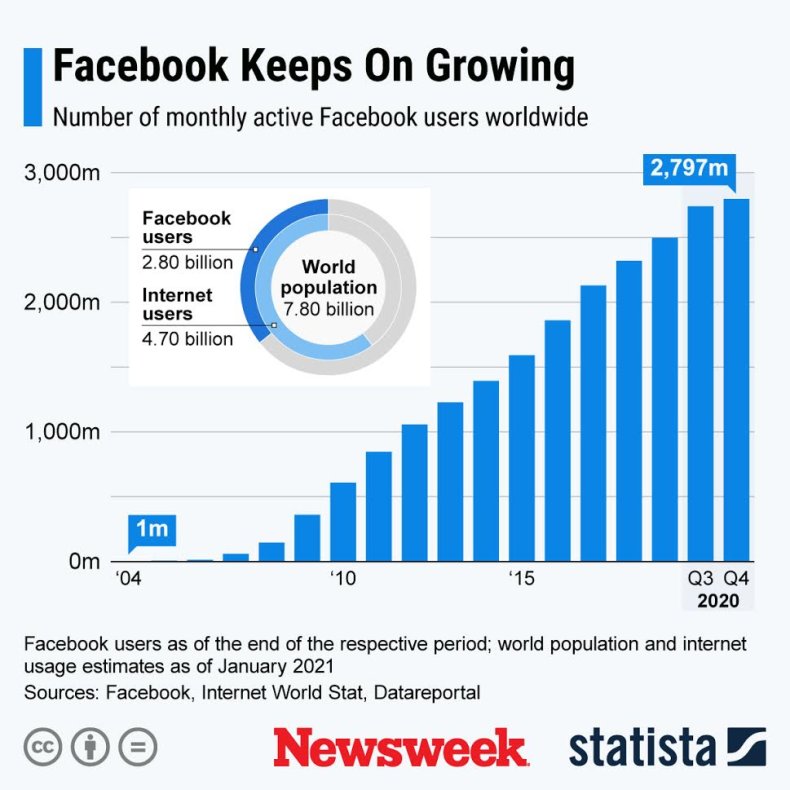 Facebook's path to the top hasn't always been easy, and it has been caught up in several major scandals in recent years.
In 2016, it was exploited by Russia to spread political propaganda. In 2018, it was hit by the Cambridge Analytica data misuse revelations. Last year, it suffered a widespread advertiser backlash over hate content, was accused of failing to combat election or vaccine misinformation, and came under pressure to ban a president.
Despite taking some reputational hits, the company has continued to thrive financially. Its total revenue for the final quarter of 2020 was $28.1 billion, a 33 percent year-on-year increase and its fastest growth rate in over two years.
Its global audience has consistently expanded, too. According to Statista, over half of the world's internet users have at some point signed up to Facebook. The number of monthly active users has seemingly been on an upward trajectory since 2004.
Looking to the future, Zuckerberg wrote in a Facebook post on January 27 that he was pondering steps to further reduce political content in users' news feeds. He also said he was planning an expansion of the company's Reality Labs division, which is focused on creating products linked to virtual and augmented reality, with brands such as Oculus and Portal.
The tone of his post was cautiously optimistic. He wrote: "2021 has a lot of unknowns. We don't know when vaccines will be widely available, when our teams will be back in the office, or when our lives are going to start feeling normal again."
"I personally believe that technology can unlock progress and opportunity—and that the full story of the internet has not yet been written. That's why I'm hopeful for the year ahead, and grateful that you're all on this journey with us."