Coalition Including Facebook, Google, Amazon Urges Court To Block Trump's Public Charge Rule Barring Immigrants Who Need Benefits
Twitter, Microsoft, LinkedIn and a coalition of other technology giants, including Facebook, Google and Amazon, are calling on a federal court to stop the Trump administration from enforcing its public charge rule, which seeks to bar low-income immigrants from gaining entry into the U.S.
The industry leaders have joined dozens of other companies and organizations in signing an amicus brief calling on the U.S. Court of Appeals for the Fourth Court to refuse to allow the Trump administration to enforce the rule, which technology firms have branded "unconscionable."
Under the public charge rule, the U.S. would be able to turn away low-income immigrants on the basis that they would be likely to access public benefits, including Medicaid and food stamps.
Should the rule go into effect, signatories of the amicus brief warn, immigrants who might have previously been welcomed in the U.S. could be denied temporary visas or green cards if they have poor credit scores or earn less than a middle-class salary.
The negative impact, they said, however, would not only be on immigrants, but also on U.S. businesses and on the U.S. economy.
By creating more hurdles for immigrants, including highly-skilled immigrants, technology giants warn that the public charge rule will make it more difficult for companies to hire talent from abroad, which they said in a press release would "slow economic growth, prevent businesses from expanding, and break faith with core American values."
The effort to fight the public charge policy was led by Boundless Immigration, a technology company seeking to assist families in navigating the immigration process.
In a statement shared with Newsweek, Xiao Wang, CEO of Boundless Immigration, warned: "The public charge rule will add an unprecedented level of complexity and subjectivity onto the immigration system."
"This country and the major employers represented in this filing are made better by talented and hard-working immigrants," Wang said. "We will continue to fight back against this administration's efforts to deter, delay, and deny legal immigration."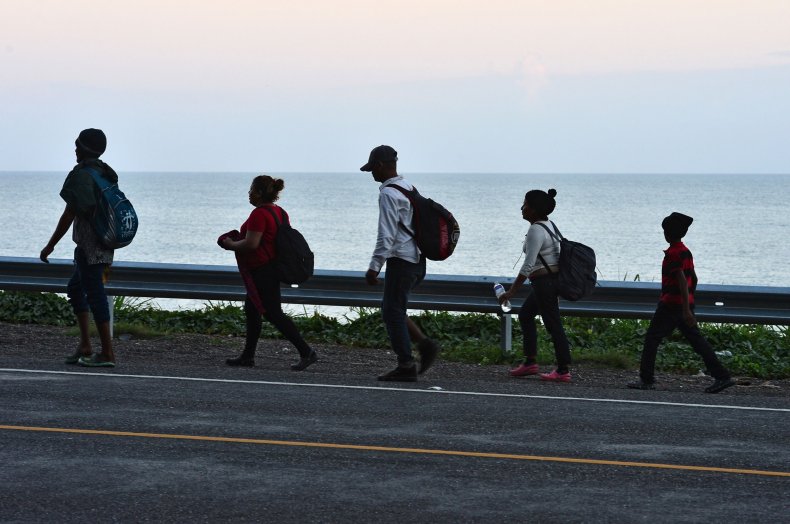 Still, "although the Rule will have a disastrous impact on the bottom lines of American taxpayers and American businesses, its defects cannot be reckoned solely in terms of dollars and cents," signatories said in the amicus brief.
"By closing the door to immigrants whom DHS deems insufficiently wealthy—or who possess any of the several characteristics that DHS believes may portend a lack of future wealth—the Rule undermines the principle that has animated immigration policy since the Nation's founding," they warned. "We have long believed that people from all walks of life should have the opportunity to come to this country, contribute to American society, and make new lives for themselves and their families through ingenuity, entrepreneurship, and hard work."
Studies have already suggested that low-income immigrants are less likely to rely on public benefits than low-income Americans born in the U.S., with the Bipartisan Policy Center pointing out that most studies have reported this finding when it comes to programs like Aid to Families with Dependent Children (AFDC), Medicaid and the Children's Health Insurance Program (CHIP).
Still, the Trump administration has maintained that immigrants who wish to live in America should be able to prove that they will be able to support themselves without government assistance.
Newsweek has contacted the White House and the Department of Homeland Security for comment.