Facebook has fired a strongly worded rebuttal at the White House after Joe Biden said the company is "killing people" by failing to stem the flow of health misinformation, particularly about COVID-19 vaccines.
Guy Rosen, the company's vice president of integrity, accused the Biden administration of "finger pointing" by choosing to "blame a handful of American social media companies" for misinformation amid a rise in COVID-19 case numbers.
In a blog post on Saturday, Rosen wrote that "facts — not allegations — should help inform" efforts to overcome misinformation.
He said the company does "take action" and has removed more than 18 million instances of "COVID-19 misinformation" and reduced the visibility of more than 167 million pieces of COVID-19 content debunked by its fact-checking partners.
He also pointed to a recent company survey—conducted with Carnegie Mellon University and the University of Maryland—that suggests vaccine acceptance among U.S. Facebook users increased from 70 to 80-85 percent since January, while vaccine hesitancy has fallen.
"These and other facts tell a very different story to the one promoted by the administration in recent days," Rosen wrote.
He added that "Facebook is not the reason" that President Biden's goal of having 70 percent of Americans at least partially vaccinated by July 4 was missed, highlighting problems of access and availability for "harder-to-reach" people.
The blog post comes after President Joe Biden's surgeon general, Dr. Vivek Murthy, hit out at social media and tech companies in an advisory—a short statement meant to bring attention to a public health issue.
He accused social media companies of not doing enough to stop dangerous health misinformation, particularly about COVID-19, from spreading.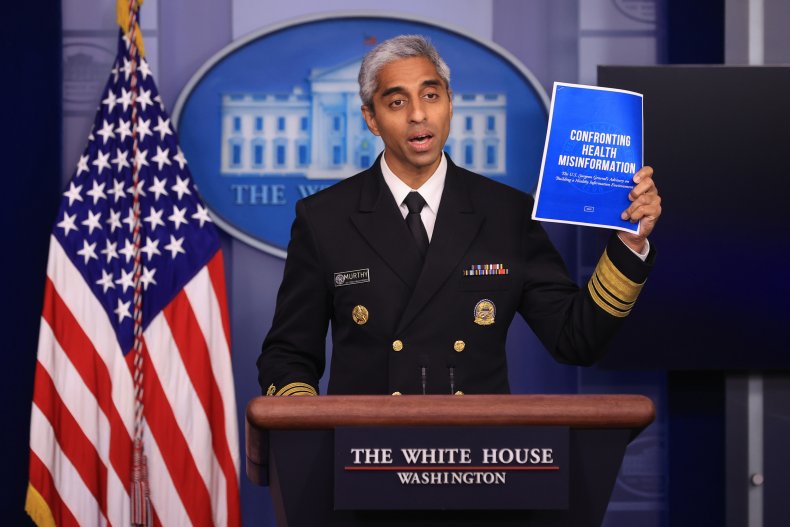 "The Biden Administration is calling for a whole of society approach to this challenge," Rosen concluded. "We agree. As a company, we have devoted unprecedented resources to the fight against the pandemic, pointing people to reliable information and helping them find and schedule vaccinations. And we will continue to do so."
Following the surgeon general's 22-page report, Biden was asked for his message to platforms like Facebook on Friday. "They're killing people," the president replied. "I mean, they really. Look, the only pandemic we have is among [the] unvaccinated. And they're killing people."
Facebook shot back, with an unnamed official on Saturday insisting Murthy had used private exchanges to praise the company's work targeting misinformation.
"They knew what they were doing. The White House is looking for scapegoats for missing their vaccine goals," the official told news outlets.
Asked to respond to those accusations on Sunday, Murthy praised companies for promoting accurate sources but warned: "We're not seeing nearly enough progress."
"The platforms have to recognize that they've played a major role in the increase in speed and scale that misinformation is spreading," he told CNN.
"It's not entirely about the tech companies," he added. "I issued this advisory to call the entire country to action. Recognizing there are steps that all of us can take.
"Technology companies have an important role, particularly when it comes to being transparent with the public about how much misinformation is flung in their sites.
"Each of us has a decision that we make every time we post something on social media and I'm asking people to pause and to see is the source accurate? Is it coming from a scientifically credible authority? If it's not or you're not sure, don't share."
The White House and Facebook have been contacted for comment.
Facebook has come under fire from both sides of the U.S. political divide recently.
Last week, former President Donald Trump filed a lawsuit against Facebook, Twitter and Google, as well as their respective CEOs, claiming that he and other conservatives were wrongfully censored by the platforms.