Facebook Is Being Sued for Defamation Over Fake 'Get Rich Quick' Ads
The founder of a financial advice website is suing Facebook for defamation after it allegedly failed to purge its platform of fake advertising that used the founder's name and likeness in campaigns designed to scam victims for huge swathes of cash.
Martin Lewis, creator of MoneySavingExpert and TV presenter of the U.K.-broadcast Martin Lewis Money Show, is seeking damages from the U.S.-headquartered social networking giant for, he alleges, repeatedly hosting a slew of "get-rich-quick schemes" and endorsements based around cryptocurrency trading.
In several examples of the scam advertisements posted online, Lewis's image and job title are used on fake websites designed to look like legitimate news outlets, including the BBC and The Mirror, a British tabloid newspaper. "All you need is £180 and an internet connection," one fake headline reads.
"Enough is enough," Lewis wrote in a blog post announcing that he would file the proceedings in the British High Court Monday. "I've been fighting for over a year to stop Facebook [from] letting scammers use my name and face to rip off vulnerable people, yet it continues. I feel sick each time I hear of another victim being conned."
He continued, "I don't do adverts. I've told Facebook that. Any ad with my picture or name in is without my permission.
"I've asked it not to publish them, or at least to check their legitimacy with me before publishing. This shouldn't be difficult—after all, it's a leader in face and text recognition. Yet it simply continues to repeatedly publish these adverts and then relies on me to report them, once the damage has been done."
The financial expert said that any winnings from the case would be donated to anti-scam charities. Mark Lewis, a solicitor from Seddons law firm who is leading the case, said Facebook is not above the law. "It cannot hide outside the U.K. and think that it is untouchable," he said. "Exemplary damages are being sought.
"We will ask the court to ensure they are substantial enough that Facebook can't simply see paying out damages as just the 'cost of business' and carry on regardless. It needs to be shown that the price of causing misery is very high."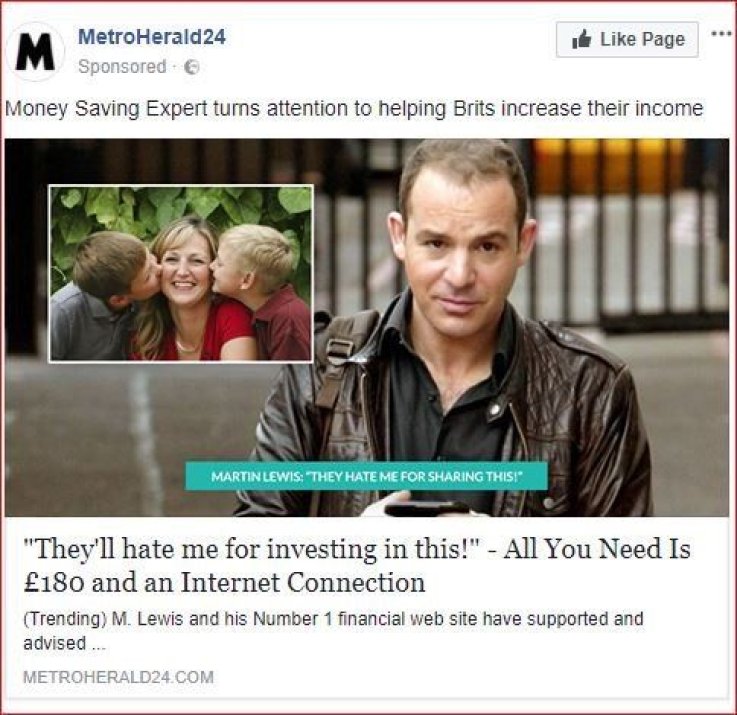 Facebook, which is the focus of an Information Commissioner's Office investigation into data misuse, banned cryptocurrency advertising this year. But TV presenter Lewis said it is not doing enough to stop scams.
"I'm not the only public face this has happened to. It's time Facebook was made to take responsibility," he wrote. "My hope is this lawsuit will force it to change its system. Nothing else has worked. People need protection."
A Facebook spokesperson told Newsweek in a statement, "We do not allow adverts which are misleading or false on Facebook, and have explained to Martin Lewis that he should report any adverts that infringe his rights and they will be removed.
"We are in direct contact with his team, offering to help and promptly investigating their requests, and only last week confirmed that several adverts and accounts that violated our Advertising Policies had been taken down," the statement continued.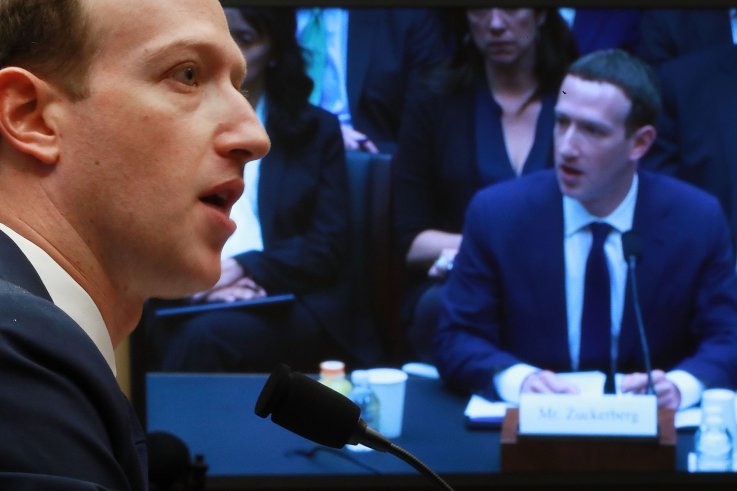 Facebook Is Being Sued for Defamation Over Fake 'Get Rich Quick' Ads | Tech & Science