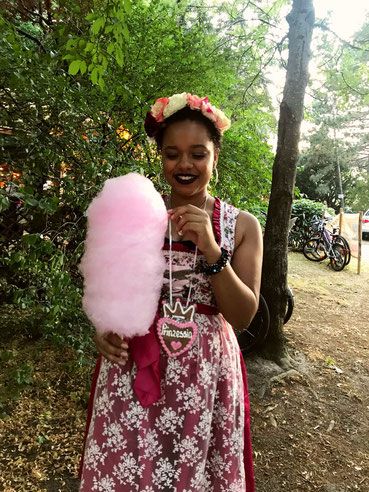 Facebook has been accused of blocking a black German woman's account of racial abuse she suffered while visiting Austria. Imoan Kinshasa launched an anti-racism blog to describe the racist incident.
Kinshasa claims she was attending a wine festival in Traiskirchen, Austria, and was verbally attacked by a group of teens for wearing the traditional Austrian and Bavarian dress called dirndl. In her blog posts, she said that within minutes of arriving with her friends, a teen called her the n-word before running off.
The 25-year-old IT professional, who now lives in Vienna, also said that people at the festival were staring at her, as well as talking and laughing about her. "I felt like a leper, stared at and on show," she wrote in her German post.
Kinshasa told the BBC that she grew up in Bavaria and that she loves wearing the dirndl. In an email to Newsweek, Kinshasa said that she has dealt with racism in the past. "I deal with it daily. The looks, the mumbled comments. But that is by far not the worst that has happened to me," she wrote.
She told the BBC that she is aware of "everyday racism" in Austria and Bavaria. "Basically it's the same, because Bavaria and Austria are very similar—there's not a big difference when it comes to racism," she said.
Facebook blocked her account of the incident because it had allegedly violated the social networking site's community standards. Kinshasa said the block is active for three days and told Newsweek she has not heard from Facebook since being blocked.
In an emailed statement to Newsweek on Tuesday, a Facebook spokesperson said, "The post was incorrectly removed and is now available on Facebook again. We apologized to Imoan Kinshasa for the mistake."
A Facebook spokesperson added that the post was reinstated on July 12 and insisted that an apology had been issued to Kinshasa.
Kinshasa has since translated her original blog post about her experience into English. She told the BBC that she plans to keep her blog going to share others' stories about racism.
When asked how people have responded to her story, Kinshasa told Newsweek that people have been "very supportive." She continued: "Some shared their stories, most of them apologize and were shocked. I am glad that it's out now. We need to do something about this."
Facebook has made headlines for blocking people when writing about racism and including the n-word. In 2016, New York columnist and civil rights activist Shaun King was locked out of his account after he posted an image of an email he received that used both the f- and n-words, CBS News reported.
King was suspended from the social media site for violating Facebook's policies. He was later told by Facebook that he was suspended "in error."
This story has been updated to include the statement from Facebook.