CA Governor Gavin Newsom Raised $227 Million in Donations, With Facebook Giving the Most
Facebook and Blue Shield are listed as the top donors to California during the pandemic, according to a report Thursday from the state's political watchdog agency.
Governor Gavin Newsom solicited almost $227 million from the two companies, as well as other private California companies and organizations to fight the coronavirus pandemic and assist in running parts of his administration, finds the report from the Fair Political Practices Commission, according to the Associated Press.
The commission, composed of five members, enforces California's campaign finance and ethics law under the Political Reform Act, according to its website.
"Behested payments" are contributions from an individual or organization solicited by a public official for a legislative, governmental, or charitable purpose, according to the FPPC website.
Newsom solicited approximately $12 million in 2019, more than $200 million less than 2020.
Facebook contributed almost $27 million, with a majority of the funds being allocated for gifts to COVID frontline skilled nursing facilities workers, the report shows. Most of the company's other contributions went toward ads in California's COVID awareness campaign, according to the report.
The report also shows Blue Shield of California donated approximately $20 million, with most of it going towards Project Homekey, a program for housing in the state.
The report lists Newsom's Office of Emergency Services ($25 million, the largest single amount from a payee), the California Department of Public Health, the governor's office as beneficiaries of Facebook's contributions, while Enterprise Community Partners, Inc., Institute for the Future, Women in California Leadership and California Legislative Black Caucus are listed as beneficiaries for Blue Shield's contributions.
"Unprecedented times, call for an unprecedented response," Newsom spokesperson Daniel Lopez said in a statement to AP.
Lopez said the governor "has been committed to utilizing the innovative spirit of our private sector" and is "leveraging that strength to help improve the lives of all Californians," AP reported.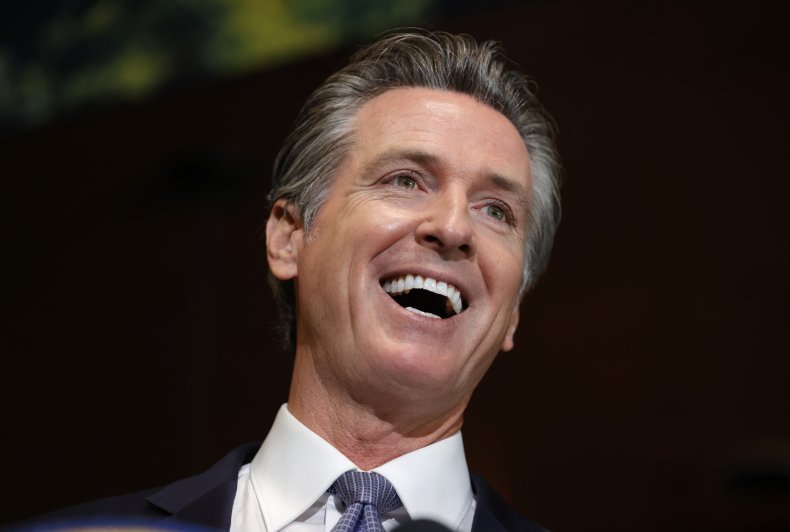 In California, there are no limits on behested payments and state law deems they're only reportable if made at the suggestion of a public official to someone for a legislative, governmental or charitable reason, and only if payments from a single source hit $5,000 during a calendar year.
Behested payments, however do carry some controversy. There is no implication that Governor Newsom or his donors acted improperly, but critics say that while behested payments don't benefit the politician directly, they can indirectly garner favor.
Former California Governor Jerry Brown repeatedly sought contributions from casinos, labor unions, wineries, insurers and major corporations to benefit the Oakland Military Institute charter school, which he founded in 2001 when he was Oakland mayor.
Despite the essence of behested payments, Lopez said hundreds of companies including Facebook and Blue Shield reached out to the governor's office, not the reverse.
Campaign watchdogs have split stances on behested payments, said Loyola Law School professor Jessica Levinson, former president of the Los Angeles Ethics Commission.
Some believe the contributions "are the devil's work, and they're clearly a loophole around contribution limits and people just give them to curry favor with elected officials," she said.
But Levinson tends to adhere to the other stance: that money will inevitably flow through politics, otherwise heading toward campaign accounts or independent expenditure committees.
"So if people are going to try and curry favor with elected officials, which they will, then let's at least have that money go to a good cause," she said.
Levinson said the key issue is showing transparency with the payments so voters can make informed decisions on the donations and result.
"Not every behested payment is nefarious, but every behested payment deserves scrutiny," said Jonathan Mehta Stein, executive director of California Common Cause. "And the explosion of behested payments recently certainly creates a perception among the public that corporations and players in state politics are using this as an avenue to get around our pay-to-play rules."
Facebook, now known as Meta, and Blue Shield both said they were proud to assist Californians during the pandemic, according to AP.
In fact, both companies had reached out to Newsom's office, along with hundreds of other companies, Lopez said, according to AP.
In a statement sent to Newsweek, Blue Shield called homelessness a "significant public health issue" in California and that "addressing the crisis is key to achieving our mission."
"We are proud to collaborate with organizations, community leaders and our government partners to support our fellow Californians," Blue Shield said in the statement. "We also helped the City of Oakland with a contribution to its Covid-19 Relief Fund and numerous other pandemic-related causes in support of our members and providers in 2020."
Other top contributors include the Sierra Health Foundation, iHeartMedia and the California Community Foundation, according to the FPPC report.
Other well-known companies contributed as well, such as Google, Snapchat, Fox, YouTube, TikTok, Twitter, Pandora, Comcast, Spotify, ABC and NBC, AP reported. Kaiser Foundation, IKEA US Community Foundation, the Chan Zuckerberg Initiative and individual donors Tom Steyer and Reed Hastings made contributions that went to California's COVID Response fund.
(Update 01/13 7:10 PM: This story was updated to reflect a statement from Blue Shield of California to Newsweek in regards to its contributions solicited by Newsom.)