Facebook Warns of Fake News in Promotional Campaign Ahead of U.K. Election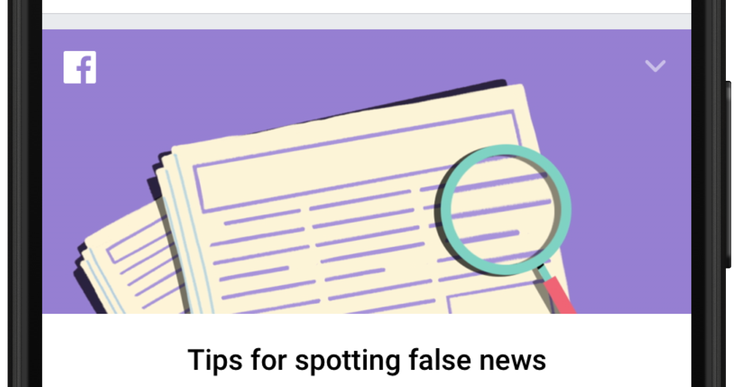 Facebook has launched a national advertising campaign in U.K. newspapers to educate the public on how to spot fake news stories ahead of the country's general election on June 8.
The campaign is part of the social network's global strategy to crack down on widespread reports of fake news appearing on the platform during politically sensitive times. Facebook intensified its efforts to stem the spread of misinformation following mounting criticism that the company inadvertently allowed far-right groups to spread lies about Hillary Clinton that may have influenced voters in the U.S. election. The false stories that appeared on the network included an article claiming that Clinton was running a pedophilia ring out of a pizza restaurant in Washington D.C.
In April, U.K. Conservative member of Parliament Damian Collins called on Facebook to do more to halt the spread of misinformation in the run up to the general election. He told The Guardian that fake news "threatened the integrity of democracy" and that large numbers of voters who relied on Facebook for their news could be misled and vote "based on lies."
The social network drew attention to its drive tackling fake news in the U.K. with full-page ads in four daily newspapers: The Guardian, The Times, Metro and The Daily Telegraph.
The move follows similar print campaigns in Germany and France ahead of those countries' regional and general elections this month. In April, Facebook suspended 30,000 fake accounts in France and placed a notice promoting "tips for spotting false news" at the top of users' newsfeeds to help them identify misinformation.
The newspaper adverts reproduced the online advice, that told readers to look out for unusual formatting and manipulated images, and to check the URL and publication date of the article.
"People want to see accurate information on Facebook and so do we. That is why we are doing everything we can to tackle the problem of false news," Simon Milner, Facebook's director of policy for the U.K., told the Financial Times. "To help people spot false news, we are showing tips to everyone…on how to identify if something they see is false." He added that the social network has removed tens of thousands of fake accounts in the U.K. in recent months.
Facebook had not responded to Newsweek's request for comment at the time of publication.
Facebook's tips for spotting fake news:
Be skeptical of headlines. The headlines of fake news stories are often catchy, and contain lots of capital letters and exclamation marks. If claims in the headline sound unbelievable, they may well be.
Look closely at the URL. Many false news stories mimic authentic news sources by making small changes to the URL. You can go to the site to compare the URL to established sources.
Check the source. Ensure the story comes from a source with a reputation for accuracy. If the story comes from a site you have not heard of, check their "About" section to learn more.
Watch for unusual formatting. Many false news stories often contain spelling and grammar errors, as well as an awkward looking layout.
Check the photos. False news stories often contain manipulated images or videos. Sometimes the photo may be authentic, but taken out of context. You can do an internet search of the image to find out where it came from.
Check the dates. Fake news stories may contain timelines that make no sense, or event dates that are wrong or have been altered.
Check the evidence. Check the author's sources to confirm they are accurate. Lack of evidence, or a reliance on unnamed experts may indicate false news.
Look at other reports. If no other news source is reporting the same story, it could indicate that it is false.
Is the story a joke? Sometimes false news stories can be hard to distinguish from humorous articles. Check whether the source is known for parody, and whether the story's details and tone suggest it may be just for fun.
Some stories are intentionally false. Think critically about the stories that you read, and only share articles you know to be credible.