Facebook Deletes Vietnam War Photo, Is Accused of 'Editing Out History'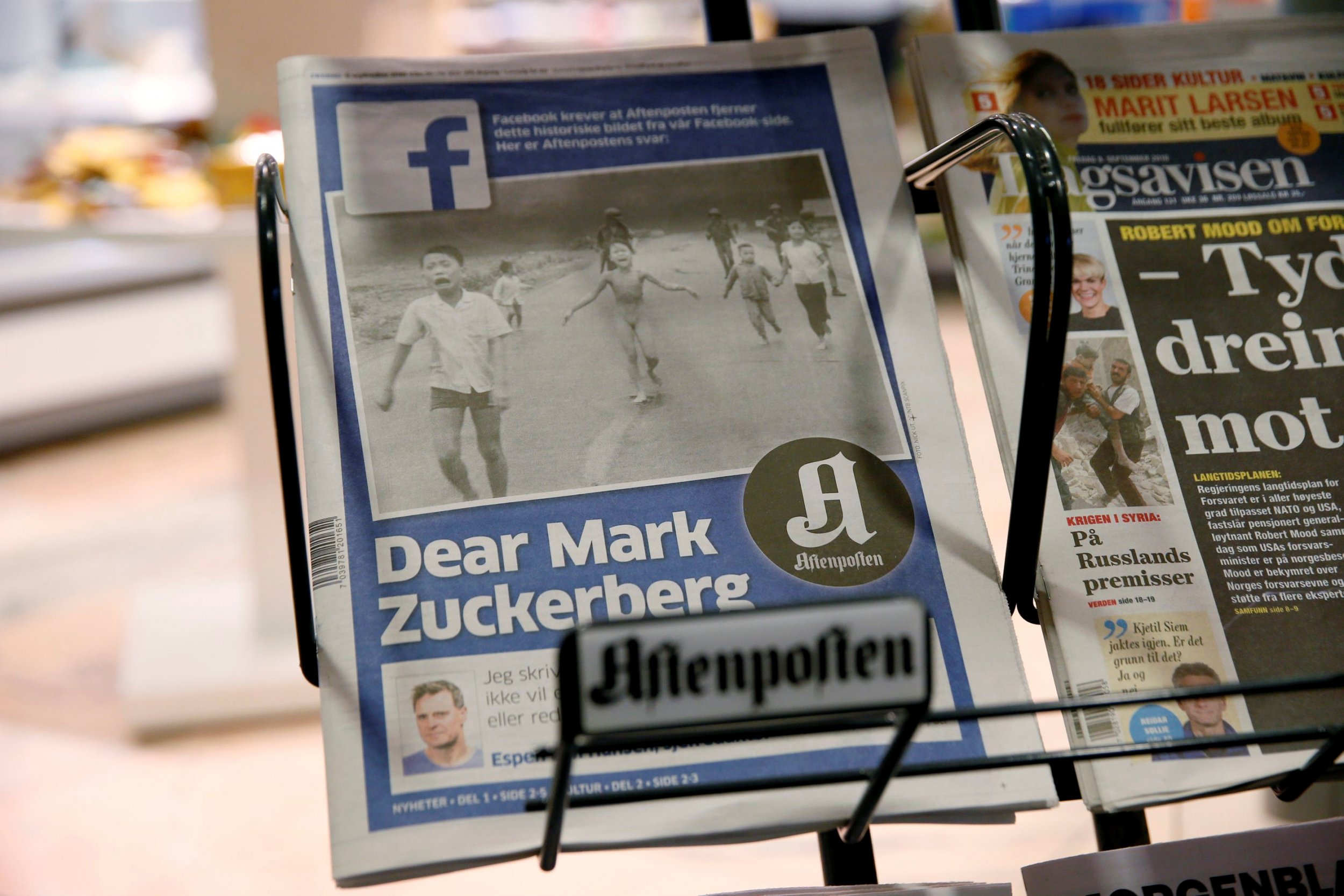 OSLO (Reuters) - Norway's prime minister accused Facebook Inc. on Friday of censorship after it deleted an iconic Vietnam War era news photograph of a naked girl fleeing a napalm attack from pages, including her own.
In a clash between a democratically elected leader and the social media giant over how to patrol the Internet, Erna Solberg said Facebook was editing history by erasing images of the 1972 photograph of children running from a bombed village.
Facebook erased the photograph when Solberg and other ministers in her right-wing cabinet posted it on their Facebook pages, citing its guidelines banning child nudity.
Soldberg had posted the image on Friday in a protest after Facebook had already erased the photo from sites of Norwegian authors and the daily Aftenposten.
Captured by Pulitzer Prize-winner Nick Ut of the Associated Press, the image of screaming children running from a napalm attack shows a naked 9-year-old girl at its center.
Solberg said Facebook's ban put unacceptable limits on freedom of speech. "They must see the difference between editing out child pornography and editing out history," she told Reuters.
"It's perfectly possible for a company like Facebook to sort this out. Otherwise we risk more censorship," she said.
Protesting Facebook's move, Solberg re-posted the photo with a black square covering the naked girl, and published a range of other historic images blacking over faces of people such as Ronald Reagan or Winston Churchill.
She also posted a version of the "Tank Man" image from China's 1989 Tiananmen uprising, with a black square covering a man standing in front of a row of army tanks.
Solberg wrote on her Facebook account: "I want my children and other children to grow up in a society where history is taught as it was."
Norway is a big investor in Facebook. Its $891 billion sovereign wealth fund, the world's biggest, had a stake of 0.52 percent in Facebook worth $1.54 billion at the start of 2016.
Aftenposten splashed the Vietnam photograph across the front page of its newspaper on Friday, next to a large Facebook logo, and wrote a front-page editorial headlined "Dear Mark Zuckerberg," arguing that the network was undermining democracy.
Facebook said in a statement its rules were more blunt than the company itself would prefer, adding that restrictions on nudity were necessary on a global platform.
"While we recognize that this photo is iconic, it's difficult to create a distinction between allowing a photograph of a nude child in one instance and not others," a company spokesperson wrote.
"We try to find the right balance between enabling people to express themselves while maintaining a safe and respectful experience for our global community. Our solutions won't always be perfect, but we will continue to try to improve our policies and the ways in which we apply them."
Solberg told Reuters she intends to maintain her account on the network.