Marjorie Taylor Greene's Facebook Account Faces Temporary Suspension Following Twitter Ban
Representative Marjorie Taylor Greene's has been temporarily suspended from Facebook over a post that violated misinformation standards.
On Monday, Greene said she was kicked off her Facebook account for 24 hours in a statement shared on her GETTR, the social media platform launched by Trump adviser Jason Miller.
"This is beyond censorship of speech," the congresswoman wrote. "I'm an elected Member of Congress representing over 700,000 US tax paying citizens and I represent their voices, values, defend their freedoms, and protect the Constitution."
A screenshot of the alleged suspension, shared by Greene, said she could not post or comment for 24 hours due to a post that goes against Facebook's "standard on misinformation that could cause physical harm."
A spokesperson for Facebook's parent company, Meta, clarified to Newsweek that while the post was removed for violating community guidelines, Greene was not suspended from the platform.
"A post violated our policies and we have removed it; but removing her account for this violation is beyond the scope of our policies," the spokesperson said.
In the post in question, Greene wrote, "We are moving into the third year A[fter] C[ovid]."
When reached for comment, a spokesperson for Greene referred Newsweek to the congresswoman's original statement claiming Facebook suspended her.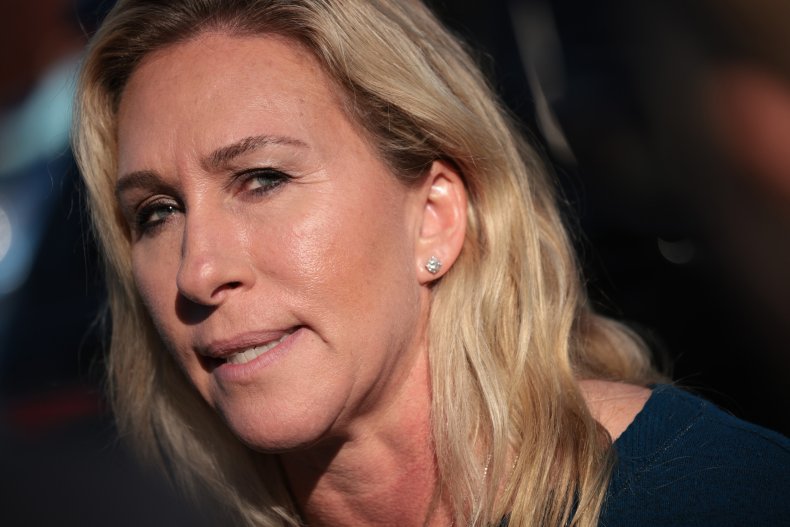 This comes a day after Twitter permanently suspended Greene's personal account for spreading COVID-19 misinformation.
"Who appointed Twitter and Facebook to be the authorities of information and misinformation?" Greene wrote on GETTR. "When Big Tech decides what political speech of elected Members is accepted and what's not then they are working against our government and against the interest of our people."
Twitter suspended the congresswoman's personal account on Sunday after she criticized fellow Republican Dan Crenshaw when he called on the government to deploy FEMA resources to help existing COVID testing sites and to launch new sites amid concerns of the Omicron variant.
"No FEMA should not set up testing sites to check for Omicron sneezes, coughs, and runny noses and we don't need FEMA in hospitals, they should hire back all the unvaccinated HCW [health care workers] they fired," Greene tweeted.
In response to the ban from the social media giant, Greene called Twitter "an enemy to America."
A spokesperson for the platform told the New York Times that Greene was barred from Twitter permanently because she had violated its COVID information policies at least five times.
Greene had previously claimed on Twitter that COVID-19 vaccines did not slow the spread of the virus, that variants were "hardly killing anyone" and that the virus was not dangerous for young people who are not obese.
Correction 1/4/22 2:25 PM ET: An earlier headline for this story mistakenly said that Facebook denied the account had been suspended.