Facebook Director of Product Confused About Facebook's Effect on Media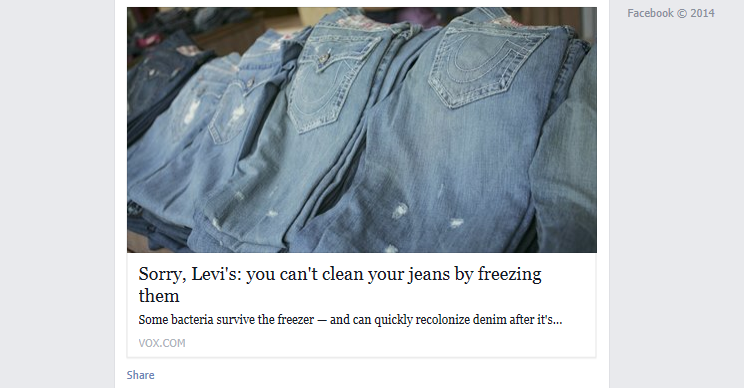 Facebook employee Mike Hudack has some thoughts about "the state of the media." He wants you to hear them, too—at least if you're one of the 6,119 people who follow him on Facebook, where he is director of product.
Ready? OK, here goes. America's newspapers are "ghosts in a shell." Television newscasts are "jokes." MSNBC and Fox News are partisan beyond repair.
And Internet media? That's where the rant goes full-steam. The Huffington Post and BuzzFeed are useless, Hudack maligns. VICE is "so gonzo that it's willing to do real journalism in actually dangerous areas," he praises. And finally he comes to Vox.com, the recently launched explanatory news venture headed by Washington Post alum Ezra Klein:
Personally I hoped that we would find a new home for serious journalism in a format that felt Internet-native and natural to people who grew up interacting with screens instead of just watching them from couches with bags of popcorn and a beer to keep their hands busy.

And instead they write stupid stories about how you should wash your jeans instead of freezing them. To be fair their top headline right now is "How a bill made it through the worst Congress ever." Which is better than "you can't clean your jeans by freezing them."

The jeans story is their most read story today. Followed by "What microsoft doesn't get about tablets" and "Is '17 People' really the best West Wing episode?"
"It's hard to tell who's to blame," Hudack concludes. "But someone should fix this s***."
Except it's not hard to tell. As Internet media types were quick to remind Hudack, it's Facebook, more than any other social media site, that has brought about recent shifts in online media:
Sure, there's Twitter and Pinterest and Tumblr and the rest. But it's Facebook shares that overwhelmingly bring attention (and traffic) to clicky, hyperbole-heavy stories and listicles, true or not. It's Facebook that has made possible the fast rise of viral media ventures like Upworthy, whose continued success hinges on the mercy of Facebook's newsfeed algorithms.
And it's Facebook, of course, that brought traffic to Vox's most read story, the piece that Hudack cites as an example of the site's failed promise. "The jeans story has been shared 1,062 times on Facebook," Vox editor Matthew Yglesias points out. That explains why it has been read by far more people than, say, an expansive feature on the DATA Act that was featured more prominently on Vox's homepage.
Readers—the bulk of them, anyway—no longer come in through the homepage. They come in through Facebook. As the Awl's John Herrman incisively noted earlier this week, that creates a media universe wherein any Internet publication's success is "tied to the whims of a very small group of very large companies, whose interests are only somewhat aligned with those of publishers."
Hudack holds a leadership role at one of those large companies, the one on which Internet media outlets large and small most depend for readers. He should know who—or what—is to blame. It's what pays his salary.