Facebook Engineers Reveal Cause of Monday Outage
The sudden Facebook outage on Monday left hundreds of millions of people around the world without their go-to source for news, current events, recipes and local gossip. The outage crippled not only Facebook and its app, but also Instagram and WhatsApp.
The outage happened around 1 p.m. ET in the United States, and it wasn't restored until five hours later. Facebook engineers at 10 p.m. ET—nine hours after the outage and four hours after restoration—explained the reason behind it.
Facebook said it was "sorry for the inconvenience" on its multiple platforms for those who use them for both personal and business reasons.
"The underlying cause of this outage also impacted many of the internal tools and systems we use in our day-to-day operations, complicating our attempts to quickly diagnose and resolve the problem," Facebook engineers wrote Monday night on the social media platform itself.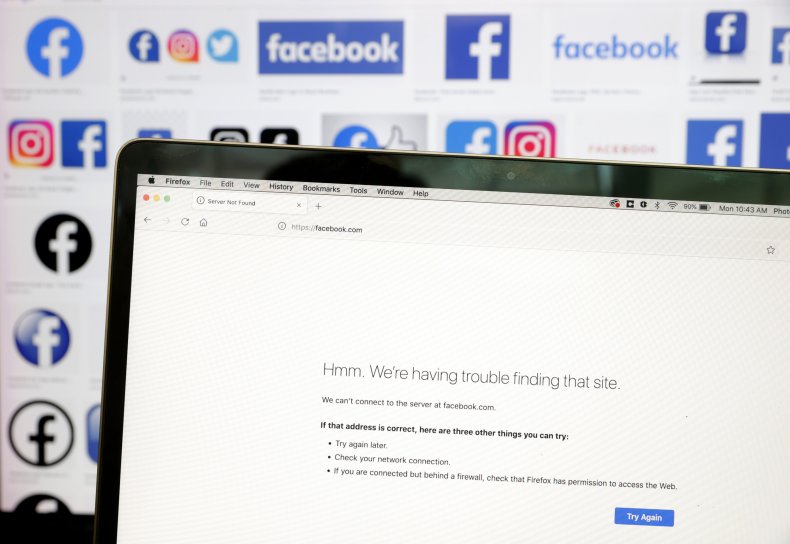 "Our engineering teams have learned that configuration changes on the backbone routers that coordinate network traffic between our data centers caused issues that interrupted this communication. This disruption to network traffic had a cascading effect on the way our data centers communicate, bringing our services to a halt."
Services for all the social mediums got restored by 6 p.m., but not before an estimated $6 billion in revenue was lost for Facebook CEO Mark Zuckerberg. Regardless, the social platform said no user data was compromised, and that the outage was caused from a "configuration change."
"We want to make clear at this time we believe the root cause of this outage was a faulty configuration change. We also have no evidence that user data was compromised as a result of this downtime," Santosh Janardhan wrote on the engineering page.
The outage started in the morning on the west coast, in the afternoon along the eastern states. Facebook also controls the Instagram and WhatsApp apps, which also went down.
Later in the day, there were reported errors in Twitter and Google Mail.
Furthermore, Facebook domain of facebook.com reportedly went up for sale. Not long after, it was reported that more than 1 billion Facebook users personal data compsomised, all of which Facebook denies happening.
Financial analysts predicted that Facebook lost anywhere from $6-7 billion in revenue during the outage.
The outage happened a little more than 12 hours after a former Facebook employee Frances Haugen went on 60 Minutes and said the company was more about profits than doing good of the people who depended on the social platform.
"The thing I saw at Facebook over and over again was there were conflicts of interest between what was good for the public and what was good for Facebook, and Facebook over and over again chose to optimize for its own interests, like making more money," Haugen said on the show.
Haugen shared loads of documents with the Security and Exchanges Commission (SEC) and the Wall Street Journal, according to the report. Not just an email here or there, and not just a slip of the lip at the water cooler.
"I've seen a bunch of social networks, and it was substantially worse at Facebook than anything I've seen before," Haugen said Sunday night. "At some point in 2021, I realized I'm going to have to do this in a systemic way, that I'm going to have to get out enough [documents] that no one can question that this is real."
Monday's outage led many politicians and celebrities around the globe to poke fun of the outage, or rake away at "big tech.
Sen. Elizabeth Warren and Rep. Alexandria Ocasio-Cortez each took a swipe at the mishap.
Then there was legendary singer Bonnie Tyler who used a lyric from one of her most-popular songs, "Total Eclipse of the Heart," to poke fun.