Facebook was forced to apologize to a local publisher in Texas this week for removing a post containing text from the Declaration of Independence after classifying it as "hate speech."
Casey Stinnett, managing editor of the Liberty County Vindicator, said that the social network had complained about an update featuring paragraphs 27-31 of the historic U.S. document. His outlet was posting bite-size sections in the lead up to the July 4 celebrations on Wednesday but received a notice from Facebook the day prior saying the words had violated its "standards on hate speech."
In an article posted to the newspaper's website describing the takedown, Stinnett said he suspected it was most likely the phrase "Indian Savages" that had triggered the deletion. "It is a very great irony that the words of Thomas Jefferson should now be censored in America," he wrote, hypothesizing that it could have been a different case if the founder had instead used the term "Native Americans."
The disputed passage, first posted on July 3, stated: "He has excited domestic insurrections amongst us and has endeavored to bring on the inhabitants of our frontiers, the merciless Indian Savages, whose known rule of warfare, is an undistinguished destruction of all ages, sexes and conditions."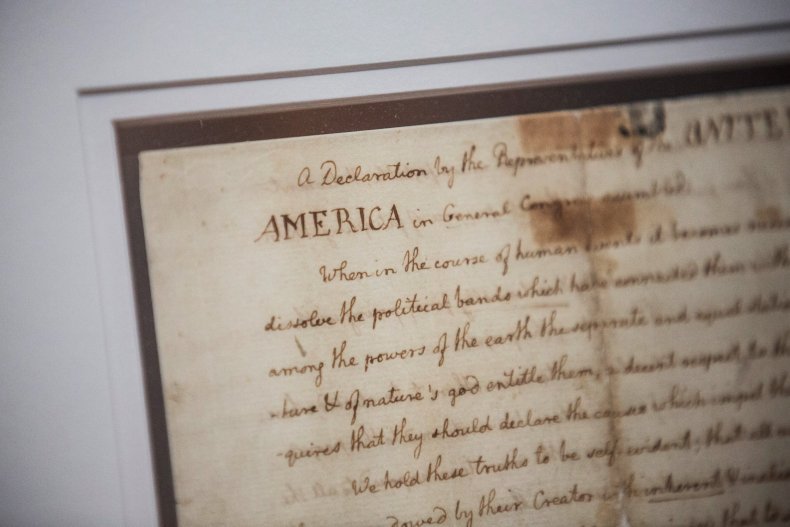 It is believed that the post's removal was an automated action. It has since been restored. A brief message on the Vindicator's Facebook page now reads: "Sorry for the mistake. Happy 4th of July!"
In a message, Facebook told the publisher: "It looks like we made a mistake and removed something you posted on Facebook that didn't go against our Community Standards. We want to apologize and let you know that we've restored your content and removed any blocks on your account."
The newspaper has thanked Facebook for quickly resolving the situation. It said: "We never doubted Facebook would fix it, but neither did we doubt the usefulness of our fussing about it a little."
In April, the social network's vice president of global policy management, Monika Bickert, penned a blog post promising that new appeal measures would be rolled out to users over the coming year.
But while Stinnett noted that Facebook remains a business, and has the power to restrict its services as it sees fit, he echoed a view that is currently being felt by many working in the media industry.
"The Vindicator is using Facebook for free, so the newspaper has little grounds for complaint other than the silliness of it," Stinnett reported, adding: "The problem the Vindicator faces is that it has become dependent, perhaps too dependent, on Facebook to communicate with local residents."
The social network did not immediately respond to a request for comment.