Facebook: How to Check If Cambridge Analytica Hijacked Your Account Data
Facebook will today inform its users if they had their information siphoned by Cambridge Analytica as part of an ongoing privacy shakeup following the news that data linked to around 87 million accounts was obtained by the United Kingdom firm.
Last week, the social network's chief technology officer, Mike Schroepfer, published details of how the notification process would work. He said that from April 9, the website would start to let users see which applications they were sharing personal data with, while also providing greater control over their removal.
"As part of this process, we will also tell people if their information may have been improperly shared with Cambridge Analytica." Schroepfer added. The process was slated to start around noon Eastern Time (ET) in the U.S.
A spokesperson for Facebook confirmed to Newsweek that the owners of the 87 million accounts that might have been impacted—those who downloaded the app and their friends—will see the same message as everyone else, but additional language will direct them to their settings to see the apps they've shared information with. "It will be very clear in the alert that they might have been impacted by Cambridge Analytica," the spokesperson said.
Titled "Protecting Your Information," one notification is directed at those who had data abused by an app called "This Is Your Digital Life" in 2014, used by Cambridge Analytica to collect Facebook data. A second notice will be sent to those who were not victims, informing them of the recent updates to security and app permissions.
The message to victims reads: "We have banned the website 'This is Your Digital Life' which one of your friends used Facebook to log into.
"We did this because the website may have misused some of your Facebook information by sharing it with a company called Cambridge Analytica. There is more work to do, but we are committed to confronting abuse and putting you in control."
Schroepfer also revealed that more than 80 percent of the victims were based in the U.S., amounting to an estimated 70 million accounts.
A pledge on Facebook's internal web developer blog at the time promised that future updates were incoming, stating: "Over the coming months, we'll continue to make improvements to Facebook to keep people's information safe, secure, and in their control. We never make these platform changes lightly, but at the same time, there's nothing more important to us than privacy and security."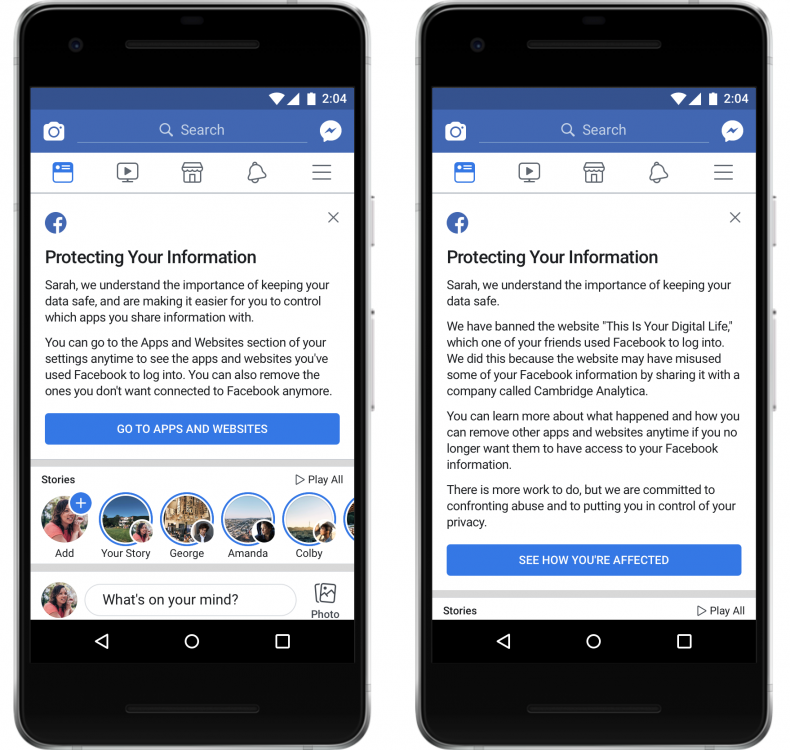 Over the weekend, however, the situation deepened as CNBC revealed another data analytics firm known as CubeYou had been suspended from the social network for similar practices to Cambridge Analytica: using quizzes to hijack details.
The news emerged as Facebook CEO Mark Zuckerberg prepared for two much-anticipated Congress appearances this week. The founder acknowledged in March that the situation had been a "breach of trust" with its 2 billion users. The story was first reported by The Guardian, The New York Times and the UK's Channel 4.
Additional reporting by Nina Godlewski.