Facebook and Instagram Disable Roger Stone's Accounts Over 'Inauthentic Behavior'
Donald Trump's longtime associate Roger Stone's Instagram and Facebook accounts were disabled on Wednesday, as the disgraced political consultant has been seeking a pardon from the president.
"Facebook and Instagram have just disabled Roger Stone's account in an outrageous display of censorship and because he dares to fight to prove his innocence. WE ARE ALL ROGER STONE NOW," the Twitter account TheAgeOfStone tweeted on Wednesday afternoon, including a screenshot of Stone's disabled Instagram page.
A spokesperson for Facebook, which owns Instagram, told Newsweek that "this account was removed as part of our security work against coordinated inauthentic behavior." They said that the "takedown" came as part of "a larger enforcement" bundle that included accounts in Ecuador, Canada, Brazil, Ukraine and the U.S.
Facebook also referred Newsweek to a report by security researchers at Graphika which explained the social media company's decision further.
"Facebook took down a network of 54 Facebook accounts, 50 pages, and 4 Instagram accounts for coordinated inauthentic behavior. Facebook attributed this network to Roger Stone and his associates. Almost all the Facebook accounts were fake accounts used, among other things, to establish, manage, and amplify the pages in this network," the Graphika report explained.
Stone, 67, was caught up in the probe into Russia interference into the 2016 presidential election led by special counsel Robert Mueller. The political operative, who famously has a tattoo of former Republican President Richard Nixon tattooed on his back, was convicted on seven charges, including lying to investigators and witness tampering. He was handed down a 40-month criminal sentence, which he is scheduled to begin serving on July 14.
"I want the president to know that I have exhausted all my legal remedies and that only an act of clemency will provide justice in my case and save my life!" Stone told Bloomberg in a Tuesday text message.
That message came after Stone's appeal to set his surrender date back to September 3 was denied on Monday. The U.S. Court of Appeals in Washington then on Tuesday ordered the federal government to put forward an official response by Thursday.
In April, Stone told Fox News host Tucker Carlson that he saw going to prison as "essentially a death sentence."
New York Time's White House correspondent Maggie Haberman tweeted on Monday that she has "been hearing for days that Roger Stone is likely getting pardon/commutation. He's due to go to prison next week. White House is stretching this out."
In June, Trump tweeted: "Roger was a victim of a corrupt and illegal Witch Hunt, one which will go down as the greatest political crime in history." The president again tweeted about his associate about two weeks ago, writing: "IT'S TIME TO #PardonRogerStone."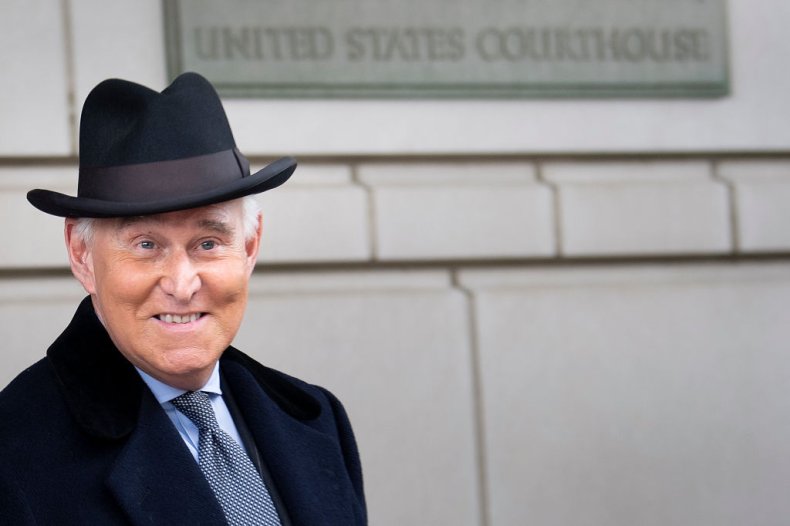 Stone's social media presence led to further difficulties during the legal proceedings leading up to his conviction. Judge Amy Berman Jackson, who oversaw his case, barred him from posting to Instagram, Twitter, Facebook and other social media platforms in June 2019 after she learned that he had intentionally turned to online platforms to gain media attention while under a court-mandated gag order.
The Trump associate was not, however, banned entirely from social media. He was still allowed to post about issues unrelated to his criminal case. Jackson had first barred from making public statements about the case in February 2019.