Toymaker Lego Pauses Ads on Global Social Media Platforms as Boycott Grows
Toymaker Lego is the latest brand to pause its ad spending on social media, confirming today it is halting campaigns for at least 30 days.
In a statement, chief marketing officer Julia Goldin explained the firm was reviewing the standards applied to engagement across each of the "global social media platforms" and said that Lego was halting paid advertising this month as a result.
According to Goldin, the business will not change its media investment throughout the 30-day ad blackout, but would instead spend on "other channels."
The Lego statement did not specifically reference the "Stop Hate for Profit" campaign, which is urging brands to abandon Facebook while accusing the Mark Zuckerberg-led site of failing to combat the spread of hate speech and misinformation.
The graphic below, provided by Statista, illustrates some of the big companies that have joined the Stop Hate For Profit campaign.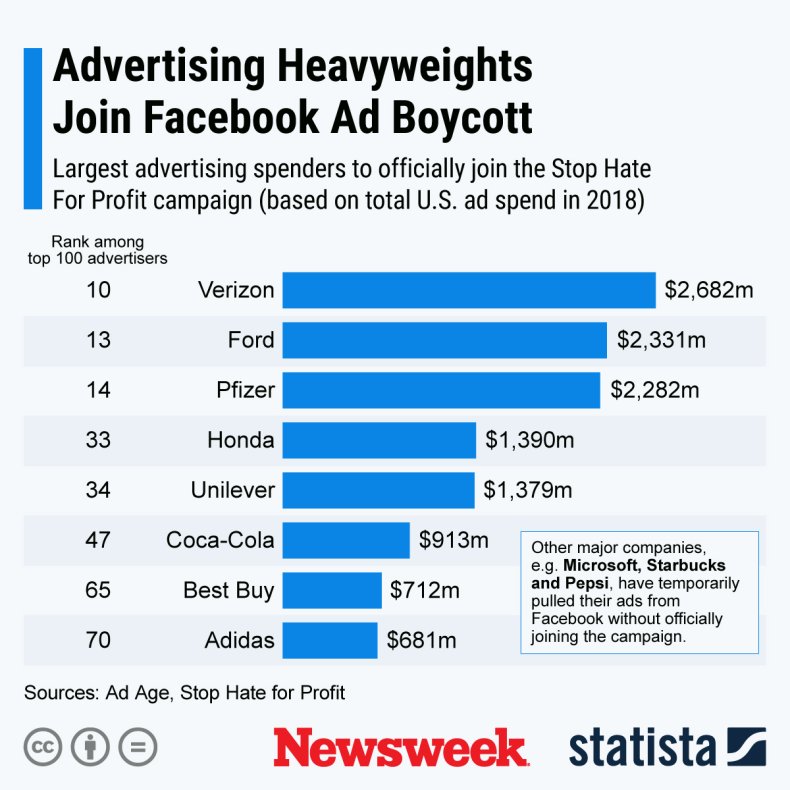 The Lego pause is likely to impact social media platforms including Facebook, Twitter and Instagram, although exact details are yet to be be confirmed.
Lego's statement said: "We are committed to having a positive impact on children and the world they will inherit. That includes contributing to a positive, inclusive digital environment free from hate speech, discrimination and misinformation."
"We will work to collaborate with our partners and take whatever steps are necessary to create a more trusted digital world for people today and future generations. We are confident solutions exist but urgent action is needed," the notice added.
Led by a coalition of civil rights organizations, the "Stop Hate for Profit" campaign has caused a wave of brands to review their social network ad deals, including Unilever, Adidas, Ford, HP, Verizon, Starbucks, Coca-Cola, Diageo and many more.
While initially focused on Facebook, it soon spread to Twitter. A spreadsheet of the companies boycotting is being maintained by Sleeping Giants, one of the campaign organizers, although not every business has voiced specific support for the viral movement to damage Facebook by targeting its bottom line.
Paid advertising is the main source of money for Facebook, accounting for roughly 98 percent of its $70 billion in annual revenue last year, The Guardian reported.
This week, the American food manufacturer Mars and retail giant Target said they would be pausing ads on social media, naming Facebook and Instagram.
"Social media [plays] an important role in society but equally, they have a powerful role to play in stopping the spread of hate speech and misinformation," the Mars statement elaborated. "There is no room for discrimination in a healthy society. "
Last week, Facebook boss Mark Zuckerberg announced some steps he would take to reduce hate speech and label rule-breaking posts that remain online—although his assurances did not appear to slow the exodus of advertising dollars.
As the ad boycott mounted, a Facebook said in a statement this week: "We invest billions of dollars each year to keep our community safe and continuously work with outside experts to review and update our policies.
"We've opened ourselves up to a civil rights audit... we know we have more work to do, and we'll continue to work with civil rights groups, GARM, and other experts to develop even more tools, technology and policies to continue this fight."