Facebook Limits Reach of Posts from Myanmar Military During Coup to Limit 'Misinformation'
Social media platform Facebook said it would place a limit on the distribution of posts made by military leaders in the country of Myanmar, also known as Burma, in order to reduce the spread of "misinformation."
The Tatmadaw, Myanmar's military, took control of the country in February following the electoral victory of the National League for Democracy. Alleging election fraud, the Tatmadaw arrested state counselor Aung San Suu Kyi and President Win Myint. A year-long state of emergency was declared by the Tatmadaw. According to the Associated Press, Myanmar's internet service was restored on Sunday after a temporary outage requested by the country's military leaders.
In a statement sent to Newsweek on Thursday, Facebook's Director of Policy for APAC Emerging Countries Rafael Frankel said the platform had decided to "significantly reduce the distribution of all content on Facebook Pages and profiles run by the Myanmar Military ('Tatmadaw') that have continued to spread misinformation. In line with our global policies on repeat offenders of misinformation, we will also no longer be recommending them to people."
Facebook's action will extend to other accounts run by the military including the Tatmadaw Information Team's page and Tatmadaw spokesperson Brigadier-General Zaw Min Tun's account.
"Facebook is treating the situation in Myanmar as an emergency," Frankel wrote.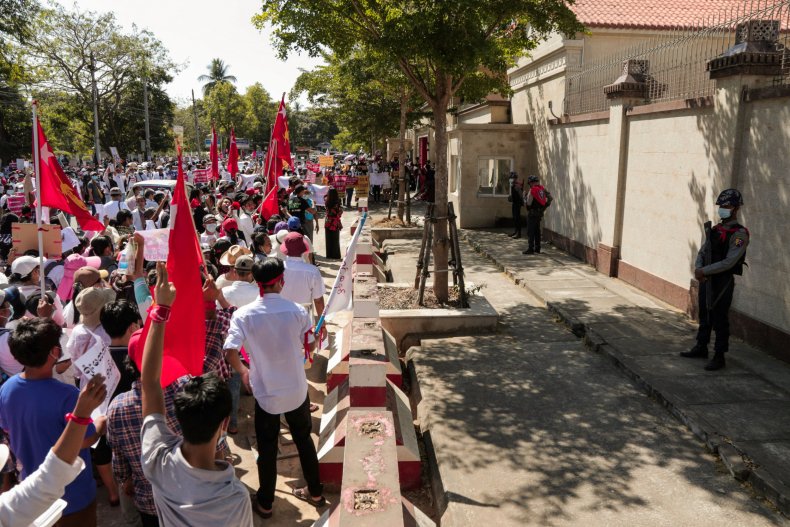 Among other actions, Facebook is enacting "extra protections for journalists, civil society activists, human rights defenders, and deposed political leaders to prevent online threats against them."
In February, Myanmar's Ministry of Information and Communications Technology said it had blocked Facebook because "the people who are troubling the country's stability are spreading fake news and misinformation among people by using Facebook."
That decision was denounced by internet providers and the Office of the United Nations Commissioner for Human Rights. In a statement sent to Newsweek by telecommunications provider Telenor Myanmar, the company said it did not believe the request to block Facebook was "based on necessity and proportionality, in accordance with international human rights law."
President Joe Biden has denounced the military takeover as "a direct assault on the country's transition to democracy and rule of law." On Thursday, Biden announced economic sanctions against Myanmar.
According to the White House, the U.S. Agency for International Development is expected to "redirect $42.4 million of assistance away from work that benefits the Government of Burma, including support for reforming economic policy, to programs that support and strengthen civil society and the private sector."
Biden is also expected to impose export restrictions on Myanmar's Ministry of Defense, Ministry of Home Affairs, armed forces and security services.
"We'll be ready to impose additional measures," Biden said Wednesday, "and we'll continue to work with our international partners to urge other nations to join us in these efforts."