'You on Facebook Live': North Carolina Murder Victim Prentis Robinson Streamed His Own Killing in Broad Daylight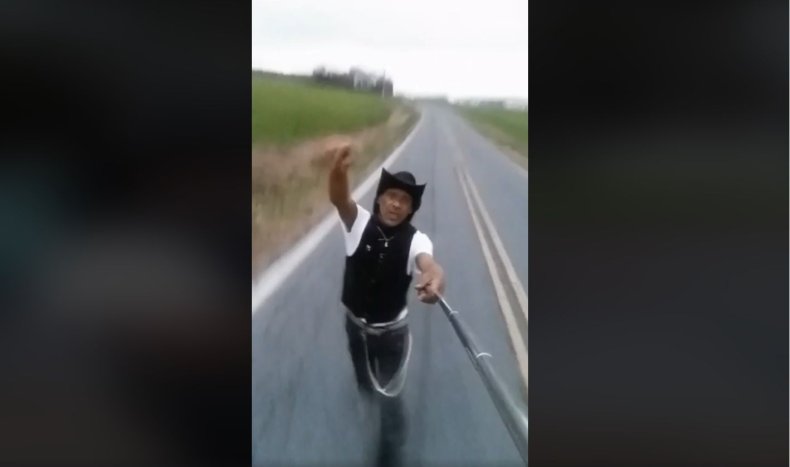 A North Carolina man streaming himself on Facebook Live captured the moment he was gunned down. Police are now hunting his killer. Prentis Robinson had just been to nearby Wingate Police Department headquarters to report a phone stolen by a relative, reported local TV station WSOC.
As the 55-year-old musician walked home in Wingate at around 10 a.m. on February 26, filming his journey using a selfie stick and broadcasting it live on Facebook, he encountered another man. They exchanged words, with Robinson telling him "you on Live," before gunshots are heard and the camera spins to the floor.
Wingate Police Department identified the suspect as 65-year-old Douglas Cleveland Colson and issued a warrant for his arrest on a murder charge. Neighbors said Robinson used social media to discuss local disputes, reported NBC Charlotte, and they fear this was a factor in his murder. He also reportedly used his social media accounts to out local drug dealers.
Wingate police chief Donnie Gay told WSOC he was with Robinson moments before the homicide. "I'd just spoke to him, it was, I just... it's hard to say anything about that. I just got through talking to him," Gay said.
Gay told NBC Charlotte that Robinson had eight siblings and is well known locally for his Facebook videos in which he took "it upon himself to clean up this area".
The shooting on Jerome Street sparked a short campus lockdown at nearby Wingate University over fears an active shooter was on the loose.
Facebook removed the footage of Robinson's killing from his page, though his other videos remain up. Underneath his most recent video, posted on February 25, tributes to poured in for Robinson, who recently celebrated his birthday.
"Prentis we still love you and you will definitely be missed," wrote Julie Elliott Lane.
"Happy birthday man, RIP you was crazy as hell and always had me and Kasha rolling," posted Brooke Makayla.