Facebook Video Livestream Appears to Show Toppling of Ten Commandments Monument in Arkansas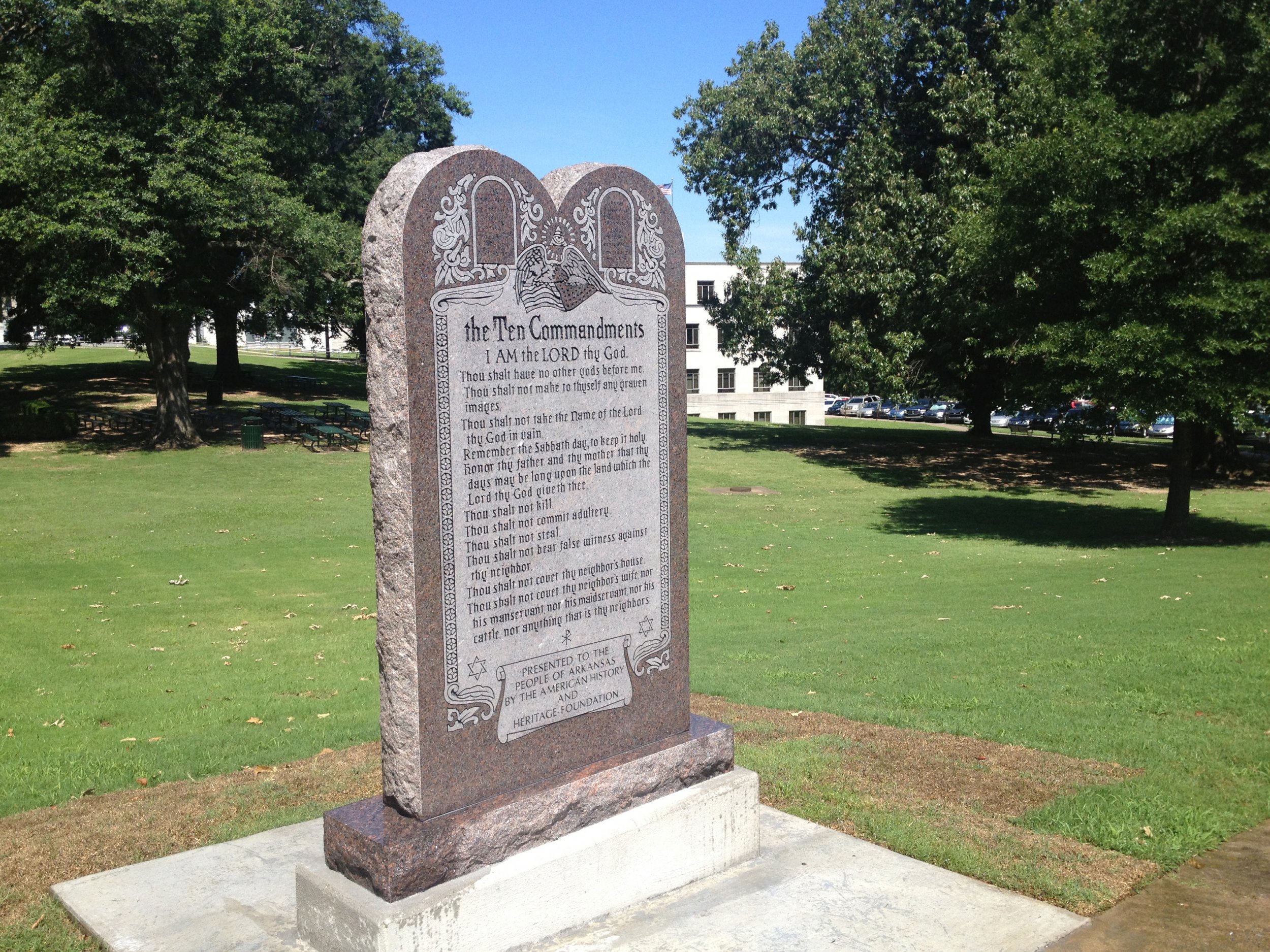 A man appeared to stream a Facebook Live video of himself driving into a granite Ten Commandments monument at the Arkansas Capitol in Little Rock on Wednesday morning, less than 24 hours after it was installed on the grounds. The footage depicts him driving toward the display and yelling, "Freedom!" inside his vehicle, before the 6-foot-tall display falls into multiple pieces.
Related: Ten Commandments monument spirited away in dead of night
Workers only erected the monument Tuesday on the government grounds, amid years of an ongoing debate over the intersection between religion and state on government property.
Police have arrested the suspect, Michael Tate Reed, 32, of Van Buren, Arkansas, according to The Arkansas Democrat Gazette. He faces charges of defacing objects of public respect and of first-degree criminal mischief, and is being held without bail pending an initial court appearance, the local newspaper reported. He also toppled a similar statue at the Oklahoma Capitol in 2014.
Media reports have also cited footage in which Reed describes why he was planning to knock over the statue.
An April 2015 court decision approved the installation of the monument in the Natural State. "We have a beautiful Capitol grounds, but we did not have a monument that actually honored the historical moral foundation of law," Republican state Senator Jason Rapert, the primary sponsor of the Ten Commandments Monument Act, said Tuesday in a video after the installation of the monument. "We are ready to start putting these in everywhere across the country that wants one."
The American Heritage and History Foundation paid for the monument by raising more than $26,000 in donations from Americans across the country, Rapert said.
Meanwhile, critics of the statue said it violated the separation of church and state. The American Civil Liberties Union and other opponents were planning to file a lawsuit over the display, alleging the installment was an unconstitutional endorsement of religion.
But Little Rock isn't the first U.S. city where there has been a battle over a Ten Commandments statue on government property. In 2015, Oklahoma's Supreme Court ruled that it's unconstitutional to display a Ten Commandments statue on statehouse grounds. Last October, workers removed the monument from the Oklahoma Capitol, and transported it to the office of a private conservative think tank. Then, Oklahoma voters dismissed a state question that would have allowed the Ten Commandments to move back to the Capitol grounds. But some Oklahoma lawmakers continue to fight to bring back the monument to government property.
Officials in New Mexico removed a similar monument from a town hall in 2014, after a judge ruled that it violated the First Amendment.