Facebook Market Value Plummets $56 Billion as Advertisers Flee Platform
Facebook watched as $56 billion was wiped off its market value on Friday after a slew of major advertisers said they would be boycotting the social network.
The platform's stock price plunged by more than 8 percent, with shares expected to cost $212.50 a piece when markets open on Monday, down from $235 when markets closed on Thursday.
Bloomberg reported that Facebook's value had fallen by $56 billion, adding that the downturn had also taken $7.2 billion off of Mark Zuckerberg's net worth.
The share fall was the largest the company had witnessed in several months, and appeared to be triggered in part by Unilever and Coca-Cola's moves to join an advertising boycott of the social media platform.
In a statement published yesterday, Unilever said: "We have decided that starting now through at least the end of the year, we will not run brand advertising in social media newsfeed platforms Facebook, Instagram and Twitter in the U.S.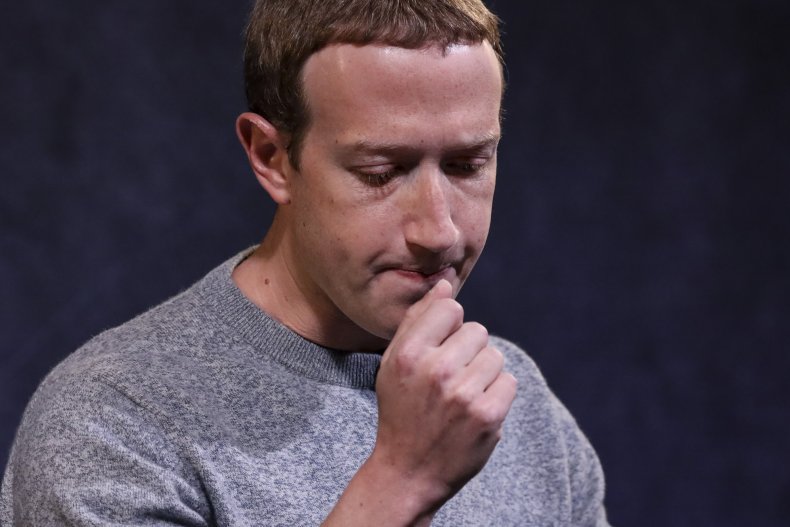 "Continuing to advertise on these platforms at this time would not add value to people and society."
Coca-Cola's CEO James Quincey said the soda giant would be pausing all of its social media advertising for at least 30 days, adding that his firm "expected greater accountability and transparency from our social media partners."
Unilever and Coca-Cola were the latest to join an advertising boycott of Facebook led by several civil rights groups—including the Anti-Defamation League, the NAACP and Sleeping Giants. The campaign dubbed "Stop Hate for Profit" urges businesses to cease advertising on Facebook services in July, and is critical of Facebook's record on policing its platform.
Among the major brands signed up to the campaign's Facebook ad boycott are the telecoms giant Verizon, Patagonia, Ben & Jerry's, and the car manufacturer Honda.
According to a list of companies signed up the boycott, compiled by Sleeping Giants, Levi's and Lululemon have also pledged not to advertise on Facebook next month.
Reacting to the raft of advertisers boycotting Facebook, Zuckerberg unveiled new measures for countering voter suppression, misinformation and other content deemed harmful.
"We already restrict certain types of content in ads that we allow in regular posts, but we want to do more to prohibit the kind of divisive and inflammatory language that has been used to sow discord," Zuckberg said in a post yesterday. "So today we're prohibiting a wider category of hateful content in ads."
He added that the company was specifically prohibiting claims that people of specific races, nationalities and minority groups pose a threat to others under its advertising policy.
The Facebook founder also said newsworthy content that would otherwise violate the platform's rules, including statements from politicians, would now be labeled and kept up, unless it incited voter suppression or violence.
"There is no newsworthiness exemption to content that incites violence or suppresses voting," Zuckerberg said. "Even if a politician or government official says it, if we determine that content may lead to violence or deprive people of their right to vote, we will take that content down."