Facebook Played Role in Spreading Hate Speech Against Rohingya in Myanmar Says U.N.
A human rights investigator has found that social media played a "determining role" in spreading hate speech against the persecuted minorities in Myanmar.
Yanghee Lee, the United Nations special rapporteur on Myanmar, presented a 30-page report on the situation of human rights in the country on March 12.
The report included details of "extensive bulldozing of former Rohingya villages with huge redevelopment projects" in construction. Lee also highlighted concerns about the role of social media in promoting violence against the Rohingya minority. Around 700,000 Rohingya people were forced to leave their homes in the Rakhine state to escape persecution at the hands of Myanmar authorities, an act condemned by the international community as ethnic cleansing.
"[Facebook] was used to convey public messages, but we know that the ultranationalist Buddhists have their own Facebooks and are really inciting a lot of violence and a lot of hatred against the Rohingya or other ethnic minorities," Lee said at a press conference on Monday, according to Reuters.
In the report, Lee noted one instance in which the government's information committee Facebook page published a list of 1,311 names together with photographs—including at least 46 children—accused of being members of the militant Arakan Rohingya Salvation Army (ARSA) group.
"I'm afraid that Facebook has now turned into a beast and not what it originally intended," Lee said, replying to a question about the merit of the social media platform in the country, which began transitioning to a democracy in 2011.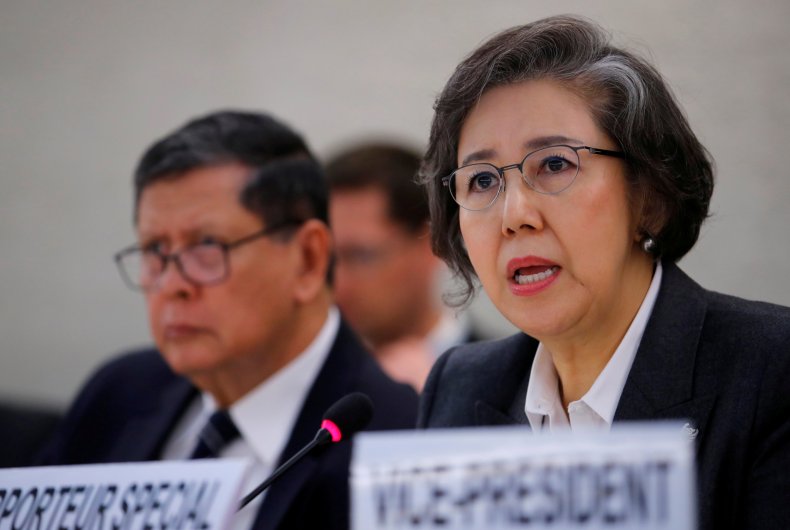 No social media service has more reach in Myanmar than Facebook, where nationalist hard-liners have been able to gather substantial followers by fanning the flames of anti-Muslim sentiment.
One of the most prominent nationalist Buddhist monks, Ashin Wirathu, whose profile was removed from Facebook, recently admitted that other social networks such as YouTube and Twitter do not work as well.
Marzuki Darusman, the chairman of the U.N. Independent International Fact-Finding Mission on Myanmar, said that not enough is being done to counter the spread of anti-Muslim sentiment. "Hate speech and incitement to violence on social media is rampant, particularly on Facebook. To a large extent, it goes unchecked," he told reporters on Monday.
Facebook said they take the issue "incredibly seriously" and have worked with experts in the country to develop resources and counter-speech campaigns, including a locally illustrated version of the platform's community standards, and regular training sessions for civil society and local community groups.
"Of course, there is always more we can do, and we will continue to work with local experts to help keep our community safe," a Facebook spokesperson told Newsweek in an emailed statement.
"There is no place for hate speech or content that promotes violence on Facebook, and we work hard to keep it off our platform. We have invested significantly in technology and local language expertise to help us swiftly remove hate content and people who repeatedly violate our hate speech policies," the spokesperson added.