Facebook Prompts Some Users to Look at Trump's 'Popular Post' About Winning the Election
Facebook appeared to encourage some of its users to view a post by President Donald Trump in which Trump falsely declared himself the victor of the 2020 presidential election.
Wall Street Journal reporter Deepa Seetharaman posted a screenshot of a prompt that she said popped up as a notification on Facebook encouraging her to check out Trump's post.
"There's a popular post you may have missed from Donald J. Trump," the prompt said. It included a link to one of Trump's Sunday posts, which read, "I WON THE ELECTION!"
On Trump's Facebook page, the post appears with a flag attached from Facebook, which reads, "Joe Biden is the projected winner of the 2020 US Presidential Election." Facebook's flag references some of the official sources that projected Biden's win and includes a link to election information for users interested in learning more.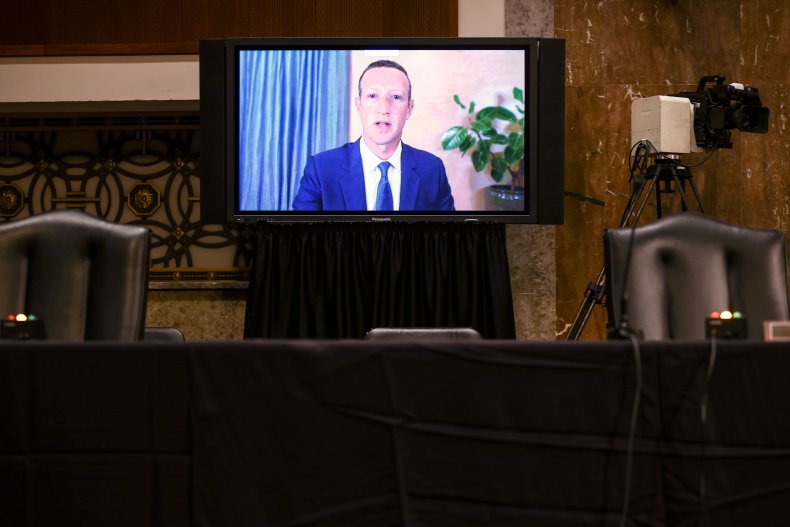 Seetharaman shared the screenshot shortly after Facebook CEO Mark Zuckerberg and Twitter CEO Jack Dorsey made virtual appearances at a Senate Judiciary Committee hearing to answer questions about their companies' efforts to combat the spread of misinformation during the election. Near the end of the hours-long hearing, New Jersey Senator Cory Booker asked Zuckerberg specifically about the steps Facebook has taken to prevent Trump and other politicians from posting content containing misleading information.
"Donald Trump's shameful and shameless lies that are persisting about voter fraud and the outcome of this election were some of the most engaged content on social media in the days after the election," Booker said, citing specifically posts in which Trump claimed victory. "Have you taken any steps to modify your platforms' algorithms to ensure that blatantly false election disinformation posted by election officials—and specifically the most powerful person in the United States, Donald Trump—isn't amplified?"
Zuckerberg began his response by saying Facebook anticipated that this kind of incident may occur in September as the company was finalizing its strategy for handling election-related content.
"A lot of what we're trying to do is help distribute reliable information, which we attach both to posts on the topic by President Trump or any of the other candidates or elected officials who are talking on this subject," Zuckerberg said. "But more importantly, we put that reliable information, including about election results, at the top of Facebook and Instagram for everyone to see. And that supersedes what the algorithm or what the newsfeed chooses to show."
Booker then asked Zuckerberg specifically about the quick suspension of a "Stop the Steal" account, which he contrasted with Facebook's decision to not suspend the account of Trump's former adviser, Steve Bannon. After Bannon posted a video in which he said National Institute of Allergy and Infectious Diseases Director Anthony Fauci, who is a member of Trump's coronavirus task force, should be beheaded, Twitter suspended his account. However, Zuckerberg said on November 12 and during Tuesday's hearing that Facebook would not do the same.
"Part of what we focus on is figuring out which types of messages or things are going to go viral quickest," Zuckerberg told Booker. "It's not just about trying to get to everything within five hours, for example; it's actually much more important to get to the harms that are going viral quickly within an hour, even if some things that are probably not going to get much distribution at all might be deprioritized for a little bit longer."
Newsweek reached out to Facebook for further comment but did not receive a response in time for publication.