In April, Facebook removed listings about anti-lockdown protests over fears that a lack of social distancing could be a health risk. With the COVID-19 pandemic still raging, will events about anti-racism protests meet the same fate?
Over the past week, sparked by the killing of 46-year-old George Floyd on May 25 by a Minneapolis police officer, citizens have taken to the streets to protest systemic racism and police brutality—often while in violation of public health advice designed to limit the spread of an infectious disease that has claimed more than 100,000 lives in the U.S.
Experts spent months warning about the risks of mass gatherings. Now, citizens are coming together in vast numbers—with social distancing quickly becoming impossible, especially during increasingly heated confrontations with law enforcement.
It remains unclear for now if Facebook—which suffered a rare internal revolt this week over its decision not to remove a controversial post by president Trump—will restrict any listings for anti-racism protests that will break health guidelines.
The social network did not respond to repeated attempts for clarification.
A search for George Floyd-linked events on Facebook shows a wide variety of global results, some virtual and some in-person. A prominent notice is being displayed on each warns that people "should avoid large gatherings during this time."
"Facebook is in a difficult position," Sean Wright, an independent tech and security researcher, told Newsweek. "On the one hand many see [using the social platform] as a means to further the legitimate message of the protests.
"But on the other hand, others might accuse it of enabling some of the violence which we have witnessed. Which is why we may see them to be a bit hesitant to do anything significant at the moment and kind of sit on the fence, so to speak."
Facebook bosses have pledged $10 million funding for groups working on racial justice, with CEO Mark Zuckerberg conceding on Sunday that Facebook "needs to do more to support equality and safety for the Black community through our platforms."
So looking ahead, should we expect Facebook's moderators to enforce the same rules on events listed by street protesters and civil rights activists?
Unlikely, according to Jo O'Reilly, digital privacy researcher with ProPrivacy, who told Newsweek that Facebook was relatively quick to respond to the outbreak and the anti-lockdown event bans came as it was tightening its grip on misinformation.
"The [anti-lockdown] events were, by their very nature, spreading misinformation about the pandemic, and encouraging people to go against medical advice. Facebook was right to crack down on these as aggressively as it did," O'Reilly said.
"Although there is an argument that the current protests we are seeing in cities across America in response to the death of George Floyd are also in violation of social distancing, that is not the reason for their existence.
"This is where Facebook has the chance to show that it can be flexible and respond to nuance. It would strike entirely the wrong tone to attempt to shut down these events, instead, Facebook could issue warnings on the events, reminding those who click attending or share them, of the importance of face masks, hand sanitizer, and other measures to halt the spread even while attending protests," she added.
Indeed, two months ago, Facebook was ramping up its efforts to fight misinformation, scams and malicious advertising linked to the rapidly-spreading virus.
The social network's moderation team removed listings for anti-quarantine protests in multiple U.S. states that planned to shun local COVID-19 guidelines while spewing claims that state-backed social distancing measures were ineffective.
A spokesperson said at the time: "Unless the government prohibits the event during this time, we allow it to be organized on Facebook. For this same reason, events that defy government's guidance on social distancing aren't allowed on Facebook."
Facebook also told The Hill that it removes posts "when gatherings do not follow the health parameters established by the government and are therefore unlawful."
Matt Navarra, a social media expert and host of the Geekout podcast, told Newsweek that Facebook's enforcement needs to be consistent "now more than ever."
"I am not the first, nor will I be the last, to express serious concerns about when and why Facebook decides to enforce its content moderation policies," he said.
"When Facebook removed anti-lockdown groups, pages, and events in April, concerns were raised over how it came to make the decision to take action.
"At the time, Facebook said it consulted with state officials and removed any content that encouraged or would cause a breach of the lockdown.
"If this is the case, Facebook better hope it did not make any omissions or exceptions that users, government officials, or pressure groups can cease upon.
"In light of the Black Lives Matter movement, it's reasonable to expect Facebook may moderate content or activity it believes breaches its community standards.
"The bigger question is whether Facebook is being directed to specific pieces of content by government officials, users, or by itself. Given the highly emotive topic, Facebook needs full transparency in regards to any moderation decisions it makes in this area, otherwise it can expect a highly charged response from all parties."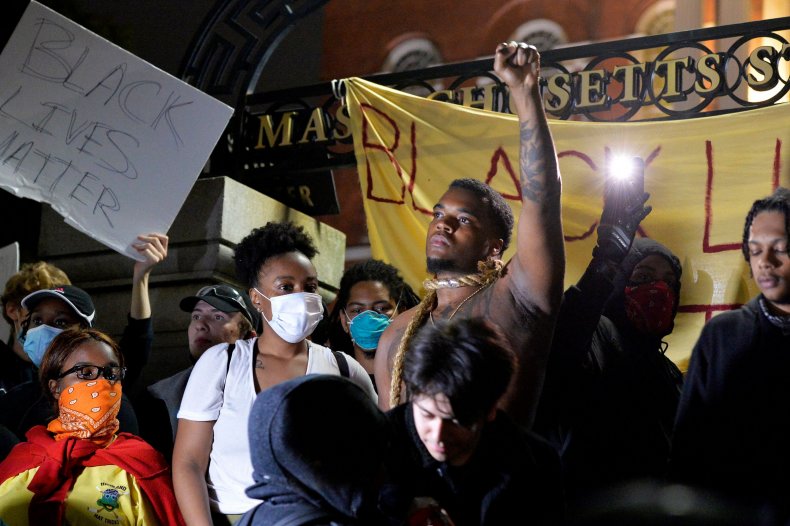 Facebook CEO Mark Zuckerberg said in an interview on Good Morning America in April that anti-quarantine events were classified as "harmful misinformation."
"A lot of the stuff that people are saying that is false around a health emergency like this can be classified as harmful misinformation that has a risk of leading to imminent physical danger and we will take that kind of content down," he said.
According to a map being maintained by The New York Times, all 50 states are starting to reopen in some way after the outbreak, but it's happening at different speeds.
The novel coronavirus has infected more than 1.8 million people in the U.S., tracking data being maintained and published by Johns Hopkins University suggests.
But even as concerns about a fresh coronavirus wave mount, health officials, politicians and academics are well aware its not a scenario with simple answers.
U.S. Surgeon General Jerome Adams told Politico there will be a rise in cases, but that does not make the protesters' arguments become illegitimate.
"I remain concerned about the public health consequences both of individual and institutional racism [and] people protesting in a way that is harmful," he said.
Meanwhile Maimuna Majumder, a computational epidemiologist at Boston Children's Hospital and Harvard Medical School, recently told The Atlantic: "I personally believe that these particular protests—which demand justice for black and brown bodies that have been brutalized by the police—are a necessary action. Structural racism has been a public-health crisis for much longer than the pandemic has."
On Tuesday, New York City hospital workers, dressed in personal protective equipment, took to the streets to applaud passing protesters, many wearing face masks.
As previously reported, the American Medical Association (AMA), the largest association representing U.S. doctors, also spoke out police violence during the outbreak.
"We recognize that adherence to COVID-19 public health guidelines, including wearing face masks and physical distancing, is critical to preventing illness and death.Yet signs are already emerging to indicate that police forces are practicing disproportionate enforcement in predominantly Black and Brown communities," president Dr. Patrice Harris and board chair Dr. Jesse Ehrenfeld said in a May 29 statement.
"Excessive police force is a communal violence that significantly drives unnecessary and costly injury, and premature morbidity and death. Our country... demands more."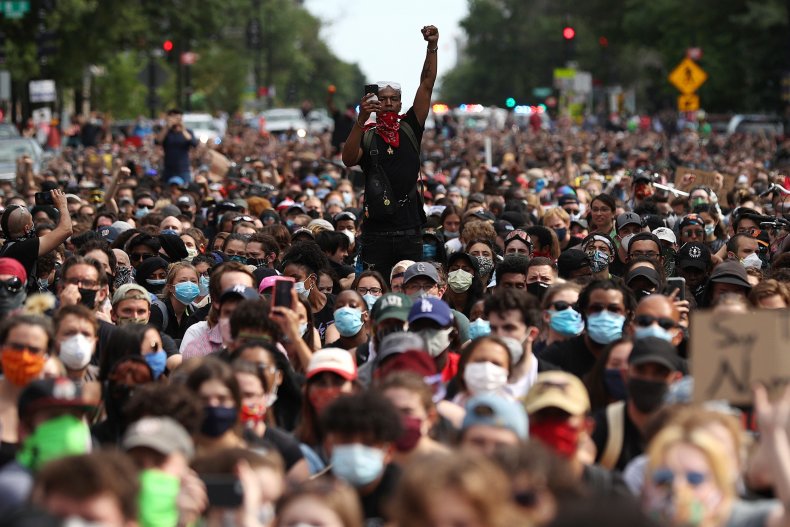 Some have said they had little other option to make their voice heard. As one man told NBC News: "I can go home, clean myself up, get tested, make sure I take precautions, but police brutality, I don't know what I can do to not be harassed."
Health experts fully anticipate an increase in COVID-19 cases in the coming weeks as a result of the nationwide demonstrations. The disease spreads person-to-person, often via respiratory droplets from the mouth, U.S. health officials have said.
And politicians are warning about the risk of demonstrating in public while breaking local curfews and amid a virus for which there remains no vaccine or cure.
"If you were out protesting last night you probably need to go get a [COVID-19] test this week because there is still a pandemic in America," Keisha Lance Bottoms, the mayor of Atlanta, said in a media briefing last Saturday, referencing statistics that show the novel coronavirus has disproportionately affected black Americans.
New York Governor Andrew Cuomo said in a briefing this week that citizens have to be smart, and stressed some state lockdown rules are not officially over.
Gov. Cuomo said: "We just spent 93 days limiting behavior, closing down. Now, mass gatherings? With thousands of people? In close proximity? One week before we are going to reopen New York City. What sense does this make?
"We don't know the consequence for the virus for the mass gatherings, we won't know possibly for weeks. How many superspreaders were in that crowd?" he added.
All in, its a complex situation for Facebook, one the largest social networks in the world that is frequently used to organize protests and large group events.
"Facebook's policies will never be able to cover every possible scenario, and their individual nuances," social media expert Navarra told Newsweek.
"Whether it's BLM or another important movement around the world, Facebook's rules will often struggle to be easily applied for a clear-cut decision to be made."
Navarra added: "Facebook won't get praised for making the right decision, but you can bet it will be vilified and ridiculed if it is deemed to have made the wrong one. This is, and will remain, an on-going challenge that Facebook will have to overcome."