These Onions Were Deemed Too 'Overtly Sexualized' For Facebook
"It's much easier to build an AI system that can detect a nipple than it is to determine what is linguistically hate speech."
This statement came from Facebook founder Mark Zuckerberg in 2018 while he discussed how the company blocks content deemed to be in violation of community standards in comparison to the endless streams of defamatory rhetoric left untouched. Would this logic then suggest Facebook's nudity algorithm somehow found seemingly undetectable nipples or other exposed nether regions on a batch of onions?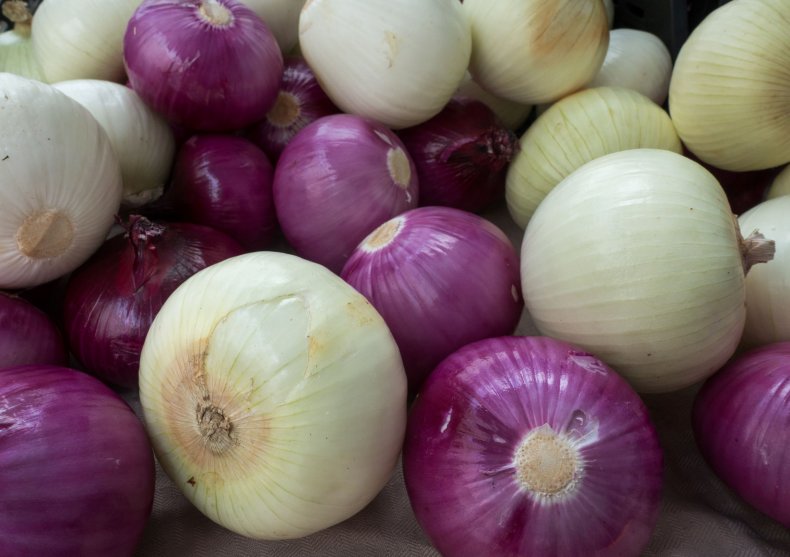 The CBC reported that Facebook pulled an ad from Gaze Seed Company's Walla Walla onion seeds due to its picture of onions in a wicker basket. The social media giant sent Gaze Seed Co.—a seeds, bulbs, and fertilizer store based in St. John's, Canada—a notice that claimed the onions were positioned in a "sexually suggestive manner." These alluring root vegetables also apparently went against Facebook's advertising guidelines, as they were modeling for paid ads.
"I guess something about the two round shapes there could be misconstrued as boobs or something, nude in some way," Jackson McLean, a manager at Gaze Seed Company, told the CBC.
"I just thought it was funny," McLean continued. "You'd have to have a pretty active imagination to look at that and get something sexual out of it."
According to the Guardian, between January and March of this year, Facebook removed 39.5 million pieces of content for adult nudity or sexual activity, and 99.2% of it was removed automatically, without a user reporting it.
There were 2.5 million appeals against removal and 613,000 pieces of content were restored.
This time, however, Facebook admitted an error was made and quickly restored the provocative ad. "We use automated technology to keep nudity off our apps, but sometimes it doesn't know a walla walla onion from a, well, you know," Meg Sinclair, head of communications at Facebook Canada, told the CBC. "We restored the ad and are sorry for the business' trouble."
Gaze Seed Company is using Facebook's error to take advantage of a little free publicity. On its own Facebook page, the company playfully created mock-ups imaging what Facebook's AI screener thought it was seeing.
Facebook followed up with the Canadian newspaper National Post's inquiry about the ad's removal and confirmed the automated algorithm was the culprit. McLean took the whole episode in good humor, though he did mention he'd like customers to see the photo, so as to not assume the company did anything lurid. Or, as he said, "It's just onions."