Facebook Pulls 'Trumpcare' Page That Mimicked Campaign to Sell Insurance
Facebook has pulled a page promoting "Trumpcare for America" off its platform after the page was found to be in violation of the social media giant's "Unacceptable Business Practices" policies.
The social media page sought to promote the health insurance consultancy services of a company called Health Plans America, which appears to be based in El Segundo, California.
However, both the social media page and the company itself have promoted the services as being part of "Trumpcare," despite noting in a small disclaimer that the company has no affiliation with the government.
Technically, Trumpcare as it was originally billed does not exist.
The American Health Care Act of 2017 (AHCA) was nicknamed "Trumpcare" and had sought to partially repeal the Patient Protection and Affordable Care Act (ACA).
It was passed by the House of Representatives, but did not make it through Senate.
However, under the Trump administration, short-term health insurance plans allowing people to stay on plans for up to 364 days have been allowed, reversing a 2017 Obama-era policy limiting short-term health insurance from 364 days to 90 days. These plans have been dubbed a version of "Trumpcare" by some.
In a Facebook ad that began running on July 30 for the "Trumpcare for America" page, "Trumpcare" health insurance was promoted as being "more affordable than ever."
Accompanied with imagery of Trump signing a bill as healthcare professionals clap behind him, the ad states that: "President Trump's New "Trumpcare" Plan Is Set To Finally Fix Healthcare. And Citizens can now save big on Health Insurance!"
"Thanks to our President, health insurance is now more affordable than ever," the ad, which was paid for by an individual named Stuart Joseph Millar, stated, before warning potential clients that "open enrollment for Trumpcare ends soon."
Given that the ad was inaccurately categorized as being about "social issues, elections or politics," its poster was required to disclose who paid for the ad.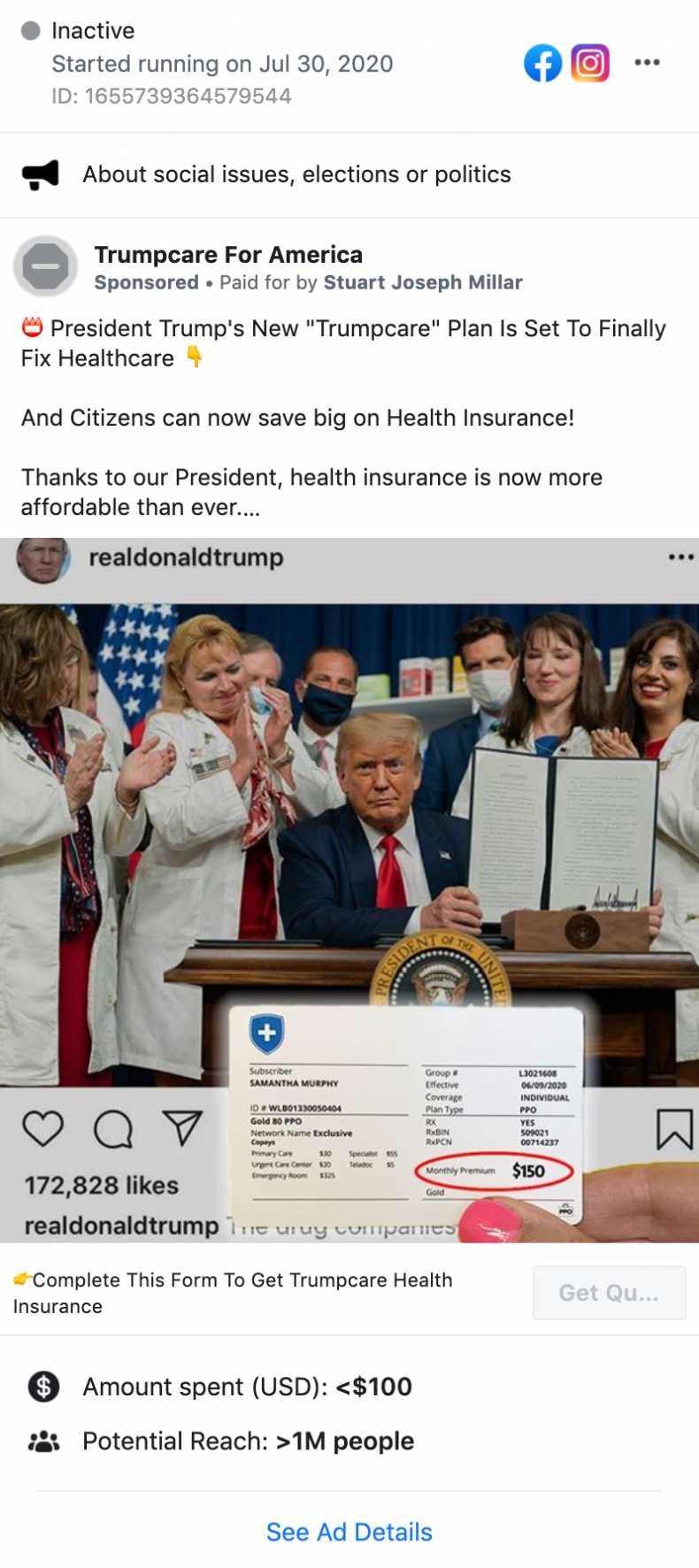 Newsweek has tried to contact Millar on LinkedIn, but has not received a response.
In a statement sent to Newsweek, however, a Facebook spokesperson confirmed that the page was in violation of its policies and removed the page from the social media site.
The spokesperson did not say which specific rules in its Unacceptable Business Practices policies were broken.
However, one example of those rules provided on the Facebook website is "ads that feature a picture of a public figure to mislead users into buying a scam product."
The policy itself states that: "Ads must not promote products, services, schemes or offers using deceptive or misleading practices, including those meant to scam people out of money or personal information."
This is far from being the first time that Trumpcare has been falsely promoted.
In September 2019, an Axios report highlighted the fact that Trumpcare ads were being run at the time, despite the fact that no such program existed.
Louise Norris, an independent insurance broker in Colorado, told Axios at the time that such initiatives were plainly "capitalizing on the fact that very few people know what's going on."
Asked to comment on the continued effort to promote fake "Trumpcare" services, the Trump campaign did not respond.