Facebook Removes Livestream Filmed by Man Claiming to Be Capitol Bomb Threat Suspect
Facebook has removed a livestream video uploaded by a person claiming to be the suspect in Thursday's active bomb situation near the U.S. Capitol.
The video showed a man speaking inside a truck parked on a sidewalk at what looked like the Library of Congress. The man said he was trying to get President Joe Biden "on the phone" and was discussing a "revolution."
"I'm here for a reason, Joe Biden," the man said in the livestream. "I'm here for a reason. I'm here for the American people."
The man also called for Biden and Democratic leaders to step down because the people don't want them there.
"This ain't about politics," he said. "This ain't got nothing to do with politics. I don't care if Donald Trump ever become president again, don't matter to me. I think y'all Democrats need to step down."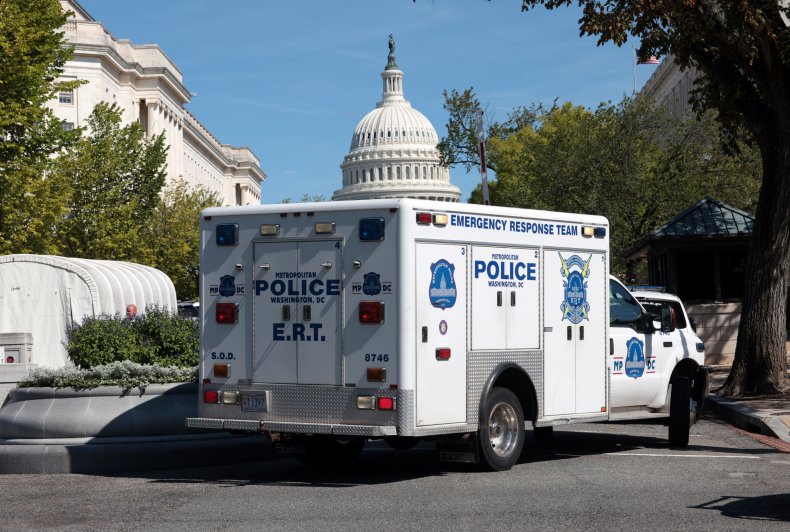 A Facebook spokesperson said the company was "in contact with law enforcement and have removed the suspect's videos and profile from Facebook and Instagram."
"Our teams are working to identify, remove, and block any other instances of the suspect's videos which do not condemn, neutrally discuss the incident or provide neutral news coverage of the issue," the spokesperson added.
Law enforcement members from the U.S. Capitol Police, the District of Columbia's Metropolitan Police Department, the FBI and other agencies were on the scene as investigators negotiated with the suspect.
Capitol Police Chief J. Thomas Manger told reporters that authorities received a call around 9:15 a.m. reporting a pickup truck parked outside the Library of Congress. The driver told a responding police officer that he had a bomb and was holding what appeared to be a detonator.
Manger said he didn't want to get into the ongoing negotiations but noted that "some information" had come out on the livestream. He said negotiators are "hard at work trying to have a peaceful resolution."
The suspect's motives remain unclear, Manger said during the press briefing.
At 2:30 p.m., Manger provided an update stating the suspect surrendered and was in custody. The suspect was identified as Floyd Ray Roseberry of North Carolina.
In the livestream video, the person claiming to be the suspect described himself as a "patriot" and aired several grievances with Democratic leaders.
"The revolution's on," he said. "It's here.... I'm looking for all my other patriots to come out and join me."
Buildings that had to be evacuated Thursday include the Supreme Court, the Library of Congress, the James Madison Memorial Building, the Thomas Jefferson Building and the Cannon House Office Building.
The U.S. House of Representatives and Senate were not in session.