Facebook Removes Most Hate Speech Before People See It, Zuckerberg Tells Congress
Facebook removes 89 percent of all hate speech before users see it, CEO Mark Zuckerberg told lawmakers Wednesday as tech giants such as his company came under fire during an antitrust hearing.
Maryland Rep. Jamie Baskin asked Zuckerberg whether he plans to manage the "use of Facebook to engender social division" in the U.S. during the often-heated hearing. Baskin noted that some have notoriously used Facebook as a platform for election interference, pro-Trump advocacy, racism and white nationalism in the past.
Baskin pointed to a profit motive for Facebook to overlook the 6.5 billion fake accounts created per year, since the company reports those numbers to investors.
Zuckerberg responded by saying that Facebook removes hate speech and "billions" of fake accounts each year from the social networking platform, often before users are able to see it.
"We're very focused on fighting against election interference, and we're also very focused on fighting against hate speech," Zuckerberg said. Regarding hate speech, he told the committee: "Our goal is to identify it before anyone even sees it on the platform. And we've built AI systems, and as I mentioned, have tens of thousands of people working on safety and security with the goal of getting this stuff down."
The Facebook CEO said most fake accounts the company identifies and removes were created for commercial, rather than political purposes.
"A very small percentage...are nation states trying to interfere in elections, but we're very focused on trying to find those," he continued. "Having fake and harmful content on our platform does not help our business. It hurts our business. People do not want to see that stuff, and they use our services less when they do."
Zuckerberg joined CEOs of the three other global technology giants—Apple, Amazon, Facebook and Alphabet, Google's parent corporation—to testify before the House Judiciary's antitrust panel to defend their corporations against a hearing to address anticompetitive behavior. The four faced allegations of bias against conservative causes, data privacy breaches and other issues from panel members.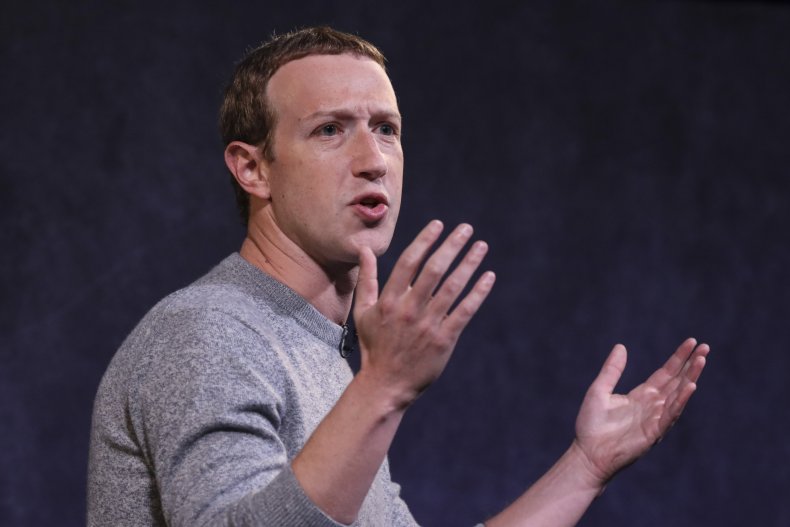 Republican Reps. Jim Jordan and Jim Sensenbrenner focused on Facebook's "censorship" of conservative views near the hearing's start. President Donald Trump, who claimed social media silenced conservative voices in May, threatened to regulate reigning tech companies if Congress fails to do so.
Lawmakers launched an investigation into the powerful tech companies more than a year ago to examine whether their practices violate U.S. antitrust legislation and exploit those that become reliant on their services.
On Wednesday, the House committee raised concerns about Apple, Amazon, Facebook and Google using their power for predatory pricing, self-preferencing, competition surveillance and privacy.
"This investigation also goes to the heart of whether we as a people, govern ourselves, or whether we let ourselves be governed by private monopolies," said Rep. David Cicilline, chair of the House Judiciary Committee's antitrust panel, in his opening remarks. "Our founders would not bow before a king. Nor should we bow before the emperors of the online economy."
House lawmakers' investigation focused on Apple, Google, Amazon and Facebook's respective market authority across specific industry sectors. It examined Apple's position among app developers, Google's among search engines, Amazon's among retailers and Facebook's among social media platforms. It aims to determine whether each uses its influence to manipulate markets for benefit.
Early in the hearing, Zuckerberg defended Facebook against a number of claims related to market power and anticompetitive behavior.
The social networking platform faced scrutiny after acquiring more than 80 smaller companies, including social networking apps WhatsApp and Instagram. Earlier on Wednesday, the CEO of China-owned social video platform TikTok, Kevin Mayer, suggested Facebook intends to force it out of the U.S. market with an upcoming Instagram feature called "Reels."
Zuckerberg referenced the influx of China-based tech companies in the global marketplace during his opening remarks, released prior to the hearing, calling Facebook a "proudly American company."
"China is building its own version of the internet focused on very different ideas, and they are exporting their vision to other countries," Zuckerberg said. "As Congress and other stakeholders consider how antitrust laws support competition in the U.S., I believe it's important to maintain the core values of openness and fairness that have made America's digital economy a force for empowerment and opportunity."
Newsweek reached out to Amazon and Apple for comments but did not receive replies by publication. Representatives from Facebook and Google said they had no comment.